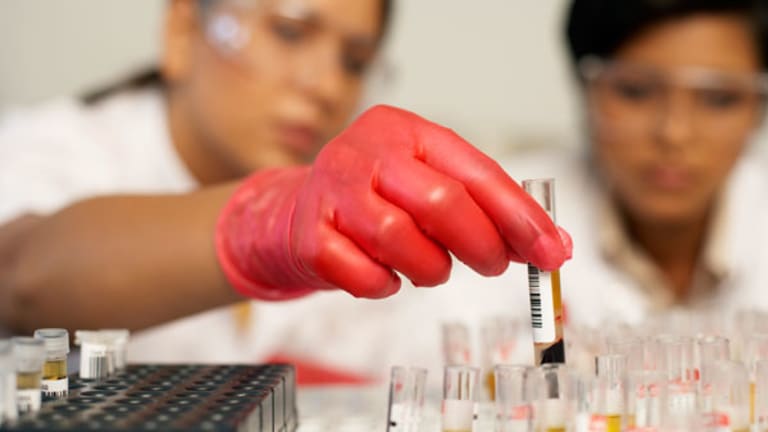 Publish date:
Biotech Stock Mailbag: Amarin or Arena Takeout?
Biotech columnist Adam Feuerstein answers readers' questions about health-care companies.
Biotech columnist Adam Feuerstein answers readers' questions about health-care companies.
BOSTON (TheStreet) -- Marlie Y. kicks off this week's Biotech Stock Mailbag: "Can you talk about the stocks that most interest you today and that may have big moves in the coming months? Thank you for your work and response to this question."
Clinical trial results send biotech stocks soaring (or sinking) more than FDA drug approvals, so keep the following stocks on your radar screen -- all of which should have data from important clinical trials released in the third quarter.
Vertex Pharmaceuticals
(VRTX) - Get Report
(proof of concept results from its hepatitis C "nucs");
Amicus Therapeutics
(FOLD) - Get Report
(migalast in Fabry disease);
Acadia Pharmaceuticals
(ACAD) - Get Report
(pimavanserin in Parkinson's disease psychosis); and
Zalicus
(ZLCS)
(Synavive AR in rheumatoid arthritis.)
I'd say the most highly anticipated clinical data release remaining this year is from
Johnson & Johnson
(JNJ) - Get Report
,
Pfizer
(PFE) - Get Report
and
Elan
(ELN)
-- the bapineuzumab phase III studies in Alzheimer's disease.
LIR asks, "Which stock gets bought first,
Arena Pharmaceuticals
(ARNA) - Get Report
or
Amarin
(AMRN) - Get Report
?"
If forced to choose, I'll vote Amarin, mainly because selling the company is widely known to be an exit strategy sought by management. It helps that Amarin's prescription fish-oil pill AMR101 is highly effective and has blockbuster potential -- assuming approval on July 26, an eventual expanded label and long-term market exclusivity. All three of those goals are attainable.
What worries me about making this prediction? An Amarin takeout now, or soon after AMR101's approval, would buck precedent. Most bio-pharma M&A occurs early in a drug's clinical development or well after approval,
. A buyout premium of 50% to 100% today implies an Amarin price of $23 to $30 per share, which is a lot to swallow without more definitive proof that AMR101 is the billion dollar-plus drug it's built up to be.
At $30 per share, Amarin's market cap would be $4 billion.
While I expect rumors of an Arena takeout to crop up with mind-numbing regularity (just like
Dendreon
(DNDN)
), a real deal in the near term is unlikely. Too many question marks surround the commercial potential of Arena's weight-loss drug, Belviq, to believe that a large drug company would risk buying the company now, if ever.
I'll go with Amarin and cross my fingers.
For the record, my
biotech acquisition predictions
for 2012 were
Seattle Genetics
(SGEN) - Get Report
,
Celgene
(CELG) - Get Report
,
Biomarin Pharmaceuticals
(CELG) - Get Report
,
Amag Pharma
(AMAG) - Get Report
,
Onyx Pharma
(ONXX)
and
Momenta Pharma
(MNTA) - Get Report
. I'm still waiting for a winner.
@pauldavidson11 asks, "What are your thoughts regarding VVUS approval and ARNA share price?
My thoughts or predictions, in no particular order:
Vivus'
(VVUS) - Get Report
weight-loss drug, Qnexa, will be approved on July 17, in line with consensus investor expectations.
Qnexa's approval is secondary in importance to the restrictions and warnings expected in the drug's label. Learning how restricted (or not) the Qnexa label reads is likely to play a big part in how investors react on July 17.
Vivus shares at Tuesday's close of $29.93 are up 30% since April 9, when the company announced the three-month extension of its FDA review. This looks very much like a classic "run-up" into FDA approval decisions, which is often followed by a sell off. Don't be surprised if Vivus shares fall following Qnexa's approval exactly like Arena Pharmaceuticals' stock price sank following FDA approval of Belviq on June 27.
On that subject: At Tuesday's close of $10.02, Arena is down 14% since Belviq's approval.
If you calculate from the intraday high on June 27, Arena shares are down 35%. The only people surprised by this contraction are die-hard members of the Arena retail-investor cult. Everyone else was sensible enough to realize that the steep climb in Arena's stock price leading up to Belviq's approval was not sustainable.
I'm not a believer in the super-blockbuster (read: multi-billion dollar) sales potential for Qnexa or Belviq. Both drugs offer short-term weight loss (Qnexa more than Belviq) but patients end up yo-yoing back to their original obese state. Sales will disappoint relative to expectations.
Here's a scenario I expect to play out with about 70% of people who try Belviq: Obese woman visits doctor, asks for Belviq. Doctor prescribes Belviq. Woman pays $150 for a month of pills. Starts taking pills, weight doesn't come off so quickly, even though she's trying to eat better and walk around the block in addition to Belviq. Month two rolls around, woman pays another $150 for her Belviq supply. She's frustrated with only three pounds lost. Salads for lunch replaced once again by potato chips and fast food. Too tired to walk. Month three: Another $150 for Belviq! Ugh! Forgets to take pills several times a week. More fast food consumed. The lost pounds return. Visits doctor, who asks if she wants to continue paying $150 per month for a diet pill that's not working. The answer is obvious. Hell, no.
I will be interested to see which drug doctors and patients turn to first. Will it be Qnexa, with its promise of faster and greater weight loss despite some safety and tolerability issues? Or will Belviq be used first -- safer despite lackluster weight loss?
Obese patients may try both drugs eventually, if they can afford the high out-of-pocket costs since reimbursement is going to be hard to come by at first.
The Japanese drug maker
Eisai
will be selling Belviq in the U.S. on behalf of Arena. Eisai's biggest commercial success here has been the Alzheimer's drug Aricept although most of the marketing responsibilities and credit goes to Pfizer, which co-promoted the drug. The jury is still very much out on whether Eisai can succeed with Belviq.
Vivus has no U.S. marketing partner for Qnexa, but will field its own 250-person sales force to sell the drug to doctors who specialize in obesity. Vivus will also distribute Qnexa via mail-order pharmacy only, unlike Belviq's availability in retail pharmacies. Vivus says mail-order distribution is convenient and shouldn't hamper Qnexa's commercial roll out. That sounds like wishful thinking.
Thomas E. asks, "You doubt the writer's prediction that Belviq can become a $10 billion drug, even with one-third of Americans diagnosed with obesity?"
Yes, I have my doubts. Thomas is referring to a column published by
Seeking Alpha
in which a pseudonymous Arena investor forecasts Belviq sales of $10 billion. Here's what he
:
"I forecast 250K scripts in the first full quarter of launch and for Belviq to generate over $1B in revenue in the first 6 months from launch, $2-3B in 2013 and to reach $10B in annual sales by 2015. Yes, these are audacious numbers unless you are open to looking at the size of the market without consideration of performance of previous weight loss drugs. There is no bigger market in all of pharma, with over 100M prospective patients in the US alone. There has never been a safe option for physicians to try. There is tremendous pent-up demand for options from both prescribers and patients."
Reality check: Vertex Pharmaceuticals' hepatitis C drug Incivek is the only drug I'm aware of that reached $1 billion in cumulative sales after just six months on the market. Incivek cures hepatitis C. Arena's Belviq cures nothing and doesn't really help people lose much weight.
Belviq will be launched in early 2013, yet this author believes Belviq will generate over $1 billion in sales by next June, then double sales by December 2013. Really?
If Belviq somehow achieved $10 billion in sales at any time, it would be only the second drug in history to do so. The first and only $10 billion drug was Pfizer's Lipitor. Three other drugs -- Plavix, Seretide/Advair and Humira, have come close, according to EvaluatePharma.
A word of advice to Arena diehards: Lower your expectations.
@glopolon asks, "$ARNA = $AFFY? More or less?"
Affymax
(AFFY)
shares dropped from $14 to $10 in the two weeks after FDA approved Omontys, a once-monthly anemia drug, this past spring. The stock has recovered a bit but is still down about 6% since Omontys' approval. So, yeah, Arena and Affymax are acting in similar ways post-drug approval.
Takeda
sells Omontys on behalf of Affymax but how the product's sales will be reported publicly each quarter is not yet clear. Affymax spokeswoman Sylvia Wheeler told me that the company and Takeda are still working through the disclosure process. Affymax reports third-quarter financials in August.
Regarding
Ampio Pharmaceuticals
(AMPE) - Get Report
and the
looming expiration of an insider stock lockup
, Joe remarks, "Funny that the CEO and CSO's press release regarding voluntary extension of their lock-up was not followed by an SEC filing. I get the sense that AMPE's CEO and CSO might very well change their minds and not inform the shareholders. That press release is meaningless."
Good point. Even if Ampio's CEO and CSO do extend their lock-up agreement for another six months, plenty of other company insiders remain free to sell millions of shares starting July 15.
James asks, "Any chance you are going to take another look at
Nymox Pharmaceuticals
(NYMX) - Get Report
?"
Nymox remains opaque about the clinical development of NX-207, its experimental drug for benign prostatic hyperplasia, or enlarged prostate. When I last wrote about
, CEO Paul Averbeck told me he expected to file NX-207 for FDA approval in 2012, assuming the ongoing phase III studies were positive.
But since Nymox doesn't provide any meaningful updates about the progress of the phase III trials, it's impossible to say whether the company is on track to meet its development timelines for NX-207. I have my serious doubts, particularly since Nymox has never disclosed much about the drug, and what it has disclosed makes little sense.
Why trust a drug company unwilling to be transparent with its shareholders or potential investors?
Andrew I. asks, "Will
Chelsea Therapeutics
(CHTP)
ever recover? Lost half of the value today and have to do a new study. Down to about 85 cents today. Think a lot of the bad news was already priced in and that this news is really not a surprise. I can understand why the company would try to re-work their current study 306B but not surprised at all the FDA said no deal. What are your thoughts?"
Chelsea makes me sad. I believe Northera is an effective and beneficial drug for neurogenic orthostatic hypotension (NOH) patients but the drug is trapped, unfortunately, in FDA review purgatory by an incompetent management team. Chelsea isn't likely to recover until the company and FDA reach an agreement on how to collect the clinical data necessary to get Northera approved.
At this point, it's a legitimate question to ask if Chelsea's current management has the capability of finishing the job they've bumbled so badly to date. FDA should shoulder some of the blame for being recalcitrant with a drug that received a positive vote from an outside advisory panel, even if the margin of victory was small. Still, Chelsea's problem stems mainly from management's decision to amend -- and amend again and again -- the Northera clinical trials to the point where data collected are impossible to interpret.
--Written by Adam Feuerstein in Boston.
>To contact the writer of this article, click here:
Adam Feuerstein
.
>To follow the writer on Twitter, go to
http://twitter.com/adamfeuerstein
.
>To submit a news tip, send an email to:
.
Follow
TheStreet
on
and become a fan on
Adam Feuerstein writes regularly for TheStreet. In keeping with company editorial policy, he doesn't own or short individual stocks, although he owns stock in TheStreet. He also doesn't invest in hedge funds or other private investment partnerships. Feuerstein appreciates your feedback;
to send him an email.