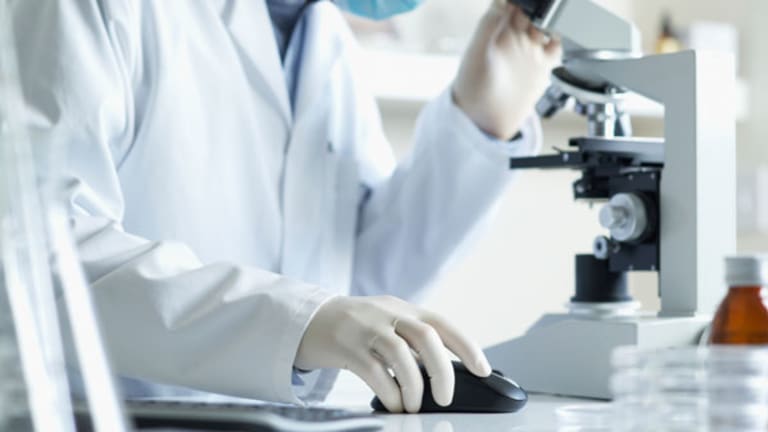 BOSTON (TheStreet) -- Let's roll with this week's Biotech Stock Mailbag.
Jackson P. asks, "Is there any data that has not leaked from EASL which will be important to the hepatitis C stocks?"
The EASL meeting kicks off officially April 18 and runs through April 22. As Jackson notes, I've written a lot about
selective disclosure of research abstracts
and
leading up to the EASL meeting, but let's now focus attention on investor expectations for new data to be presented at the meeting and what it may mean for hepatitis C drug stocks.
First, just a bit of background to help frame the issues: Today's standard of care for treatment-naive hepatitis C patients is 12 weeks of
Vertex Pharmaceuticals'
(VRTX) - Get Vertex Pharmaceuticals Incorporated Report
Incivek (taken three times daily) plus six months of injectable interferon (once weekly) and a daily oral dose of ribavirin. Cure rates with the Incivek regimen range from 75% to 80%. For patients who achieve a rapid, early response to Incivek therapy, cure rates can get as high as 90%.
Incivek was, and still is, a breakthrough for hepatitis C therapy because cure rates with interferon and ribavirin alone were only in the 40%-50% range and treatment lasted twice as long -- 48 weeks versus 24 weeks.
Less than a year after Incivek's approval, the hepatitis C world has moved on to fixate on "all-oral" therapies -- combination of drugs that no longer require the bothersome weekly injections of interferon. That's what the EASL meeting is all about.
Investors are insanely focused on two studies of
Gilead Sciences'
(GILD) - Get Gilead Sciences, Inc. (GILD) Report
newly acquired hepatitis C drug GS-7977. Both studies enroll treatment-naive hepatitis C patients and treat them with a combination of '7977 and ribavirin.
That's two pills, once per day.
The first study, dubbed "Electron," enrolled 25 patients with genotype 1 form of the Hep C virus, the most difficult form of the virus to treat and also the most prevalent in North America. Patients were treated with '7977 plus ribavirin for 12 weeks, then followed to see if they were cured, meaning no detectable levels of the hepatitis C virus remained in their body.
At EASL, Gilead-sponsored researchers will present so-called "SVR4" results from the Electron trial. That's Hep C medical jargon for the percentage of patients who are virus-free four weeks after treatment ends. Patients aren't deemed "cured" of hepatitis C unless they remain virus-free for 12 weeks following treatment, i.e. SVR12 but SVR4 results will be an early and important marker of '7977's efficacy.
OK, what to expect? A 60% SVR4 rate, according to a poll of 204 Wall Street investors conducted by Mark Schoenebaum, the biotech and pharmaceuticals analyst at ISI Group.
The second Gilead study is dubbed Quantum and is also using a combination regimen of '7977 and ribavirin, although patients in this study have genotypes 1,2 or 3 (the latter two being a bit easier to treat). The other major difference between Quantum and Electron is that treatment duration in Quantum is 24 weeks.
Gilead is not presenting Quantum results at EASL but is expected to issue a press release with data from the study early this quarter, which could come any day.
Expectations? Again, from the same Schoenebaum investor survey: 62% SVR4 for the genotype 1 patients from Quantum.
Remember, Gilead spent $11 billion to acquire Pharmasset and gain control of GS-7977 in an audacious bid to wrest a front-runner spot in the race to develop the most effective all-oral Hep C therapy. Billions of dollars in future Hep C drug sales are riding on GS-7977. That's why investors are so heavily focused on next week's EASL meeting. Contributing to the collective Wall Street agita are poor results from
GS-7977 in previously treated Hep C patients
announced in February.
One more EASL study to watch very closely: A combination of
Bristol-Myers Squibb's
(BMY) - Get Bristol-Myers Squibb Company Report
daclatasvir with Gilead's '7977 in patients with genotypes 1,2 and 3. Early results from this study leaked this week. Ninety-seven percent of genotype 1 hepatitis C patients treated with daclatasvir-'7977 had undetectable viral levels after 12 weeks of treatment. For genotype 2/3 patients, the 12-week response rate was 90%.
At EASL, researchers are expected to present SVR4 results -- but for how many patients and which Hep C genotype isn't entirely clear.
This study is important for several reasons. It's the first time we'll see "cure rate" data from a combination of these two types of drugs.
Daclatasvir is an NS5a inhibitor; '7977 is a nucleoside polymerase inhibitor.
If the results are impressive, Bristol-Myers could conceivably move ahead quickly with the development of its own all-oral regimen -- combining daclatasvir witih INX-189, the nucleoside polymerase inhibitor acquired through the purchase of Inhibitex.
Likewise, Gilead could move forward with a combination of '7977 and its own internal NS5a inhibitor GS-5885.
As above, ISI Group's Schoenebaum asked his Wall Street investor clients to forecast the results from the daclatasvir-'7977 study. Expectations: An SVR4 rate of 77%.
EASL is a busy meeting so while I highlight these three studies as the most important for investors, I don't mean to short-change data expected from
Abbott
(ABT) - Get Abbott Laboratories Report
,
Johnson & Johnson
(JNJ) - Get Johnson & Johnson (JNJ) Report
,
Idenix Pharmaceuticals
(IDIX)
and
Vertex Pharmaceuticals
(VRTX) - Get Vertex Pharmaceuticals Incorporated Report
, among others. I'll be covering the conference as will health-care investor and
TheStreet
contributor
. In fact, he'll be in Barcelona attending the conference.
Roger J. emails a question about my
: "I have heard that an investor who bets against approval on any new drug is likely to be successful. Hence it would be helpful to know how many yes/no votes the referenced contestants cast to compile their records, and what record I would have had by voting no on every drug in the contest."
I don't understand the first part of the question but to address the latter: Seven drugs featured in the contest have received FDA approval; five have been rejected and a single decision (
Vivus'
(VVUS) - Get VIVUS, Inc. Report
Qnexa) has been delayed.
Simply betting "no" across the board is not a winning strategy. I'm all for skepticism when warranted, but FDA does approve drugs.
BuggyFunBuggy (a frequent commenter) asks, "Perhaps a Mailbag update on
Agenus
(AGEN) - Get Agenus Inc. Report
. It's been a while since your prediction that "Oncophage doesn't work," and it seems that Prophage is just a new name. Has Agenus any brighter future?"
Agenus' cancer vaccine platform is old news. The Russian approval of the Oncophage for kidney cancer yielded meaningless sales and I haven't heard a peep from Agenus executives about trying to seek approval in Europe or the U.S. (Failed clinical trials have a way of making approvals a tad more challenging.)
The "new" Agenus investor story is QS-21, an adjuvant added to vaccines to boost immune response. Agenus shares have soared to more than $6 from $2 at the beginning of the year, mainly because of hype around QS-21 and its inclusion in 15 vaccines under clinical development. Most notable are three
GlaxoSmithKline
(GSK) - Get GlaxoSmithKline plc Sponsored ADR Report
vaccines or immunotherapies in late-stage clinical trials for malaria, non-small cell lung cancer and melanoma; all contain Agenus' QS-21.
Agenus' stock really took off in early March after the company announced an amended QS-21 agreement with Glaxo, giving the latter "first right to negotiate for the purchase of the company or certain of our assets," according to an Agenus regulatory filing.
Naturally, buzz among retail investors reached a fever pitch on empty speculation that Glaxo was going to buy Agenus. The deal hasn't happened yet, and I have doubts it will ever take place. Without the takeover buzz, Agenus is overvalued.
Glaxo is obligated to pay a mid-single-digit royalty to Agenus on sales of any QS-21-containing vaccine/immunotherapy that is approved and marketed.
Glaxo's malaria vaccine looks to be effective
but the company has already stated that it will be giving it away.
Malaria is a problem in Africa, not so much in the U.S. or Europe. Results from late-stage studies of Glaxo's melanoma and lung cancer immunotherapies have not been released.
Why would Glaxo buy Agenus, presumably at a premium to its current $145 million market value, when it can more cheaply pay a 5% royalty on sales of products? Doesn't make much sense to me, although I admit Glaxo has a history of making stupid acquisitions -- the $700 million spent to buy Sirtris comes to mind.
Agenus' patent to purified QS-21 expired in 2008 and other vaccine adjuvants, including those similar to QS-21, are already in clinical development. Glaxo even has its own adjuvant known as MPL under development. These competitors raise questions about the long-term future of QS-21.
Here's what I'd like to see happen with Agenus, given the company's long history of drug-development futility: Link founder and CEO Garo Armen's compensation to QS-21 royalties. Right now, Armen makes $464,000 a year -- an outrageously high salary for a guy responsible for a minus 70% shareholder return over the past five years.
Agenus, formerly Antigenics, has shed 97% of its value since 2000.
If QS-21 turns into a big money maker, then pay Armen a salary based on a percentage of the adjuvant's sales. Perhaps he'd even deserve a bonus. But until that happens, don't pay the guy a dime. He's made millions of dollars already on the backs of his shareholders.
Jim S. writes, "Adam, by the way,
Celldex Therapeutics
(CLDX) - Get Celldex Therapeutics, Inc. Report
put their CDX-011 breast cancer drug on clinical hold due to some issues at their supplier. They never issued a press release but stuck it in the 10-K. Kind of slimy."
Eh -- not such a big deal.
In January, FDA placed a partial clinical hold on Celldex's CDX-011 phase IIb breast cancer study because of manufacturing violations discovered during inspections at a third-party supplier of the drug. FDA told Celldex that no new patients could be treated with CDX-011, but patients already undergoing treatment could continue.
Importantly, Celldex completed enrollment in the phase IIb study in December, so the partial clinical hold doesn't have a significant effect on the company's ability to complete the study and release results at the American Society of Clinical Oncology (ASCO) annual meeting in June, per its original schedule.
We can argue about whether Celldex should have issued a press release about the CDX-011 clinical hold instead of just disclosing in its 10-K. As a journalist, I'm a "more disclosure is better" guy so I sympathize with the point made by Jim S. But this manufacturing problem seems like a relatively minor issue and has no bearing on the results of the CDX-011 study, which is the most material upcoming event for the company.
A Celldex spokesman said no press release on the partial clinical hold was issued because the ability of the company to complete the study and analyze results were not hampered in any way.
Celldex filed its 10-K containing the disclosure of the CDX-011 partial clinical hold on March 8, so it doesn't look like the stock was much affected. I've read some recent tweets from traders expressing concern about the fall in Celldex's stock price since late March.
The stock is about a buck off its high. My take: This could be the unwinding of what's been a very successful pre-ASCO trade. If the results of the CDX-011 are positive in June, I expect the stock to rebound.
--Written by Adam Feuerstein in Boston.
>To contact the writer of this article, click here:
Adam Feuerstein
.
>To follow the writer on Twitter, go to
http://twitter.com/adamfeuerstein
.
>To submit a news tip, send an email to:
.
Follow
TheStreet
on
and become a fan on
Adam Feuerstein writes regularly for TheStreet. In keeping with company editorial policy, he doesn't own or short individual stocks, although he owns stock in TheStreet. He also doesn't invest in hedge funds or other private investment partnerships. Feuerstein appreciates your feedback;
to send him an email.