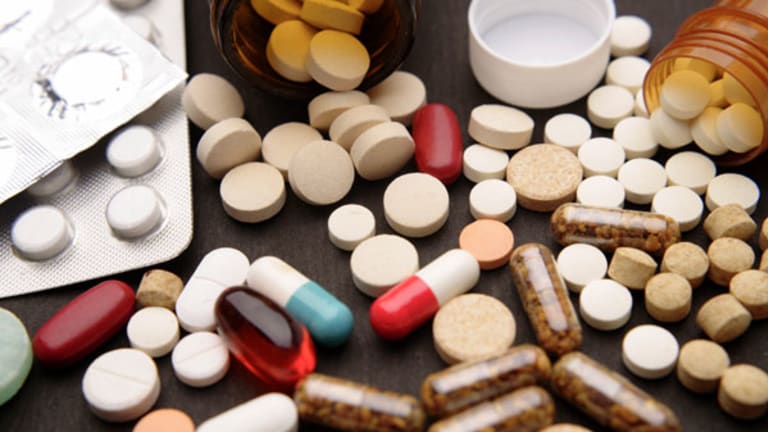 Biotech Stock Mailbag: Alkermes
Biotech columnist Adam Feuerstein answers readers' questions about drug and health care-related firms.
BOSTON (
) --
Alkermes
(ALKS) - Get Alkermes plc Report
has a very busy regulatory calendar over the next two months, packed with events likely to impact the company's stock price.
A U.S. Food and Drug Administration advisory panel reviews Vivitrol for opioid addiction on Sept. 16, followed by an FDA approval decision on Oct. 12. On Oct. 22, the FDA is also expected to issue an approval decision on Bydureon, the diabetes drug that Alkermes co-developed with
Amylin Pharmaceuticals
( AMLN) and
Eli Lilly
(LLY) - Get Eli Lilly and Company Report
.
With that set up, the
Biotech Stock Mailbag
this week opens with a tweet (expanded beyond 140 characters by me for clarity) from @crusadernz. "
Do you think FDA will be concerned that patients, once taking Vivitrol, will be more sensitive to lower opioid doses and therefore increase the chance of overdose?
"
Vivitrol -- a once-monthly injectable form of naltrexone -- is already approved for the treatment of alcohol addiction. Alkermes is seeking to expand Vivitrol's label to cover treatment of patients addicted to opioid painkillers, a large, well-established and potentially more lucrative market than alcohol addiction.
Results from a phase III study of Vivitrol in opioid addiction
were presented in May at a medical meeting and looked quite strong. The FDA granted Alkermes a priority review for Vivitrol opioid with an approval decision date of Oct. 12.
The FDA sometimes decides to hold advisory panels when it has substantial questions or concerns about a drug review. Is that the case with Vivitrol opioid?
Which gets me back to crux of @crusadernz's question. In the current FDA-approved medication guide for Vivitrol alcohol, patients are warned that Vivitrol can block the effects of opiates or opiate-like drugs, including heroin. Patients are also warned that if they previously used opioids, they may be more sensitive to lower doses of opioid after they stop taking Vivitrol.
The FDA is concerned about the effects of Vivitrol on patients who take opioids, which is why the agency required Alkermes to include the warning in its patient medication guide. This was not a large enough worry, however, to stop FDA from approving Vivitrol, at least not for alcohol addiction.
The dampening or cancelling effect that Vivitrol has on opioids is precisely why Alkermes wants the drug approved as a treatment for opioid addiction, so I don't see this as a reason for FDA or its advisory panel to reject Vivitrol.
Heroin addicts who take Vivitrol, for example, can't get the same high so they stop taking heroin. And unlike current pharmacological treatments for opioid addiction, Vivitrol is not a narcotic and therefore not addictive.
The FDA panel may consider what might happen to an opioid addict who relapses while still on Vivitrol, considering the drug stays in a person's system for a month. I don't see this is a major stumbling block for Vivitrol's approval, however, given the drug's current label.
So, again, why is the FDA convening an advisory panel for Vivitrol opioid?
The answer: Russia.
Alkermes conducted its single pivotal trial of Vivitrol opioid in Russia. FDA wants feedback mainly on how data generated for Vivitrol in treating Russian addicts will be applied or interpreted by U.S. addiction treatment experts and their patients, according to a source familiar with the FDA's decision to hold the panel.
What I'm not hearing, to be clear, is any worry that the Vivitrol data generated in Russia is misleading or invalid. The FDA just wants to make sure that experts weigh in on Vivitrol's approvability after considering differences in Russian and U.S. opioid addicts and the way treatment is handled.
I asked Alkermes to comment but the company declined.
Another tweet, this one from @jasonehren regarding
Genzyme
( GENZ) and
Isis Pharmaceuticals
(ISIS)
: "
Do you think mipomersen has any chance? Dropout rates look the same if not worse than the February data, so probably not good, right?
"
The best chance Genzyme and Isis Pharmaceuticals have in getting mipomersen approved as a cholesterol-lowering drug is in patients who have a genetic defect causing dangerously high, potentially life-threatening levels of cholesterol. It's in these patients with homozygous familial hypercholesterolemia (HoFH) where mipomersen's benefit (dramatic cholesterol lowering) more likely outweighs the drug's safety risks, most notably persistent liver enzyme elevations and liver fat deposits. (Fat duck liver: Good! Fat human livers: Not so good.)
The number of familial hypercholesterolemia patients in the U.S. and Europe are estimated at about 2,000. It's a very rare disease.
Mipomersen's benefit-to-risk ratio starts to look more dicey when the drug is used in "less sick" patients, for example, those with high cholesterol levels that can't be lowered using conventional lipid-lowering drugs like statins. The concerns about potential liver toxicity and damage tied to mipomersen make it conceivable, if not probable, that regulators will want Genzyme and Isis to conduct longer-term safety studies before allowing the drug to be approved for a broader patient population.
The worst-case scenario would be if FDA and its European counterparts required so-called cardiovascular outcomes studies as a basis for mipomersen's approval. In an outcomes study, the companies would need to demonstrate that mipomersen's cholesterol-lowering ability resulted in patients having fewer cardiovascular events like heart attacks and strokes or even helped patients live longer. Cardiovascular outcomes studies require a lot of patients, time and money.
Paul V. emails, "
I saw Vertex Pharmaceuticals (VRTX) - Get Vertex Pharmaceuticals Incorporated Report go higher on the boceprevir hepatitis C data from Merck (MRK) - Get Merck & Company Inc. Report, but do you think this move is justified? Should Vertex be trading higher or lower on this news?
"
Vertex did trade up about 3% Wednesday when the "meh"
was released, although Vertex was giving back some of those small gains Thursday.
As I wrote Wednesday,
because its hepatitis C drug telaprevir looks to be superior to Merck's boceprevir. Investors largely expected this result, which explains why Vertex shares didn't soar on the news. Vertex's telaprevir is a very good hepatitis C drug and I'm all but certain the drug will be approved next year. Vertex, however, carries a market value of more than $7 billion today, so telaprevir's success is baked into the stock to a significant degree.
Bank of America biotech analyst Rachel McMinn is the axe when it comes to hepatitis C drugs, and she has a buy rating and a $40 price target on Vertex right now.
Investors have a preliminary portrait of telaprevir and boceprevir today, but a much clearer view of both drugs will be presented at the American Association of Liver Disease (AASLD) annual meeting in the first week of November. If telaprevir's superiority over boceprevir is confirmed once all the data from both drugs are presented, analysts and investors may start to rejigger their models and divvy up the hepatitis C treatment pie with a much larger slice ending up on Vertex's plate.
In terms of hepatitis C catalysts important to Vertex's stock price, the AASLD meeting is it. Be mindful of any run-up in Vertex shares ahead of the meeting, too, and don't forget that both Vertex and Merck have competitors with earlier-stage Hep C drugs that factor into the valuation calculus.
Anthony E. emails, "
It's been awhile since you said anything about Cel-Sci (CVM) - Get Cel-Sci Corporation Report but the company had news this week on preparations for the Multikine trial. Any thoughts?
"
Uh oh. I think I'm being baited into saying something snarky (but truthful, of course) about Cel-Sci. Must. Resist. Must... oh heck, why not?
Press releases from Cel-Sci are a rarity these days, but Wednesday, the company announced it had successfully produced and filled the first lot of its cancer drug Multikine. This miraculous feat of manufacturing was performed in Cel-Sci's recently validated "cold-fill" plant, where like at the Coor's brewery, product is kept at near-freezing temperatures to maintain freshness.
Cel-Sci bangs on about the uniqueness of its "cold-fill" manufacturing facility, which ensures that biologic drugs maintain a temperature of around 39 degrees, thereby preserving their activity. Biologic drugs can be highly sensitive to heat, even room temperatures, but what Cel-Sci seems to forget is that drug companies, doctors' offices and hospitals have these devices called refrigerators that do a really good job of keeping drugs cold.
Take
Roche
, for example, the largest manufacturer of biologic drugs in the world. Roche chills its blockbuster cancer drugs Avastin, Herceptin and Rituxan before they're filled into vials, then the vials remain under refrigeration, according to a company spokesperson.
To use terminology that Cel-Sci lovers can understand, Roche operates "chill-fill-chill" drug manufacturing facilities. Sounds better than what Cel-Sci does! At the very least, it puts a crimp in the notion that Cel-Sci is doing something unique with its drug-making plant.
Cel-Sci filled the first lot of Multikine in preparation for the company's planned, 880-patient, phase III study in head-and-neck cancer. This international study, with overall survival as the primary endpoint, is expected to enroll its first patient before the end of the year, Cel-Sci said Wednesday.
Um, wait a second. In May, Cel-Sci said the Multikine study was going to start this quarter. In other words, Cel-Sci slipped a disclosure of a Multikine study delay into Wednesday's press release. Nice job!
For those that need a refresher, I examined the
in
, which in my opinion, make the odds for success in the upcoming pivotal study no better than a lottery ticket.
Back to Twitter, where @hipstermusic asks, "
Any thoughts on Star Scientific (CIGX) ?
"
Star's legacy business is focused on selling "safer" smokeless tobacco products, although revenue has never amounted to much and profits are non-existent.
On Thursday, Star launched CigRx, a mint-flavored lozenge made from vegetable and tree extracts (including Yerbe mate, a tea you can drink at your local cafe) that supposedly reduces the urge to smoke.
My innate skepticism prevents me from taking such efforts seriously, but maybe CigRx really works. I don't know. If you're the kind of person who likes to invest in companies that sell non-FDA approved nutraceuticals via direct marketing and TV infomercials, then Star Scientific is a possible contender.
I focus my efforts on companies in the drug development business. Star is trying to make some inroads here but what the company has produced to date shows it's too early to make any responsible investment decisions.
In April, Star announced a research collaboration with the Roskamp Institute centered around a compound developed by Star's pharmaceutical unit. Preliminary tests of this compound in cells reduced levels of beta-amyloid, the sticky protein plaque substance thought to play a role in Alzheimer's disease.
Let me repeat: The Star compound was tested in cells. Not in animals and certainly not in humans -- yet. That makes this research project too young for investors to think about.
In the course of your research, you might read commentary published elsewhere that promoted Star to investors with the question: "Did Star Scientific Just Find the Cure for Alzheimer's Disease?"
The answer is no.
This same commentary suggested Star and Roskamp may be able to sell this "Alzheimer's" compound to people today, bypassing the long and expensive drug development process, because it is made from the same nutraceutical substances found in CigRx.
The answer, again, is no.
Star spokeswoman Sara Machir told me, via email, that CigRx and the Star-Roskamp compound are separate.
While we're on the subject of potential nutraceutical treatments for Alzheimer's, you'd be wise to remember the sad tale of
Neurochem
and its failed Alzheimer's drug Alzhemed.
After Alzhemed blew up, Neurochem changed its name to
Bellus Health
and Alzhemed became Vivimind, a nutritional supplement sold retail that is supposed to stop memory loss. Call it Vivimind or Alzhemed, a drug or a nutraceutical, the product is still a flop.
Investors in Neurochem/Bellus lost a bundle.
-- Reported by Adam Feuerstein in Boston.
Follow Adam Feuerstein on
.
Adam Feuerstein writes regularly for TheStreet.com. In keeping with TSC's editorial policy, he doesn't own or short individual stocks, although he owns stock in TheStreet.com. He also doesn't invest in hedge funds or other private investment partnerships. Feuerstein appreciates your feedback;
to send him an email.