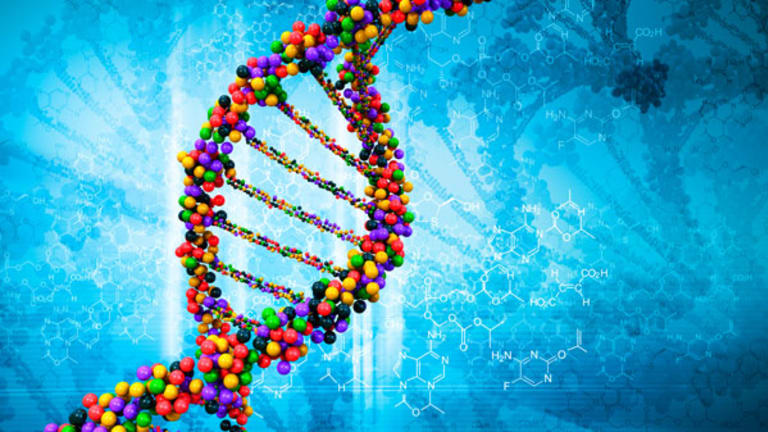 Biotech Stock Mailbag: Agenus, Aegerion, Ariad
Biotech columnist Adam Feuerstein answers readers' questions about health care companies.
BOSTON (
) -- An email from Steven B. about
Agenus
(AGEN)
kicks off this week's Biotech Stock Mailbag:
I was looking at Agenus. I know you have been negative in the past. Any change of opinion with recent developments?
Agenus is awful. The company needed a temporary spike in its stock price this week so it could go out and raise some quick cash. On Tuesday, Agenus issued a press release touting "follow on" results from a mid-stage study of its brain cancer vaccine. Except these new drug data were actually stale, having been
previously reported by the company in May
.
No matter. Some investors were fooled and bid up Agenus shares 30%-plus intraday Tuesday. After Tuesday's close, Agenus rushed out a quickie stock offering priced at $3 per share (including one-third warrant coverage) and raising $10 million.
Nicely played, Agenus. The bloody mess in the corner is what remains of your credibility, but no matter, cash raised. Until next time.
Meantime,
Seeking Alpha
contributor Larry Smith hails Agenus' brain cancer vaccine results as
Let's unpack this claim:
The phase II study enrolled 46 patients with newly diagnosed glioblastoma multiforme treated with Prophage (that's Agenus' cancer vaccine) plus the current standard of care -- radiation therapy plus the drug temozolomide.
Analysis of the study data showed a median overall survival of 23.3 months, according to Agenus on Tuesday and last May. There is no comparator arm in this study, which means drawing any conclusion about a potential survival advantage for Prophage is impossible.
No matter, because Agenus decides to compare Prophage's survival data with a much larger study of newly diagnosed GBM patients published in the
New England Journal of Medicine
in 2005. This so-called "Stupp study" showed a median overall survival of 14.6 months for newly diagnosed GBM patients treated with radiation and temozolomide, thereby establishing the current standard of care.
Prophage's median overall survival of 23.3 months is much longer than 14.6 months reported for the current standard of care, so therefore Prophage must be working.
No.
The problem with comparing data across different clinical trials is that patients' baseline characteristics are different. That is true in this case.
The GBM patients eligible for Agenus' Prophage study all had prior surgical resection of their tumors that was no less than 90% complete. By comparison, only 39% of patients enrolled in the Stupp study had complete tumor resection.
A later analysis of the Stupp study was published just looking at patients with complete tumor resection. The median overall survival for these patients was almost 19 months, very similar to the Prophage results, especially after factoring in the relative size of these studies. Agenus enrolled 46 patients in its phase II study while the Stupp study enrolled 573 patients, including 226 patients with complete tumor resection.
In a larger, controlled phase III study, that 23.3-month median overall survival for Prophage will undoubtedly fall.
In his
Seeking Alpha
story, Smith takes dubious cross-trial comparisons to another level by looking at two studies of Avastin in newly diagnosed GBM patients conducted by
Roche
(RHHBY)
. The control arm in both studies was the current standard of care -- radiation and temozolomide -- with median overall survival of 16 months and 17 months, respectively.
Once again, Prophage looks better, but it's an illusion. As with Stupp, the GBM patients enrolled by Roche in its studies were generally sicker than those enrolled by Agenus. Fifty-nine percent and 42% of patients treated with standard of care entered the study with complete tumor resections.
Agenus intends to meet with the FDA so that it can move ahead with a phase III study of Prophage in newly diagnosed GBM patients. As I've shown, the clinical evidence supporting this effort is dubious, at best. But this is biotech, where it's often more important to have a drug in phase III trials than it is for that drug to have any chance of success.
That's particularly true for a company like Agenus, where raising cash is mission number one.
Investor concerns that cholesterol-lowering PCSK9 drugs, including one under development by
Amgen
(AMGN)
, will eat into the market share and revenue generated by
Aegerion Pharmaceuticals'
(AEGR)
Juxtapid have resurfaced over the past week or so. The result: volatility in Aegerion's stock price. Shares hit $97 on Sept. 10 but fell to $84 on Sept. 18. The stock was rebounding Thursday as some analysts came to Aegerion's defense.
I stand with the Aegerion bulls, mainly because the competitive risk posed by PCSK9 drugs isn't proven yet and at best is still 2-3 years away. Meantime, the Juxtapid launch continues to perform very well. Aegerion's second-quarter results were stellar and I expect more of the same when the company reports the September quarter results in November.
The biggest threat to Aegerion shares today is not PCSK9 drugs but increased investor expectations and the stock's red-hot performance year to date. Any squiggle can be an excuse for profit taking.
AEGR
data by
In July, Aegerion raised its Juxtapid sales forecast for 2013 to a range of $30-35 million from $15-25 million. Current analyst consensus stands at $40 million for the year, the buyside "whisper number" is probably higher.
I expect another "beat and raise" quarter from Aegerion in November.
Juxtapid treats homozygous familial hypercholesterolemia (HoFH), a rare genetic disease that causes extremely high and potentially fatal levels of cholesterol to build up in patients' blood. A year of Juxtapid therapy costs $295,000.
The PCSK9 drugs under development by Amgen and others look very promising for patients who have at least partially functioning LDL receptors but still can't keep their cholesterol in check with statins. HoFH patients are different. They have no functional LDL receptors at all which is why their cholesterol levels are sky high and life threatening. From the
, PCSK9 drugs are not effective enough to have a clinically meaningful effect on HoFH patients. For this reason alone, Juxtapid's place in treatment is secure for now.
The competitive battleground between Juxtapid and PCSK9 drugs could be in patients with partially functioning LDL receptors i.e. heterozygous FH patients. But Aegerion has a lot more HoFH patients to treat with Juxtapid before that should be a significant concern.
On Thursday, David Sobek
the
Ariad Pharmaceuticals'
(ARIA)
short thesis that I explained in
.
Here's the rebuttal of the rebuttal from one of the investors shorting Ariad quoted in my piece:
"If that's the other side of the story, I feel very comfortable with my
short position" in Ariad, he says.
Sobek's biggest blunder, this investor explains, is ignoring the time factor. The red flag in the Iclusig EPIC study is not that some patients with pre-existing heart conditions are excluded from enrollment, it's that Ariad decided to exclude more patients with heart problems
after
the study started.
"Ariad saw something troublesome in the study that said the original assumptions were not sufficiently conservative," he says.
-- Reported by Adam Feuerstein in Boston.
Adam Feuerstein writes regularly for TheStreet. In keeping with company editorial policy, he doesn't own or short individual stocks, although he owns stock in TheStreet. He also doesn't invest in hedge funds or other private investment partnerships. Feuerstein appreciates your feedback;
to send him an email.