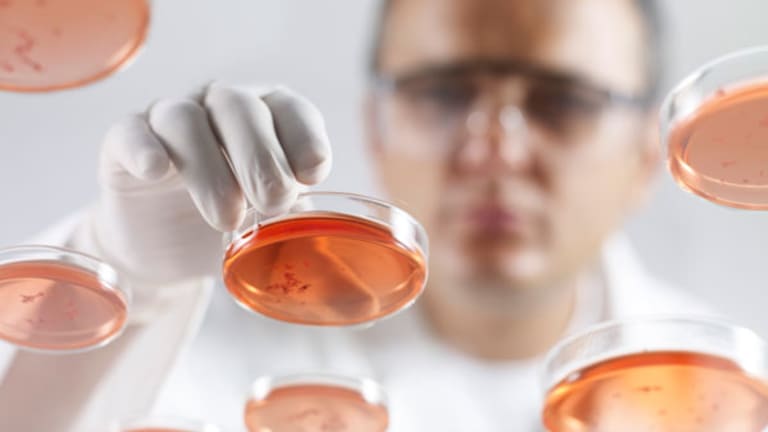 Biotech Stock Mailbag: Affymax
Biotech columnist Adam Feuerstein answers readers' questions and concerns about health care and drug-related stocks.
BOSTON (
) --
Affymax
(AFFY)
and the outlook for next week's FDA advisory panel meeting kicks off this week's Biotech Stock Mailbag.
Calvin C. writes,
"I really appreciate your work. I have one request from you as an avid fan of your blogs: Could you blog about the upcoming FDA panel meeting regarding Affymax's peginesatide on Dec. 7th? The data look great so I and many other investors would be very interested in such a blog! Thanks!"
Yes, I'll be live-blogging the Affymax FDA advisory panel meeting on Dec. 7. Before the panel, be aware (especially if you're trading the stock) that FDA will release its review of the peginesatide data on the morning of Monday, Dec. 5. You'll be able to find the FDA's peginesatide briefing documents
here
.
"Great" isn't the adjective I'd use to characterize the peginesatide data. "Adequate" is pretty much as far as I'd go -- and that might be too optimistic. Don't be surprised if the FDA's peginesatide review Monday reads negative (briefing documents are almost always critical.) The outcome of Wednesday's expert panel is a tossup; Wall Street's biotech buy-side sentiment leans negative.
Peginesatide is an erythropoiesis-stimulating agent (ESA), which like other ESAs (
Amgen's
(AMGN) - Get Report
Epogen and Aranesp and
Johnson & Johnson's
(JNJ) - Get Report
Procrit) treat anemia by stimulating the body to produce red blood cells. Peginesatide is dosed once a month, which makes it more convenient that other ESAs.
Affymax and its partner
Takeda
are seeking FDA approval of peginesatide for the treatment of anemia in patients with chronic kidney disease. Four phase III clinical studies were conducted: The "Emerald" studies in patients with end-stage kidney disease who are on dialysis; and the "Pearl" studies in less-sick kidney disease patients who are not on dialysis.
Overall, the four phase III studies met their primary efficacy endpoints, which was to measure the mean change in hemoglobin levels from baseline to the end of the study.
Peginesatide was non-inferior compared to currently marketed ESAs, which is the statistical way of saying peginesatide was functionally equivalent to the other ESAs.
Across all four studies combined, peginesatide was also statistically non-inferior to the other ESAs for safety, measured by a cardiovascular composite safety endpoint (CSE), which included death, heart attack, stroke and other heart-related safety problems.
That's the good news. The following is where the peginesatide data get a bit hairy:
Problems arose when Affymax analyzed the two sets of phase III studies separately. In the non-dialysis "Pearl" studies, patients treated with peginesatide reported a higher rate of cardiovascular safety events (21.6%) compared to patients treated with other ESAs (17.1%). From a statistical perspective, the relative risk of having a heart-related safety problem was actually quite high for peginesatide compared to the other ESAs.
In the "Emerald" studies of dialysis patients, the heart-safety rate was balanced between peginesatide and the other ESAs. (It actually trended slightly in favor of peginesatide.)
As a result of these divergent analyses of peginesatide's safety, Affymax and Takeda decided to ditch the non-dialysis treatment indication and only seek FDA approval for the treatment of anemia in dialysis patients.
The controversy or unknowns for next week's advisory committee meeting is how the FDA and the panel's experts view peginesatide's safety given the concerns raised by the non-dialysis patient data. Don't for a second believe that the FDA or the panel will ignore the worrisome "Pearl" data just because Affymax decided not to pursue approval in non-dialysis patients. I expect we'll hear a lot about these data, and it could derail the drug entirely.
Peginesatide's efficacy data in the "Emerald" dialysis patient population wasn't entirely squeaky clean either. The proportion of patients who were able to maintain hemoglobin levels within the target range -- a key secondary endpoint of the studies -- was statistically lower for peginesatide (63%) versus the other ESAs (71.7%).
These mixed data set up what should be an interesting FDA advisory panel next Wednesday. I expect a lot of questions and discussion about peginesatide's overall safety profile and a deeper inspection of why the drug appears to be safer in dialysis patients. That's a bit counterintuitive since dialysis patients are sicker than non-dialysis patients.
It's also helpful to view peginesatide in the broader context of FDA's years-long crackdown on the overuse and safety of ESAs. Is there a real unmet medical need for another ESA, even one that can be dosed more conveniently? Does once-monthly dosing even matter for dialysis patients, who require more frequent treatment, not less? Do the peginesatide studies raise more questions about the relationship between the way ESAs work and heart safety than they answer?
Stay tuned for next week's FDA panel, and please tune into my live blog.
RKN56 asks,
"With Onyx Pharmaceuticals (ONXX) now in play, who are likely suitors and when do you think a deal gets done?"
People have been speculating about Onyx's inevitable acquisition ever since Nexavar was first approved for kidney cancer in December 2005, so if it does happen, we can all scream "FINALLY!"
Biomarin Pharmaceuticals
(BMRN) - Get Report
is the only other drug company that comes to mind that's been the subject of equal or more takeout chatter over the years.
But yes,
Bloomberg's
report earlier this week that Onyx is exploring "options" including a sale of the company is accurate, confirmed for me by a source independent of those who spoke with
Bloomberg
.
Timing? Hard to say, but it's difficult to imagine anything happening until FDA weighs in on Onyx's multiple myeloma drug carfilzomib. FDA accepted carfilzomib for review this week but we're still waiting for an official drug approval decision date. It'll likely be March 28, with an FDA advisory panel scheduled before then.
In theory, a deal for Onyx could get done before FDA decides on carfilzomib if the buyer and Onyx agree on a contingent value right (CVR) tied to the drug's approval. Then again, let's not forget that Onyx may never find a buyer, even if it's seeking one.
Likely suitors?
Bayer
is an obvious choice and has been since day one given its co-ownership of Nexavar. The restructuring of the Onyx-Bayer joint venture and settlement over rights to the experimental drug regorafenib make it somewhat more likely that Bayer buys out Onyx now. One buy-side analyst (and Onyx bull) that I spoke with this week estimates the Nexavar joint venture alone is worth about $40 per share to Bayer, $60 per share with regorafenib and carfilzomib included. Onyx also has $11 per share in cash plus some pipeline value.
Celgene
(CELG) - Get Report
is an interesting potential suitor for Onyx given its significant market presence in multiple myeloma with Revlimid. Adding carfilzomib to Revlimid would make Celgene the dominant multiple myeloma player, even more so if you consider Celgene also has its own experimental multiple myeloma drug pomalidomide in late-stage development.
Then again, pomalidomide may be a reason why Celgene doesn't need Onyx.
Buying Onyx could also give Celgene another solid-tumor drug (Nexavar) to sell alongside Abraxane, which it owns through its acquisition of Abraxis in 2010.
One knock on the Celgene-buys-Onyx thesis is that Celgene is widely believed to have considered but passed on buying
Proteolix
, the private company that developed carfilzomib and was subsequently acquired by Onyx. By buying Onyx, Celgene would have to admit it made a mistake in not buying Proteolix earlier and at a far lower price.
Using the same logic, Takeda, which sells the multiple myleoma drug Velcade through its
Millennium Pharmaceuticals
subsidiary, is also a possible buyer. We may as well throw in all the Japanese drug companies as potential Onyx suitors since they've been active in cancer M&A.
For fun, you can
Pfizer's
(PFE) - Get Report
name into the ring since it needs to make up revenue lost to drugs like Lipitor, as well as most of the other Big Pharma companies.
A minor dust-up involving
Seattle Genetics
(SGEN) - Get Report
Thursday when analyst Elliot Favus (a SeaGen bear) reported on findings from the FDA's adverse events report database (AERS) for Adcetris during the initial three-month commercial launch period of the Hodgkin's lymphoma drug.
According to Favus, who received the AERS report from FDA via a Freedom of Information Act request, there were 40 Adcetris-related adverse events, including nine patient deaths, reported by physicians. One of the deaths was related to progressive multifocal leukoencephalopathy (PML), a serious and often fatal brain infection.
This new case of PML adds to the single case previously reported by Seattle Genetics.
"PML is a problem for Adcetris, given the small number of patients who have been exposed to the drug," writes Favus, who estimates that 400 patients were treated with Adcetris during the period covered in the AERS report.
The only thing Favus gets right is that there are two cases of PML, counters Seattle Genetics CEO Clay Siegall, who spoke with me on Thursday afternoon.
The "denominator" is actually more than 2,000 patients treated with Adcetris to date, says Siegall. Furthermore, PML is an adverse event already described in Adcetris' FDA-approved label and is a known risk for patients with lymphoma, especially in patients who undergo multiple cycles of treatment that suppress or destroy their immune systems.
Favus writes, "The nine deaths represent a significant departure from the clinical trial data: recall that no patient deaths were disclosed in the two Adcetris clinical trials presented at ASH 2010, which included 160 patients and formed the basis of FDA approval."
At this point, Siegall was doing his best to maintain composure over the phone.
"We're treating the latest of late-stage cancer patients," he said, including some patients who were so sick they were granted compassionate use access to Adcetris before the drug was approved.
"We're very pleased with the impact of Adcetris on patients. We hear regularly from doctors and patients. It's incredibly heart-warming."
Seattle Genetics has been a contentious bull-bear story since before Adcetris was approved and launched so no doubt the revelation and relevance of these adverse events, most notably PML, will be debated well into 2012. Favus' report was widely circulated around Wall Street Thursday but with de minimus effect on Seattle Genetics' stock price.
Have you voted for the
? The nominees this year are John Martin of
Gilead Sciences
(GILD) - Get Report
; Mitch Gold,
Dendreon
(DNDN)
;
Amarin's
(AMRN) - Get Report
Joseph Zakrzewski; Al Mann of
Mannkind
(MNKD) - Get Report
and Gregory Divis Jr. of
K-V Pharmaceuticals
( KV.A).
So far, Gold is winning; Divis is second. Voting will be open for a week so please make your voice heard.
Michael Becker, who runs the cancer drug consulting shop
MDB Partners
, feels like Gold is a deserving recipient because of the widespread negative effect Dendreon's had on the market value of other companies in the sector.
"To use the old cliché, Dendreon sneezed and Agenus, Bavarian Nordic, Celldex, Idera, Oncothyreon, Vical and others working in the field of
cancer immunotherapy caught a cold," says Becker.
Investor and Dendreon shareholder Brad Loncar is no Gold fan. This week, he began circulating a proposal calling for
Dendreon to hold a special shareholder vote
to remove Gold and Richard Brewer from the board of directors.
"There is a lot of frustration out there in DNDN land," he says.
How hated is KV Pharma's Divis? He has a
that is trying to swing more votes for Worst CEO in his direction.
Ken W. isn't happy about Mann's nomination.
"Your thoughts on Al Mann are ignorant and naive. It is obvious you did zero research on Afrezza or Mannkind. Afrezza does work and is needed by both Type 1 and Type 2 diabetics and will change millions of diabetic's lives for the better. These are facts, not my opinion. Al Mann may be arrogant but he has earned it. You're the idiot for publishing such a far distortion of the truth."
Steve S. thinks I missed by not nominating
Siga Technologies
(SIGA) - Get Report
CEO Eric Rose:
"In one year Rose managed to turn a $2.8 billion dollar BARDA contract owned 100% by the company and a $16 stock into a $433 million dollar contract owned 50% by Pharmathene pursuant to a 'bad faith negotiation' verdict in the Delaware Courts and a protest of how the BARDA contract was procured by Chimerix. All at the same time he and others were selling mega stock back in May around $13 yet failed to raise any money for the company at the same time…"
Barracudaman writes,
"Perhaps we should come up with a lost of worst journalists covering biotech or for that matter every sector."
Who me?
Francis writes,
"Somaxon Pharmaceuticals( SOMX) CEO is the all time worst…"
Rich Pascoe was definitely in the running. He's made a mess of Somaxon but then he didn't have much to work with.
Robjer gives the perennial nod to
Cell Therapeutics
(CTIC) - Get Report
CEO Jim Bianco, and rightly so.
"Now really, Adam, James Bianco should be proclaimed by acclamation as 'Worst CEO Emeritus" for his long-running disaster that is Cell Therapeutics."
MyDisqusID2 says,
"Re: Dendreon… cute by half, Adam. Stop pandering to the crowd and grow up."
On the other side of the debate, Peter writes,
"I don't think anyone can argue with the magnitude of Dendreon's failure. Sure, the others on the list certainly deserve honorable mentions but Mitch Gold's utter worthlessness in botching and rebotching and again rebotching Provenge's commercialization is unforgiveable."
Voting for
will be open through next Thursday, so vote once, vote often. And coming next week, you'll also be able to vote for the Best Biotech CEO of 2011.
--Written by Adam Feuerstein in Boston
>To contact the writer of this article, click here:
Adam Feuerstein
.
>To follow the writer on Twitter, go to
http://twitter.com/adamfeuerstein
.
>To submit a news tip, send an email to:
.
Follow
TheStreet
on
and become a fan on
Adam Feuerstein writes regularly for TheStreet. In keeping with company editorial policy, he doesn't own or short individual stocks, although he owns stock in TheStreet. He also doesn't invest in hedge funds or other private investment partnerships. Feuerstein appreciates your feedback;
to send him an email.