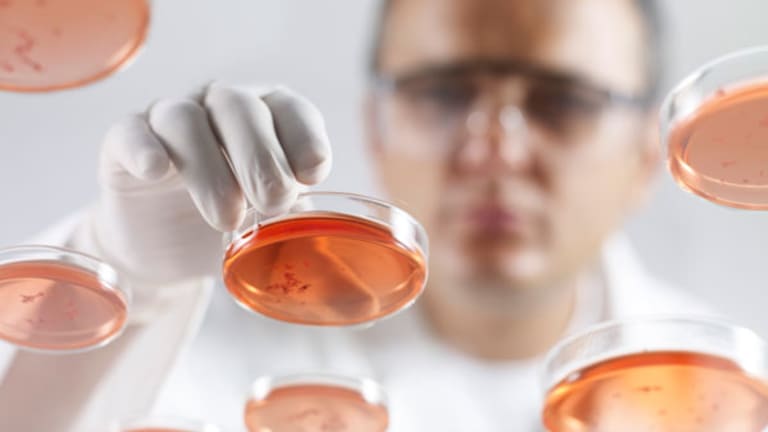 Biotech Stock Mailbag: Achillion, Ariad Revisited, Endocyte
Biotech columnist Adam Feuerstein answers readers' questions about health care.
BOSTON (TheStreet) -- An email from Roman W. about Achillion Pharmaceuticals (ACHN) - Get Free Report kicks off this week's Biotech Stock Mailbag.
Roman asks, "Adam, in your latest articles discussing the important biotech events for the rest of the year, I noticed you made no mention of Achillion Pharmaceuticals. Is this because you don't see any potential in their hepatitis C drugs?"
You're right, I neglected to mention Achillion but it was just an oversight on my part and not a diss against the company. With Merck's (MRK) - Get Free Reportacquisition of Idenix Pharmaceuticals, Achillion is basically the last independent, small-cap hepatitis C drug stock. Its most valuable asset -- potentially -- is ACH-3422, a nucleotide NS5B polyermase inhibitor. The conventional thinking is that so-called "nucs" are the linchpin of hepatitis C combination therapy. Gilead Sciences' (GILD) - Get Free Report blockbuster Sovaldi is a nuc. Merck spent $3.9 billion on Idenix for its experimental nuc. Achillion is the only other publicly traded company with a nuc in clinical development. 
I say -3422 is "potentially" valuable because we haven't yet seen clinical data on the drug's activity in hepatitis C patients. That will change soon when Achillion announces results from a phase I study of -3422 in treatment-naive genotype 1 patients. 
The efficacy bar for -3422 is in the range of a 4-log reduction in viral load after seven days of dosing in genotype 1 patients. Idenix's nuc IDX21437 posted a 4.2-log reduction in viral load in genotype 1s in its seven-day proof-of-concept study. Gilead's Sovaldi achieved a 4.5-log reduction. A clean safety profile is also vitally important.
Investors will be very pleased if -3422's efficacy profile matches what we saw with Idenix's nuc. Achillion shares have already moved higher in anticipation of the -3422 data and a speculated acquisition by a larger hepatitis C player -- Johnson & Johnson (JNJ) - Get Free Report , Bristol-Myers Squibb (BMY) - Get Free Report , Abbvie (ABBV) - Get Free Report -- lacking but maybe coveting a nuc.
Nucs are nice drugs to own because they're potent and combine well with other drugs to form convenient and highly effective combination therapies. Gilead is expecting FDA approval next month (or even sooner) for a single, once-daily pill which combines Sovaldi (the nuc) and ledipasvir (an NS5A inhibitor). Merck will now pursue nuc-based combination therapies with the Idenix purchase completed. You don't necessarily need a nuc as a backbone for an effective combination therapy  -- Abbvie's ABBV "3D" regimen is the best example -- but non-nuc regimens require patients to take more pills multiple times per day. 
Achillion actually has the potential to develop its own nuc-NS5A combination therapy. Last month, eight weeks of treatment with a combination of Achillion's ACH-3102 (an NS5A inhibitor) and Sovaldi (Gilead's nuc) led to 100% cure rate in 12 genotype 1 patients. If Achillion's -3422 shows promising activity, the company will pursue a combination therapy with -3102. (Swapping out Sovaldi for its own nuc.)
Is Achillion too late to the Hep C party? A very reasonable question. Debate amongst yourselves.
Time for a reckoning. Last January, a Mailbag reader asked me if Ariad Pharmaceuticals (ARIA) or Exelixis (EXEL) - Get Free Report   was a better value proposition. My response: "In 2014, I'm confident Exelixis performs better than Ariad."
With the failure of Exelixis' drug cabozantinib in a prostate cancer phase III study announced this week, my prediction is almost certainly going to be wrong.
I don't feel too badly about getting this call wrong, however, because Ariad isn't exactly setting anyone's investment account on fire. If you picked Ariad over Exelixis, you're still losing money, just less of it.
On the same topic, Wendy P. asks: "Adam, can you provide me with your updated viewpoints on Ariad?"
My view of Ariad today is essentially unchanged from when I last wrote about the stock in May: The stock is over-valued. ["Bloated" is the term I used last May.]
Ariad has under-performed this year because investors are turned off by the stock's valuation relative to the sales being generated by the leukemia drug Iclusig. When I last wrote about Ariad in May, analyst consensus for 2014 Iclusig sales was $86 million. I said take the under on the number because it's coming down. Today, Iclusig sales consensus for 2014 is $64 million, according to CapitalIQ. Based on the $20 million in reported net sales through the first six months of the year, Ariad has a lot of work ahead to even meet the reduced Wall Street expectations. And forget about next year's consensus sales expectation of $157 million. That's a pipe dream. 
In May, Ariad was trading at a lofty 13 times enterprise value. Thanks to the addition of new debt, today, Ariad trades at 16 times enterprise value, even with reduced Iclusig sales expectations. 
Remember the Ariad takeover speculation? Yeah, not so much.
There is a path forward by which Ariad can rebound and move the stock higher, but it probably involves the firing of CEO Harvey Berger as a first step in a major strategic overhaul. Getting rid of Berger is not an easy task. You may not remember, but in 2008, Berger survived the mass resignation of all of Ariad's independent directors, who accused him of "self-interested, combative and obstructionist actions" related to the acquisition of a small private company. Berger gets credit for later shepherding Iclusig through clinical development and approval, but reversion to the mean took over once the drug hit the market and its safety problems surfaced. 
Frankly, I'm surprised Alex Denner hasn't been more vocal in agitating for change at Ariad. The Sarissa Capital fund manager -- and Carl Icahn acolyte -- took a significant position in Ariad last year. Earlier this year, he was named to the company's board. Maybe Denner prefers quiet diplomacy to enact change. Personally, I think he should take a page from Icahn's playbook and rant in public. In an SEC filing this week, Denner discloses an effort to acquire a larger stake in Ariad which was rebuffed by the board. It's a situation worth watching. Denner didn't join Ariad's board to be a yes-man to Berger. Read between the lines of this week's filing and you'll see Denner frustrated about a lack of change at Ariad and the legacy board's obstructionist ways.
On a related note, when I warned you away from Ariad in May because of its bloated valuation, I also said Medivation (MDVN) was a bargain, by comparison. 
Here's how Medivation has performed since May:

Frank B. asks, "Do you have any insights into what Endocyte (ECYT) - Get Free Report will say at the cancer conference coming up?"
I have no specific prediction to make about the vintafolide lung cancer data except to say investor expectations are pretty low given Merck's (MRK) - Get Free Report decision to give back rights to the drug following the failure in ovarian cancer. If the vintafolide lung cancer data are largely unchanged from what was announced last March, I'm not sure many people will care. If the updated data are better, I'm not sure how many people will really care, either, given Merck's exit. The general feeling on Wall Street is that PD-1-based immunotherapies (solo or in combinations) are the future of lung cancer treatment, so risky small molecule-drug conjugates like vintafolide might have a hard time finding a place. 
Last March, Endocyte announced vintafolide achieved the primary endpoint of the phase II lung cancer study, demonstrating a 25% reduction in the risk of tumor progression compared to placebo. [Hazard ratio 0.75.] There was also a trend towards a survival benefit favoring vintafolide. These are the results which will be updated at a presentation during the European Society of Medical Oncology meeting, Sept. 26-30. 
The best thing that can come out of the vintafolide update is if investors re-gain some confidence in Endocyte's small molecule-drug conjugate technology. The company has two other such drugs in early stage clinical trials targeting various solid tumors. Merck may have split but its money did not. Endocyte says it will end the year with $200 million in cash, or about $5.50 per share. The stock trades today for under $7, so the market isn't giving the company much credit for anything other than the cash. 
Adam Feuerstein writes regularly for TheStreet. In keeping with company editorial policy, he doesn't own or short individual stocks, although he owns stock in TheStreet. He also doesn't invest in hedge funds or other private investment partnerships. Feuerstein appreciates your feedback;
to send him an email.