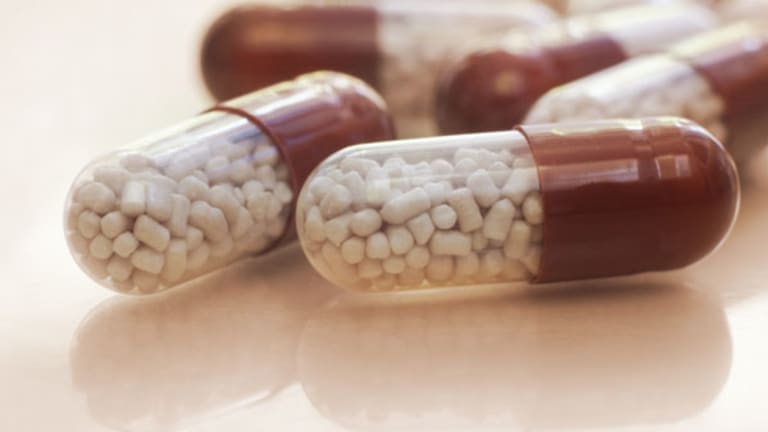 Biotech Stock Mailbag: AcelRx, Yellen Aftermath, Nymox
Biotech columnist Adam Feuerstein answers readers' questions about health care companies.
Biotech columnist Adam Feuerstein answers readers' questions about health care companies.
BOSTON (TheStreet) -- Welcome back to the Biotech Stock Mailbag.
Unless something goes horribly wrong, AcelRx Pharmaceuticals (ACRX) - Get Report should win FDA approval for the Zalviso pain-killing device on July 27. I won't go into details here, but the Zalviso phase III studies were all well designed and positive. The painkiller in Zalviso is a tiny sublingual (under the tongue) tab of sufentanil, which is already FDA approved for intravenous use. Regulators aren't likely to be concerned about approving a new formulation of a proven drug. The biggest risk to approval is if FDA finds an unresolved problem with the Zalviso dispensing device or the software which runs it, but again, no issues appeared to crop up in the clinical trials. 
Zalviso works like a high-tech Pez dispenser, except instead of a small brick of flavored sugar, the device doles out an even tinier, dissolvable sufentanil pill for patients in the hospital recuperating from surgery. If you've ever had surgery or just watched a TV show about hospitals, you know about the "red button" which patients press when experiencing pain to deliver a dose of morphine through an intravenous line in their arm. AcelRx is developing Zalviso to replace the so-called "IV PCA" delivery of morphine for post-surgical hospital patients.
AcelRx has a very good description of Zalviso, including a video showing how the device is used, on its web site. You should definitely check it out. Some of the device's features, including an RFID-embedded bandage worn on the patient's thumb to prevent unauthorized diversion of the sufentanil, are pretty cool.  
I spoke to a Top 10 holder of AcelRx. He believes Zalviso can capture 30% of the IV PCA post-op surgical market in U.S. hospitals with parity pricing, generating peak sales of $400 million. Upside revenue in the U.S. could come from broader use of Zalviso beyond the surgical setting, i.e. to control moderate-to-severe pain. The stock's current market cap of $400 million only bakes in about $100 million in Zalviso sales -- too low, he believes. AcelRx has a partner pursuing Zalviso approval in Europe, so any revenue generated there is also upside to these estimates. 
The bear thesis on AcelRx focuses mostly on Zalviso adoption. Will hospitals ditch the long-entrenched IV PCA morphine pumps and replace them with Zalviso devices to treat patients experiencing post-surgical pain? Bears say no, there's little incentive for hospitals to make the switch. And shorting the stocks of companies trying to sell products into hospitals has been a winning trade, historically. 
AcelRx bulls, like the shareholder mentioned above, believe doctors and nurses hate IV PCA enough to embrace Zalviso because it's more convenient and less prone to user error. Hospital administrators and bean counters will like Zalviso because it won't cost more than IV PCA but will improve quality care and patient satisfaction scores. And shorting companies selling into hospitals has not always been a winning trade -- just ask the guys short Cadence Pharma before it was bought for $1.3 billion by Mallinckrodt (MNK) - Get Report, or short Pacira Pharma (PCRX) - Get Report before the Exparel commercial launch ran them over. 
The July 27 FDA decision is important for AcelRx, obviously, but Zalviso's approval won't settle the debate. For that, we'll need to watch the company's commercial execution. I was much more skeptical about Zalviso before taking a closer look at the device and the issues hospitals and patients have with IV PCA. Zalviso is very well thought out and addresses real problems with the current approach to post-surgical pain relief in the hospital. Count me bullish on AcelRx.
Fed Chair Janet Yellen called the valuation of small-cap biotech stocks "substantially stretched" in a report to Congress on Tuesday. As you might expect, biotech stocks tumbled on Yellen's remark. Here's what the IBB and XBI -- widely followed ETFs -- looked like at Thursday's close:

IBB Price data by YCharts
The XBI is more heavily weighted towards small-cap biotech stocks, which explains why it's down more on Yellen's comment. World events aren't helping the overall stock market, either.
For perspective, here's a chart of the IBB and XBI performance year to date. It's too early to say anything conclusive, of course, but it does look like Yellen may have cut short the biotech recovery from the May low.

IBB data by YCharts

As you might expect, biotech Twitter and my inbox quickly filled with indignation over Yellen's criticism of biotech stock valuations. This email from Randall W. was pretty typical:

Yellen's comment about biotech stock valuations was entirely inappropriate for a Fed chair to make. She should not be calling out individual sectors for criticism. What does she know about biotech stocks, anyway? Nothing.

A lot of people, including Jim Cramer, agree with Randall. I'm agnostic about the appropriateness of Yellen's comments, although I am fairly certain people wouldn't be angry had Yellen called biotech stocks under-valued. No one ever gets in trouble for telling people to buy biotech stocks, even when (some) valuations reach ridiculous levels. 
Is Yellen right about small-cap biotech stock valuations being stretched? Valuations are subjective, by definition, and Yellen didn't offer any supportive evidence. There is no definitive answer, although I'll give it a try. I ran a screen using S&P CapitalIQ to see how many small-cap biotech stocks hit all-time highs in 2014. Admittedly, an all-time high stock price doesn't necessarily tell you whether a stock is over-valued, but it's the best proxy I could come up with given the tools at my disposal. 
The screen identified 291 biotech and drugs stocks with market capitalizations of $1 billion or under. Those of us who follow biotech stock obsessivelys might quibble with using $1 billion as a small-cap ceiling but it's a common line of demarcation for the broader investment community. All the stocks identified also trade on a major U.S. exchange. 
Of these 291 small-cap biotech and drug stocks, 101, or 35%, hit all-time high stock prices in 2014, according to CapitalIQ. I can't place this 35% in historical perspective, but seems suggestive of excessive valuation. I wouldn't make a blanket statement that all small-cap biotech stocks are over-valued. Enanta Pharmaceuticals (ENTA) - Get Report hit an all-time high stock price this year, but I'd say that's justified given the potential for its hepatitis C drugs in partnership with Abbvie. Bluebird Bio (BLUE) - Get Report and Hyperion Therapeutics (HPTX) are also on the list, and probably deservedly so. 
But also on the 2014 all-time high list are Neuralstem (CUR) - Get Report, NewLink Genetics (NLNK) - Get Report and Ohr Pharmaceuticals (OHRP) . I'd say none of these stocks deserve the valuation bump they've received this year. NewLink, in particular, was grossly over-valued earlier this year based on some reckless sell-side research pumps. 
Just one guy's thoughts using imperfect data. We can all agree that small-cap biotech stocks are volatile. I checked to see how many of the 291 small-cap stocks in my screen hit all-time lows in 2014. The answer: 82, or 28%. 
John B. writes:

Nymox Pharmaceuticals (NYMX) - Get Report has a market cap of approximately $163 million and has had very good results to date on its NX-1207 drug for benign prostastic hyperplasia (BPH). The company just completed a phase III study of NX-1207 with no results released yet. Nymox completed a small phase II study using this drug at a higher dose for low-grade prostate cancer with good results showing lower Gleason and PSA scores. An Italian pharmaceutical company, Recordati, bought European rights to NX-1207 and undoubtedly did extensive due diligence. In an efficient market, why isn't Nymox's market cap higher in your opinion?

I'd argue the market is efficient with respect to Nymox because investors have very little confidence in NX-1207, rightfully so. I stopped covering Nymox in early 2011 after a very strange interview with CEO Paul Averback during which he refused to tell me basic information about NX-1027. At that time, the two phase III studies of NX-1207 in BPH were underway. Averback refused to provide any guidance at all on when the studies would fully enroll their planned 1,000 patients, or when results would be announced, but he did say Nymox intended to seek FDA approval in 2012 (assuming positive trial results.)
Three years after my chat with Averback and two years after his approval filing guidance went past due, Nymox still hasn't disclosed results from the two phase III studies of NX-1207. The company did say study No. NX02-0017 completed patient enrollment in November 2012. Patients are treated for one year, which means last patient in completed treatment in November 2013. Eight months is a long time for wait for results. The listing status for the 0017 study on ClinicalTrials.gov was changed to "completed" on April 29, yet still no word on the results from Nymox. 
The second, phase III study, dubbed NX02-0018, completed patient enrollment in May 2013, according to Nymox. This suggests last patient in finished treatment two months ago. 
Perhaps Nymox wants to announce results of both studies simultaneously. Still, why the long delay from previous guidance? Why is taking so long to conduct two studies in BPH patients? These studies started enrolling in 2009-2010. 
Too many questions, too few answers, hence the market's disdain for Nymox. 
Adam Feuerstein writes regularly for TheStreet. In keeping with company editorial policy, he doesn't own or short individual stocks, although he owns stock in TheStreet. He also doesn't invest in hedge funds or other private investment partnerships. Feuerstein appreciates your feedback;
to send him an email.