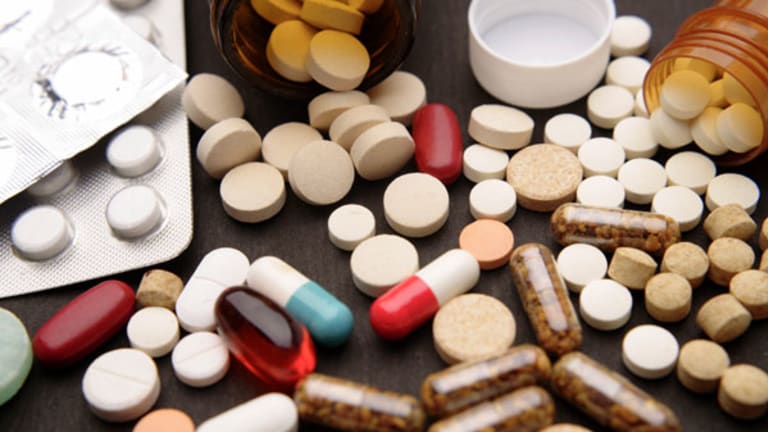 Biotech Stock Mailbag: Aastrom BioSciences
Biotech columnist Adam Feuerstein answers readers' questions about drug and health care-related firms.
BOSTON (
) --An email from Adman M. kicks off this early Thanksgiving edition of the Biotech Stock Mailbag: "What do you think of
Aastrom Biosciences
undefined
and their pipeline and reason you are not covering it?"
Two FDA panel live blogs kept me very busy last week, which is why I missed the release of results from a phase II study of Aastrom's stem cell therapy for patients with critical limb ischemia (CLI). Patients with chronic CLI have obstructed arteries and reduced blood flow in the arms and legs, which can lead to open wounds and amputation in the most severe cases.
A couple of reasons why Aastrom's stock fell about 40% despite what appeared to be headline-positive results from the phase II study:
First, a lot of investors (traders) sold the news because the stock had a huge run in the weeks before the data release. Aastrom was a $1.50 stock at the end of October but closed above $4 the day before the CLI data were announced.
It doesn't matter what the data looked like, with a chart like that, last week's CLI data announcement was a textbook sell-on-the-news event, especially because Aastrom hasn't even started a mandatory phase III study and the company has been open about the need to raise money.
Second, the study data were OK but not great, which adds additional risk to the phase III study.
If you've read my biotech coverage of clinical trial results, you know the importance I place on drugs that meet primary endpoints cleanly and without statistical gimmicks. Aastrom did just that, with its stem cell therapy demonstrating a 56% reduction in the time to treatment failure compared to control with statistical significance. Time to treatment failure is a composite endpoint that measures amputation, gangrene, wound size doubling and death.
Hitting a primary endpoint is ideal, but only when that endpoint is the one FDA uses to assess and measure a drug's clinical benefit. That's where Aastrom ran into trouble because for CLI patients, FDA is most concerned about reducing limb amputations.
Amputation was a secondary efficacy endpoint in Aastrom's stem cell therapy trial but the data weren't as robust. Amputation-free survival for the stem cell therapy was 75% compared to 71% for control -- a trend in the right direction but nowhere close to being statistical significant. Just as troubling, the amputation-sparing benefit of Aastrom's stem cells was reduced in this second interim analysis of the data compared to a first look taken last June.
Aastrom argued that the control patients were less sick and required fewer amputations than historically observed in CLI trials. This skewed the results against the company's stem cell therapy.
It's a legitimate argument, bolstered by the consistent amputation-free survival benefit seen for the stem cell therapy across both analyses conducted in June and November. By contrast, the control group performed much better, unexpectedly, after additional patients were enrolled following the June analysis.
Legitimate argument or not, the amputation-sparing benefit of Aastrom's stem cell therapy is no slam dunk, which ups the risk level for the phase III study. Whatever assumptions Aastrom was using to design the pivotal study probably need to be changed, which may mean enrolling more patients in order to detect a smaller amputation-sparing benefit at statistical significance.
National Securities analyst Jason Kolbert thinks Aastrom is likely to seek FDA agreement on one of two different possible pivotal studies. The first would be a larger-than-originally-planned study using amputation-free survival as the primary endpoint. The second might use a composite measure endpoint like time to treatment failure.
Getting FDA sign off on the latter study would be the best outcome for Aastrom because this is the endpoint that worked so well in the phase II study, says Kolbert. The challenge, he adds, is that U.S. regulators have never before agreed to approve a CLI drug based on a composite endpoint, so Aastrom needs to make a convincing argument.
It's been done before.
Human Genome Sciences
( HGSI) lobbied successfully with FDA to use a novel composite-measure primary endpoint for pivotal studies of its lupus drug Benlysta.
Aastrom may hear back from FDA on an agreement for the phase III study (or studies) in early first quarter of next year, making this the next important stock-moving catalyst for the company, says Kolbert.
Wiebo M. wants to pick another fight over
Somaxon Pharmaceuticals
( SOMX) and its recently launched sleeping pill Silenor. Wiebo posted the following tirade as a comment to an unrelated article of mine last week. As an act of compassion, I cleaned up his grammar and spelling mistakes:
"The writer, Adam F. is very negative on Somaxon. He doesn't publish realistic articles. He only publishes the bad numbers that he claims to be very low sales numbers. He mentioned to me that they are not important. A few others and I asked him to write an article with updated Silenor scripts info. Until now, no reaction. He said to me, "They've improved but not by much last time I checked a couple of weeks ago." Typical, he says that! They've improved with an average of 79% every week!
"If he had
bleep he would publish the updated numbers until NOW! I'm pretty sure he checked the IMS data on Somaxon after I asked him the first time to publish an article, but he ran away like a scared boy. That's why this site isn't realistic. Articles don't reflect the reality, or are incomplete, or full of irrelevant information."
I'm a scared boy? Hardly.
Silenor scripts for the week ended Nov. 12 totaled 785, according to IMS, which represents 9.5% sequential growth from the week prior.
A sub-10% weekly growth rate for total scripts just eight weeks after launch is a terrible sign. With the exception of one week, the week-over-week growth rate for Silenor is flat to down over the past eight weeks, according to IMS:
Nov. 12 (9.5% growth), Nov. 5 (16% growth), Oct. 29 (13%), Oct. 22 (60%), Oct. 15 (22%), Oct. 8 (25%), Oct. 1 (103%).
The Silenor commercial launch trajectory doesn't look so hot. It is still early days, granted, but the lackluster weekly script growth should worry Somaxon bulls. I'd also be concerned about Somaxon's decision last week to sell 8.8 million shares at $2.95 a share. That's what I call a white flag financing. Management appears to have given up, basically, and is now trying to raise cash as a survival strategy.
If Somaxon management had confident in Silenor's commercial potential, the company wouldn't be raising money with the stock in the tank, especially after last raising money in March when the stock was at $8.
Roger emails, "Nice call on the approval of
Apricus Biosciences'
undefined
(formally
NexMed
) Vitaros by Health Canada. I remember reading this article awhile back and
you mentioned that it would eventually be approved.
I was wondering what you thought of
Apricus CEO Bassam Damaj's comments that Vitaros could capture up to 20-30% of the Viagra market. Do you think the statement holds water or is he full of hot air?"
I'd say Damaj is stretching the bounds of reality with this statement about the commercial potential for Vitaros, a rub-on treatment for erectile dysfunction (ED) containing the active ingredient alprostadil, an old drug made irrelevant when ED pills like Viagra and Cialis came along.
Apricus describes Vitaros as a convenient, "on-demand" treatment for ED but so is Viagra. Better yet is longer-acting Cialis, also known as "the weekender" because it allows men with ED to swallow one pill but engage in sex "on demand" for up to 48 hours. That seems as convenient, if not more, than needing to rub a cream-based drug onto the penis every time a guy wants to have sex.
Unless Vitaros therapy is marketed as foreplay…
Vitaros' only real advantage over current ED pills might be that Vitaros can be prescribed to men who also take medications like alpha blockers for high blood pressure or nitrates for chest pain.
Apricus is cleared to market Vitaros in Canada, but U.S. rights to the drug are owned by
Warner Chilcott
(WCRX)
, which will only owe Apricus a single, $2.5 million payment if the drug is ever approved here. Apricus is not entitled to any royalties based on U.S. sales of Vitaros, according to an amended agreement signed between the two companies when Vitaros (then NexMed) was desperate for cash.
Vitaros is stuck in regulatory limbo here. The FDA rejected Vitaros in 2008; Warner Chilcott resubmitted the drug in late 2009 but FDA has since taken no action to approve the drug. Apricus still owns rest-of-world rights to Vitaros.
Meantime, the clock is ticking until 2012 when Viagra goes generic, at which time the U.S. market will be flooded with cheap ED pills.
I have my doubts about the rest of Apricus' pipeline. Monday, the company announced plans to seek FDA clearance to conduct a phase III study of a liver cancer drug known as PrevOnco despite never before studying PrevOnco in a clinical trial enrolling liver cancer patients. PrevOnco is a reformulation of the prescription antacid Prevacid, which Apricus says kills liver tumor cells in mice. A third antifungal drug once partnered with
Novartis
(NVS)
has also gone nowhere.
Back to
MELA Sciences
(MELA)
. Trevor S. asks, "Adam, what kind of timeline are we looking at for the FDA's decision on MelaFind? I know there's no deadline, I'm just looking for a general estimate. Are we looking at days, weeks, months? Any insight would be greatly appreciated. Thanks."
Unfortunately, the answer is unknown. A first-quarter 2011 approval decision by FDA seems like a reasonable guess, but a guess is all it is. Unlike drug reviews, the FDA is not bound by any specific deadline for a medical device like MELAFind.
This may or may not serve as a relevant precedent, but in August 2004,
FDA rejected a pacemaker-like device for depression
developed by
Cyberonics
(CYBX)
that was recommended for approval by an advisory panel two months earlier.
That panel vote was 5-2 in favor of the Cyberonics device -- a wider positive margin than the nearly split 8-7-1 vote supporting MELAFind.
FDA made it abundantly clear last week it does not want to approve MELAFind
. This could speed up the FDA's decision to reject, if not for the recommendation from last week's panel to recommend approval by the smallest of margins.
Given that vote, MELA probably gets another chance to lobby FDA for MELAFind's approval, which may delay the agency's decision.
Whenever the decision comes, I still believe
, telling MELA that it needs to conduct some sort of new clinical trial before regulators would consider the skin cancer detection device for approval again.
Daniel K. emails, "Back in June, drama surrounded
Delcath Systems
(DCTH)
and the ASCO presentation. I'm a little fish in a big pond and have only been investing since the market crashed. My question is do I stay married to Delcath through the new drug application and eventual approval decision or run like hell? Thanks for any thoughts."
I remember this summer's Delcath drama quite well because I was smack dab in the middle of it. I argued then, and I still believe today, that a
small commercial opportunity awaits the Delcath Chemosaturation System (CS)
, a drug/device designed to clear tumors from the liver in patients with melanoma.
I pegged revenue from
Delcath CS at around $50 million, which valued Delcath fairly in the $5-7 a share range
. I put these numbers together in June after seeing the CS data presented at the ASCO meeting and talking to doctors about how rarely they treat patients with melanoma in which metastasizes are confined to the liver. I haven't seen or read anything new since June to justify changing my estimates.
Obviously, my forecast is much lower than the $800 million in CS sales promised by Delcath management.
Before any CS revenue is collected, FDA must approve the drug-device. Delcath says the new drug application will be submitted before the end of the year, a delay from the company's original projection of an October filing.
Assuming Delcath meets its submission target and FDA grants priority, six-month review, an approval decision will come in June 2011. Before that, I expect FDA will convene an advisory panel to review Delcath CS, date to be determined.
Happy Thanksgiving!
--Written by Adam Feuerstein in Boston.
>To contact the writer of this article, click here:
Adam Feuerstein
.
>To follow the writer on Twitter, go to
http://twitter.com/adamfeuerstein
.
>To submit a news tip, send an email to:
.
Adam Feuerstein writes regularly for TheStreet.com. In keeping with TSC's editorial policy, he doesn't own or short individual stocks, although he owns stock in TheStreet.com. He also doesn't invest in hedge funds or other private investment partnerships. Feuerstein appreciates your feedback;
to send him an email.