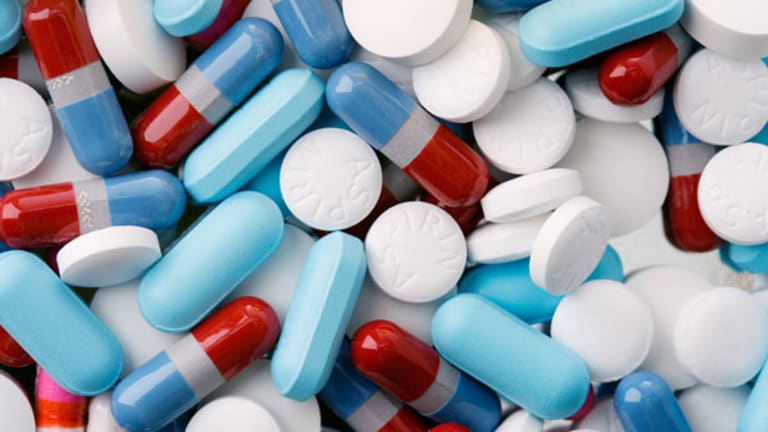 Biotech Stock Mailbag: 2013 Clinical Trials Calendar
Biotech columnist Adam Feuerstein answers readers' questions about healthcare companies.
BOSTON (
) -- I'm just back from covering the American Society of Clinical Oncology (ASCO) annual meeting -- and still recovering -- so apologies in advance for a less-full Biotech Stock Mailbag this week.
Bruce L. writes:
Besides the FDA Drug Approval Calendar, it would be helpful to know when phase III results are going to be announced. I just stumbled upon Insmed (INSM) - Get Insmed Incorporated Report, which will announce phase III results soon and the stock has run from $3 to $11 in a few months. The run-up is where you can make a lot of money without the risk of the FDA. Publishing a list of quarterly clinical trial results would be very helpful. Keep up the good work!"
Insmed's lead product is Arikace, an inhaled antibiotic engineered to deliver an already-approved antibiotic known as amikacin directly into the lungs of patients with rare lung infections. Arikace is being studied in a phase III clinical trial of cystic fibrosis patients, with results expected in the middle of the year. This study is intended for an approval filing in Europe and Canada.
The FDA imposed a clinical hold on a similar Arikace study in the U.S., which was later lifted, but Insmed's plans to develop the antibiotic here are still unclear, pending results from the European study. Insmed is also conducting a phase II study of Arikace in patients with non-tuberculous mycobateria (NTM) lung disease and a nine-month dog toxicity study.
Results from Insmed's NTM study are expected in the fourth quarter.
Bruce's overall point about the stock-moving power of clinical trial results is a good one. Take a look at what happened to Clovis on Monday if you're a doubter.
Here's a rundown of companies with significant clinical trial results expected this year:
MannKind
(MNKD) - Get MannKind Corporation Report
Afrezza, Type 1 and 2 diabetes
Top-line results from two phase III studies expected in August.
After two FDA rejections, MannKind is back seeking another shot at approval of its inhaled, fast-acting insulin. The data from these two phase III studies, if positive, will form the basis of the Afrezza resubmission.
Vical
(VICL)
Allovectin for melanoma
Top-line results from a phase III study expected in the third quarter
The long-delayed Allovectin study is finally almost complete. I explained the
bear thesis on Vical and Allovectin
in a previous Mailbag.
Orexigen Therapeutics
(OREX)
and
Takeda
Contrave, obesity
Interim analysis of the cardiovascular outcomes study could take in the second or third quarter.
Under an agreement with FDA, Orexigen and its partner Takeda will conduct an interim analysis of the Contrave study once 87 major adverse cardiovascular events have been recorded. If the interim analysis returns clean heart-safety data for Contrave, the obesity drug will be resubmitted to FDA for a second review.
Amicus Therapeutics
(FOLD) - Get Amicus Therapeutics, Inc. Report
and
GlaxoSmithKline
(GSK) - Get GlaxoSmithKline Plc Report
Amigal, Fabry disease
One-year results from the Amigal monotherapy phase III study are expected in the middle of the year.
Amicus presented
disappointing six-month results
from this Amigal study last year but an
alternative theory explaining the failure
may bode well for the 12-month results.
Xoma
(XOMA) - Get XOMA Corporation Report
Gevokizumab, osteoarthritis
Top-line results from a phase II study expected in July or August.
Achillion Pharmaceuticals
(ACHN) - Get Achison, Inc. Class A Report
Sovaprevir, ACH-3102 in hepatitis C
Early response (RVR) results from this combination study of Achillion's protease inhibitor sovaprevir and NS5A inhibitor ACH-3102 in treatment-naive, genotype 1 hepatitis c patients will be announced in the third quarter.
Alnylam Pharmaceuticals
(ALNY) - Get Alnylam Pharmaceuticals, Inc Report
ALN-TTR02, transthyretin-related hereditary amlyoidosis
Top-line results from a phase II study expected in the third quarter.
Biodel
(BIOD)
BIOD-123, a fast-acting mealtime injectable insulin for diabetes patients.
Top-line results from the phase II study expected between August and September.
TheStreet
contributor Mark Messier
.
GTx
(GTXI)
Enobosarm for cancer-related muscle wasting
Phase III results expected in the third quarter.
Keryx Pharmaceuticals
(KERX) - Get Keryx Biopharmaceuticals, Inc. Report
Zerenex for non-dialysis dependent chronic kidney disease.
Phase II results expected in the third quarter.
Merrimack Pharmaceuticals
(MACK) - Get Merrimack Pharmaceuticals, Inc. Report
MM-398 for second-line pancreatic cancer
Top-line results from phase III study expected before year end.
Rockwell Medical
(RMTI) - Get Rockwell Medical, Inc. Report
Soluble Feric Pyrophosphate (SFP) for anemia in kidney dialysis patients.
Results from two phase III studies expected in July and October, respectively.
ChemoCentryx
(CCXI) - Get Chemocentryx, Inc. Report
CCX140 for diabetic nephropathy
12-week data from a phase II study in the third quarter.
Coronado BioSciences
(CNDO)
CNDO-201 for Crohn's disease
Phase II results in the second half of the year.
Special thanks to
for use of its research databases to help put together this clinical trials calendar.
Back to more of your emails and tweets next week.
-- Reported by Adam Feuerstein in Boston.
Adam Feuerstein writes regularly for TheStreet. In keeping with company editorial policy, he doesn't own or short individual stocks, although he owns stock in TheStreet. He also doesn't invest in hedge funds or other private investment partnerships. Feuerstein appreciates your feedback;
to send him an email.