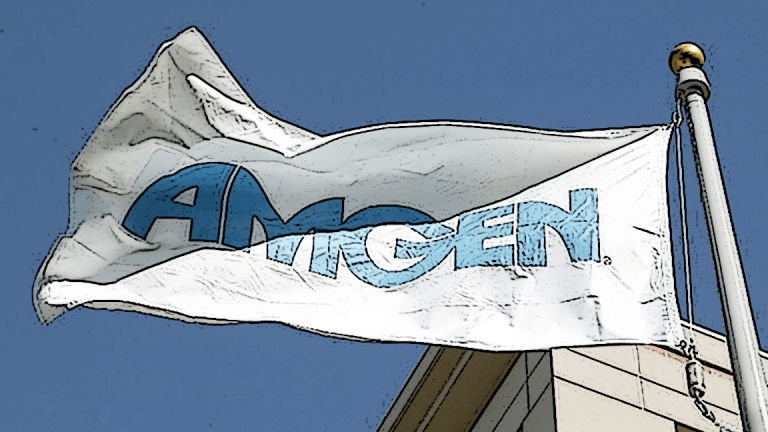 Biotech, Pharma Stocks Tumble Amid Big Market Sell-Off
Vertex Pharmaceuticals, Amgen and Johnson and Johnson were among the big movers in the biotech and pharmaceutical sectors.
Shares of biotech and pharmaceutical firms traded significantly lower on Monday, with many outpacing the big declines in the broader stock market. The Dow ended the day down 1,175.21 points, or 4.6%, and at one point the decline exceeded 1,500 points. The broader S&P 500 finished 4.1%, or 113.19 points, lower.
Among the biggest movers in the biotech sector was Vertex Pharmaceuticals Inc.
(VRTX) - Get Free Report
, which closed down 6.7% to $
155.14.
 Shares of Amgen Inc.
(AMGN) - Get Free Report
finished the trading session at $
174.75, representing a 6.6% decline
and Celgene Corp.
(CELG) - Get Free Report
closed at $
93.74, down 6.1%.
According to biotech analyst Yatin Suneja of SunTrust Robinson Humphrey Inc., though, the sell-off doesn't seem to be hitting biotech stocks any harder than other sectors. 
"We are seeing people taking profits right now, but it's nothing specific to biotech," Suneja said.
He also noted that biotech stocks had "run up really nicely over the last month or so, primarily driven by M&A."
January saw several transactions in the biotech sector, including two acquisitions by Celgene and two by Sanofi. In early January, Celgene unveiled its purchase of Impact Biomedicines for as much as $7 billion. Then on Jan. 22, Celgene, which has a 9.7% stake in Juno Therapeutics Inc. (JUNO) , said it had agreed to buy the rest of the Seattle immunotherapy company for around $9 billion.
Sanofi, for its part, announced its acquisition of Bioverativ Inc. (BIVV) for $11.6 billion on Jan. 22. The French drugmaker followed up that deal with its purchase a week later of Ablynx NV for about €3.9 billion ($4.8 billion).
As for pharmaceutical stocks on Monday, Johnson & Johnson (JNJ) - Get Free Report finished 5.3% lower, at $130.39. The New Brunswick, N.J.-based also has medical device and consumer businesses.
Other movers include Bristol-Myers Squibb Co. (BMY) - Get Free Report , down nearly 4% to $60.96. The New York firm on Monday morning reported fourth-quarter results that surpassed analysts' estimates and said an ongoing clinical trial combining its Opdivo (nivolumab) and Yervoy (ipilimumab) drugs in lung cancer achieved one of its goals.
Meanwhile, shares of Pfizer Inc. (PFE) - Get Free Report ended the trading session at $34.67, down 5.1%.