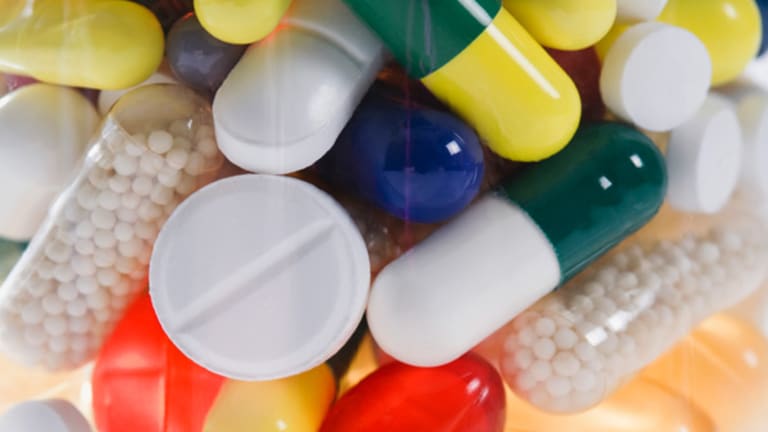 Biotech Notebook: Xoma, Medivation, Delcath
Xoma's apparent lack of interest in a buyout may not serve investors in the near term.
Xoma
(XOMA) - Get XOMA Corporation Report
CEO Steven Engle gave me a "no comment" when I asked him on Monday if the company had received any recent takeout offers.
That leaves plenty of room for interpretation, so I asked him again if he wanted to flat-out deny a tip I received earlier this fall that Xoma had, in fact, received a $5-a-share offer from a pharmaceutical company.
Xoma, I was told, rejected that offer because the company felt it wasn't high enough.
Engle's response: "No comment."
I didn't write anything about this alleged offer after I heard about it because the information didn't seem solid enough. I bring it up now, however, because Xoma's revamped
business strategy
, announced Monday night in what seemed like a hastily arranged conference call, suggests that Xoma is going it alone.
Whether that's by choice or because the suitor that allegedly came a-knockin' is no longer interested isn't known.
Xoma shares closed Monday at $3. The stock is up 40% for the year, but has fallen from a high of $4.18 set on Oct. 15. The last time the stock had seen the $4 range was the summer of 2004.
There is a case to be made for a Xoma takeout. Like
PDL BioPharma
(PDLI) - Get PDL BioPharma, Inc. Report
, which has publicly announced that it is seeking a buyer, Xoma has a technology platform to discover and make humanized monoclonal antibodies.
And Xoma receives royalties from
Genentech
( DNA) on sales of two drugs -- Raptiva and Lucentis.
This antibody technology, coupled with in-house biologics manufacturing capacity, is supposed to be the sweet nectar that has buyout-frenzied Big Pharma buzzing.
And Xoma, with an enterprise value of just under $400 million, is less expensive than PDL.
Yet the corporate strategy laid out by Engle on Monday didn't leave the impression that an acquisition was in the company's plans. That's unfortunate. Xoma's decision to accelerate development of a couple of pipeline drugs, while putting some others on the backburner, seems rational enough. The problem is that there doesn't seem to be a near-term payoff for investors. Xoma, like PDL, hasn't been very successful in developing proprietary drugs.
Full disclosure: My tipster about the supposed Xoma acquisition bid was an institutional investor who was long Xoma at the time. He clearly wants Xoma sold (or bid up on speculation of a buyout) so he can exit his position with a profit. If the company refuses to seek a buyer and the stock remains weak, I asked him if he had plans to pressure Xoma management publicly in the same way that an activist hedge fund did to PDL BioPharma.
He was hesitant to do so, he said, but that was before Monday's conference call. It will be interesting to see if he, or anyone else, pressures Xoma to sell itself now that the company seems to be signaling a go-it-alone strategy.
Hype can work both ways. Case in point:
Medivation
(MDVN)
. The company is developing a controversial Alzheimer's disease drug, Dimebon, that is either a mega-blockbuster in waiting or a complete zero, depending on your point of view.
On Monday, Natixis Bleichroeder biotech analyst Corey Davis initiated coverage of Medivation with a sell rating and a $5 price target. Needless to say, Davis wasn't particularly bullish on Dimebon's prospects.
Medivation shares fell 17% on Monday and were down another 3 cents on Tuesday to $14.50. The stock is now down about 40% since early October, when it hit its all-time high of just under $25.
The stock got that high in part because CEO David Hung had been telling investors privately throughout the summer and early fall that a phase II Dimebon study was going to be
published in a prestigious medical journal. This publication, he claimed, would go a long way toward erasing investor doubts about Dimebon's potential as a groundbreaking Alzheimer's treatment.
Last month, Medivation filed an 8-K with the SEC disclosing the pending Dimebon publication without offering specifics such as the name of the journal where the article would appear. (There was no accompanying press release either.)
It's now almost December, and that Dimebon article has yet to appear anywhere. Well, sort of. The not-so-secret Wall Street rumor mill pegs
The Lancet
(likely
Lancet Neurology
) as the peer-reviewed medical journal that agreed to publish the Dimebon phase II study.
The December issue of the journal, released last week, does contain an article that mentions Dimebon, but there's nothing in there about the phase II data, nor is the drug described in a completely flattering light.
The
Lancet
article by James Butcher, titled "The Hunt for Drugs to Modify Alzheimer's Disease," is an overview of several Alzheimer's drugs in clinical trials. When it comes to Dimebon, Butcher finds a supporter in Dr. Rachel Smith Doody of Houston's Baylor College of Medicine, who says the drug has shown a positive "signal" in a phase II study. Doody is the principal investigator of that Dimebon study.
But the article also quotes Dr. Lon Schneider of USC's Keck School of Medicine, who says, "Dimebon has gotten in my view undeserved hype," and "This
phase II trial has been touted incorrectly as the largest effect ever seen and as nearly the second coming of Alzheimer's disease."
It's probably safe to assume that this article isn't the one that Medivation CEO Hung has been bragging about. But then, why would Hung be out there talking up a Dimebon publication in a high-profile and prestigious medical journal when he has no control over when such an article would eventually appear?
Perhaps it's because Hung has garnered a reputation as a chief executive somewhat obsessed with short-sellers? (Just over 20% of Medivation's freely traded shares are sold short.)
Or maybe it's linked to Medivation's recent $100 million equity financing arrangement with Azimuth Opportunity? Medivation signed the Azimuth deal in September, around the same time that Hung began talking up the Dimebon publication, which also coincides with the stock's run into the mid-$20s.
The stock's surge worked out well for Medivation, which was able to sell a slug of stock to Azimuth at $22.60 on Oct. 26 and another, larger block of stock at $20.12 on Nov. 12, according to
SEC
filings. To date, Medivation has grossed $21.3 million from its Azimuth stock sales.
Delcath Systems
(DCTH) - Get Delcath Systems Inc. Report
restarted its clinical trials on Nov. 20 after meeting with the Food and Drug Administration and, apparently, satisfying the agency's safety concerns.
The FDA asked Delcath to voluntarily suspend patient enrollment on Oct. 23, so this whole episode took about a month to resolve. That's fairly quick. The regulatory system worked, at least in this case.
There isn't much else to say that I haven't already
said about Delcath. This may disappoint those who emailed urging me to write about the great injustice that's been done to Delcath by the FDA. Sorry, but I just don't see it that way.
In case you missed this illuminating story in this Sunday's
New York Times
, read all about one psychiatrist's
as a marketing rep for
Wyeth
( WYE).
Adam Feuerstein writes regularly for TheStreet.com. In keeping with TSC's editorial policy, he doesn't own or short individual stocks, although he owns stock in TheStreet.com. He also doesn't invest in hedge funds or other private investment partnerships. Feuerstein appreciates your feedback;
to send him an email.