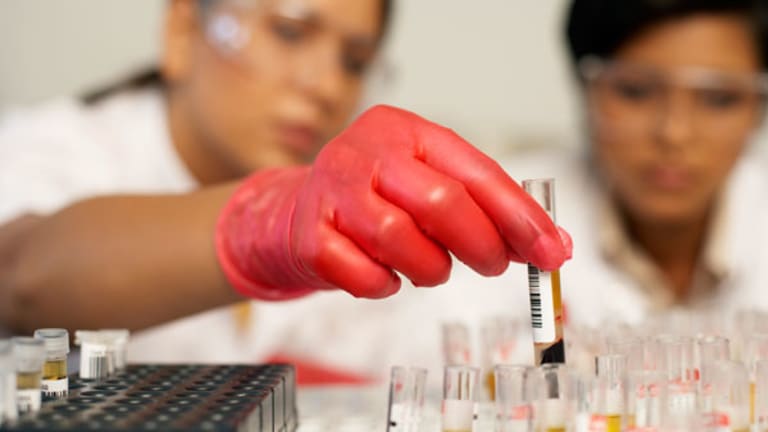 Biotech Notebook: Genitope, Amicus
Failing a phase III trial is never a good thing. Don't believe a CEO's attempt to spin it otherwise.
Genitope's
(GTOP)
MyVax study
failed. I sympathize with the company's CEO, Dan Denny. He must be profoundly disappointed in Thursday night's results, especially because this phase III trial of non-Hodgkin's lymphoma patients took years to conduct.
But pity for Denny only goes so far, and it pretty much stops when he starts talking about how a subgroup analysis from this failed(!) study is really a home run and will compel the FDA to approve MyVax.
Denny might be so overcome with grief that he actually believes what he's saying. Any investor who buys into what Denny is selling is simply crazy.
Amicus Therapeutics
(FOLD) - Get Amicus Therapeutics, Inc. Report
presented some phase II data on its Fabry disease drug Amigal on Wednesday. Amigal appears to be an active drug that can reduce the toxic buildup of a protein called GL-3 in the kidneys of patients. It's the inability to remove GL-3 from cells in the body (because of a genetic malfunction) that causes the severe physical problems in Fabry patients.
However, investors' reaction to what seemed like positive news was anything but. Amicus shares were shellacked Thursday, falling $5.59, or 37%, to $9.54.
Why the incongruence between the Amigal data and the stock price? The answer is in the details of the Amigal data. Amicus got its best results by measuring reductions in GL-3 levels in the urine of Fabry patients. The efficacy was less robust, however, when GL-3 levels were measured via biopsies of kidney cells.
This latter way of measuring response is what the FDA used in the past to approve
Genzyme's
( GENZ) Fabry disease drug Fabrazyme. Amicus wants to use reductions in urinary levels of GL-3 as a primary endpoint in a planned phase III study of Amigal. But will the FDA allow that when they've used a more stringent efficacy measure (kidney biopsies) for Fabry drugs in the past?
It's hard to envision a scenario in which the FDA is more lenient with Amicus than it was with Genzyme. It could happen, I guess, but it's not likely.
That said, Amigal appears (at least to me) to be an active drug, and there is the possibility that further studies prove the drug can show a significant reduction in GL-3 levels when measured via kidney biopsy.
Amigal may not be as potent as Genzyme's Fabrazyme, and it may not be used in all Fabry disease patients, but Thursday's decimation of the stock seems overdone -- it was as if the study were completely negative. It wasn't.
And Amicus has a similar drug in development for Gaucher disease, another rare genetic disorder. We'll get data on this drug early next year.
Amicus is a risky biotech story, no doubt. The "pharmacological chaperone" technology it uses to develop its drugs isn't yet proven, so there's more downside in the stock even at this level. But there's a lot of upside, too, if drugs like Amigal do work.
I fully acknowledge and understand the concerns that dropped Amicus on Thursday, but at this price, the potential upside seems more compelling to me.
Introgen Therapeutics
(INGN) - Get Inogen, Inc. Report
has missed yet another promised deadline for its cancer gene therapy Advexin.
All year, the company has sworn up and down that it would release results from a phase III study of Advexin in head and neck cancer patients
and
file Advexin for approval with both the FDA and the European Medicines Agency before the end of 2007.
On Thursday, Introgen reneged on that promise, saying it needs more time to collect and analyze tissue samples from Advexin patients in the phase III study. Therefore, there will be no Advexin data or regulatory filings until the first half of 2008.
The news sent Introgen shares sliding $1.30, or 28%, to $3.22. That's just 20 cents above the stock's 52-week low. On Friday, the stock was off almost another 4% to $3.10.
Introgen is really blazing new trails in biotech bamboozlement, going where no company has gone before. Consider me impressed.
Let's recap a brief history of Introgen's track record when it comes to Advexin: An FDA filing in 2004? Nope. A filing in 2005? Nada. 2006? Didn't happen.
Now we add 2007 to the list of Introgen ignominy. What makes this year even more hilarious is that management was promising publicly, as late as the middle of November, that it was going to meet the deadline this time. And earlier this week, Introgen's board awarded CEO David Nance with another long-term employment contract.
I've said it before, but it bears repeating: Introgen is a terrible company. Advexin is junk. The drug doesn't work. The data are manipulated and false. Management misleads. Is that clear enough?
Altus Therapeutics
( ALTU) announced Wednesday that it was dumped by
Genentech
( DNA), its year-long partner in developing a long-acting human growth hormone.
Not good news, clearly.
When Genentech decided to partner with Altus last December, investors rightly saw the deal as a validation of Altus' drug delivery platform -- a proprietary protein crystallization and formulation technology that is designed to enhance a drug's efficacy and/or improve safety and dosing convenience.
But a year went by with zero progress and no news from the Altus-Genentech partnership to develop ALTU-238, a once-weekly injection of human growth hormone. That is, until Wednesday, when Altus announced that Genentech had hit the road.
This has to raise serious questions about Altus' technology platform. At this point, I'd place Altus in the same category as
Nastech Pharmaceuticals
( NSTK) -- companies with unique and potentially valuable drug-delivery technologies that can't seem to execute and therefore can't be trusted until they prove themselves.
Altus now says it will develop ALTU-238 on its own. The company is also in the midst of a phase III study of ALTU-135, a pancreatic enzyme replacement therapy for patients with cystic fibrosis and other diseases. Here too, unfortunately, I'd have significant concerns about ALTU-135's chances for success.
And I used to like Altus a lot. I haven't forgotten my Jan. 19 column praising the company. The stock was just under $19 when I wrote bullishly about Altus' technology and its pipeline. On Thursday, it sank $4.38, or 44%, to $5.50.
Clearly, this was a dismal call on my part.
Adam Feuerstein writes regularly for TheStreet.com. In keeping with TSC's editorial policy, he doesn't own or short individual stocks, although he owns stock in TheStreet.com. He also doesn't invest in hedge funds or other private investment partnerships. Feuerstein appreciates your feedback;
to send him an email.