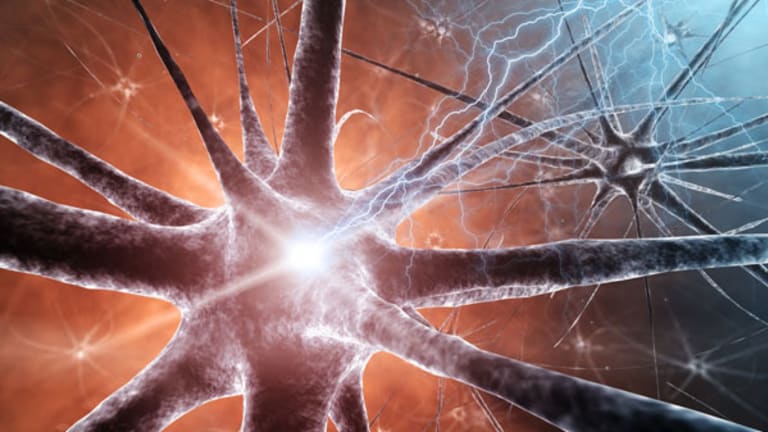 Publish date:
Biotech News Roundup: Aspen, AMAG, Vertex
The 2009 Canaccord Adams Global Growth Conference yields updates on Aspen's appendicitis test, AMAG's Feraheme, and Vertex's telaprevir.
The 2009 Canaccord Adams Global Growth Conference yields updates on Aspen's appendicitis test, AMAG's Feraheme, and Vertex's telaprevir.
BOSTON, Mass. (
) --I've spent part of the last week attending the 2009 Canaccord Adams Global Growth Conference. Some notes from company presentations:
AspenBio Pharma
(APPY)
is a small diagnostics maker developing a simple blood test to allow emergency room doctors to quickly and easily diagnose appendicitis.
The
Food and Drug Administration
is reviewing the AspenBio test, known as AppyScore, under the 501(k) guidelines that regulate the approval of simple medical devices. AspenBio executives hope to get a first response from the FDA next month, but a final approval decision for the AppyScore lab test is more likely to occur in the second half of next year.
AspenBio spokesman Greg Pusey told me the company is mindful that updates on the FDA review of AppyScore are important, but Aspen won't commit to disclosing details of the initial FDA response next month.
The AppyScore data submitted to the FDA isn't blemish free. The pivotal study ran into problems last January when AppyScore's ability to accurately determine if a patient wasn't suffering from appendicitis (and therefore could be sent home from the emergency room safely) fell below expectations.
AppyScore's so-called "negative predictive value" improved when it was combined with standard blood tests, and improved further when AspenBio loosened the test's sensitivity.
AspenBio says its study design allowed for adjustments to be made and that FDA reviewers will find the changes copacetic. Of course, that is AspenBio's side of the story; the FDA hasn't weighed in yet.
Investors punished AspenBio last January. Shares fell from $7 to under $2 and have only recovered to around $2.50 recently, so the risk of an FDA rejection or significant delay is baked into the stock price to some degree.
AspenBio's market cap is $74 million. The company has $11 million in cash on hand and will need to raise money in some form by the end of the year.
A test to detect a bum appendix isn't sexy, but 300,000 emergency appendectomies are performed each year in the U.S., making it the most commonly performed abdominal surgery. About 10 million people visit emergency rooms every year with suspected appendicitis.
Doctors currently rely on a combination of standard blood work, a physical exam, an examination of symptoms and perhaps a CT scan to diagnose appendicitis. Still, doctors remove a healthy appendix about 8% to 10% of the time. Even worse, in about 18% of cases, a patient is sent home when in fact he or she should be on the way to the operating room, according to AspenBio.
Aspen's AppyScore test is designed to detect a specific inflammatory protein in blood that acts as a biomarker for appendicitis. If approved, AppyScore would be used in combination with other blood tests to rule out appendicitis and cut down on unnecessary CT scans.
Aspen says the test presents a $600 million market opportunity.
Update on AMAG's Feraheme
In other conference news,
AMAG Pharmaceuticals'
(AMAG) - Get Report
CEO Brian Pereira shed little new light on the nascent launch of Feraheme, the company's new iron replacement therapy for patients with advanced kidney disease.
While understandable -- Feraheme was only launched on July 13 -- the lack of visibility into AMAG's commercial efforts is causing investors a certain amount of agita. The stock is suffering as a result, with shares down about 20% since Feraheme's approval in early July.
Feraheme was launched July 13, so company has not reported any sales yet. The drug, given in two, 17-second injections about a week apart, is used by doctors to correct anemia in patients with chronic kidney disease. But the drug faces competition from entrenched intravenous iron replacements as well as the possibility of an earlier-than-expected
.
Pereira tried to soothe nerves during the breakout session last week, but the stock isn't likely to perk up until AMAG stops talking about Feraheme's potential and starts producing actual results.
The Street's expectation that the Feraheme launch will be slow -- something the company isn't necessarily refuting -- isn't helping matters, either.
"This is a marathon, not a sprint," Pereira told me last week after the conference's breakout session. Sure, it's a cliché, but there's some truth to it here. Dialysis clinics won't embrace Feraheme until they can be assured of reimbursement, mostly from Medicare. Pilot programs need to get started and running smoothly before there's any wholesale conversion, says Pereira.
In some cases, AMAG needs to work with clinics to rewrite treatment protocols, which can further complicate the sales effort. Feraheme is available in a single dose that's used to fully replenish a patient's iron levels when they become depleted. But many dialysis clinics also employ so-called maintenance therapy, which involves dosing patients with lower doses of iron to "top off" their iron stores.
AMAG believes that the introduction of Feraheme makes maintenance therapy expensive, time consuming and unnecessary, but that's a point of view the company must sell to dialysis clinics.
The market seems to be waiting for a definitive signal that kidney disease specialists are using Feraheme before getting back into the stock.
Vertex's Telaprevir
The presentation from
Vertex Pharmaceuticals
(VRTX) - Get Report
was light on news. The next significant data presentation comes in early November when results of a study investigating twice-daily dosing of its hepatitis C drug telaprevir are presented at a meeting of liver disease researchers.
Phase III studies of telaprevir are still on track to be completed next year, with an FDA filing in the second half of the year.
Succcesful twice-daily dosing of telaprevir (as opposed to three-times daily dosing used in the ongoing phase III studies), which the Street largely expects, is important as Vertex embarks on new combination studies with its other experimental hepatitis C drug VCH-222.
-- Written by Adam Feuerstein in Boston
Adam Feuerstein writes regularly for TheStreet.com. In keeping with TSC's editorial policy, he doesn't own or short individual stocks, although he owns stock in TheStreet.com. He also doesn't invest in hedge funds or other private investment partnerships. Feuerstein appreciates your feedback;
to send him an email.