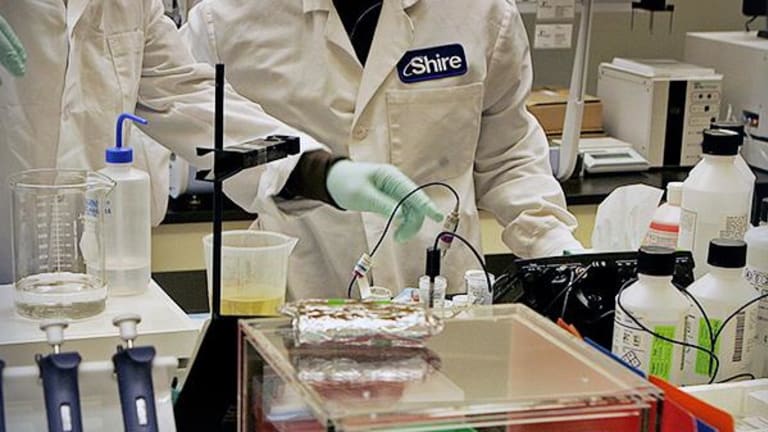 Biotech Movers: Red Hill Jumps After Securing Rights Sell GERD Treatment
A number of biotech-related stocks were down pre-market after announcing plans for public offerings.
Shares of RedHill Biopharma Ltd. (RDHL) rose 3.63%, or 31 cents, to $8.85 in pre-market trading Thursday, Aug. 17 after the company announced a commercialization agreement with ParaPRO LLC giving RedHill exclusive rights to promote Esomeprazole
Strontium delayed-Release capsules to gastroenterologists in certain U.S. territories for at least three years.
The Food and Drug Administration has approved Esomeprazole Strontium to treat gastroesophageal reflux disease (GERD) and other GI conditions. RedHill will not need to make upfront or milestone payments but will share revenues with ParaPRO.
Shire plc's (SHPG) American depository shares rose 1.7% to $150.94. The Dublin-headquartered firm core therapeutic areas include hematology, immunology, neuroscience and ophthalmics, among others. Shire on Aug. 15 said its marketing authorization application for dry eye treatment lifitegrast, submitted on Aug. 7, has been validated by the U.K. If approved it would be the first and only treatment in a new class of drugs to address the signs and symptoms of dry eye disease in adults in Europe, the company said.
A number of biotech-related stocks were down pre-market after announcing plans for public offerings.
Lakeland Industries Inc. (LAKE) , which makes protective clothing for healthcare and other workers, saw its shares drop 11.82%, or $1.85, to $13.80 after announcing plans to offer 725,000 shares of common stock at $13.80 each. Roth Capital Partners and Craig-Hallum Capital Group are joint book-runners and have a 45-day option to purchase an additional 15% of the shares to cover any over-allotments. After underwriting expenses, Lakeland expects to receive net proceeds of $8.95 million, excluding exercise of the over-allotment option. Those proceeds will be used to build additional overseas manufacturing facilities, pay capital equipment expenditures, repay all borrowings under its line of credit and for general corporate purposes. The offering is expected to close August 22.
Similarly, Cytori Therapeutics Inc. undefined fell 5.14%, or 2 cents, to 33 cents after filing an S-1 with the SEC in preparation for a rights offering allowing current shareholders to purchase units consisting of one share of Series B Preferred Stock and one warrant to purchase one common share. Price and terms have not been determined. Cytori is developing regenerative and oncologic therapies from its proprietary cell therapy and nanoparticle platforms for a variety of medical conditions. 

FibroGen Inc. (FGEN) was also down, falling 15 cents, or 0.37%, to $40.60 after announcing a follow-on public offering of 8 million shares at at $40.75 per share. Underwriters over-allotment is an additional 1.2 million shares. Closing date is August 21. FibroGen is exploring the use of fibrosis and hypoxia-inducible factor biology to treat anemia, fibrotic disease and cancer. Goldman Sachs & Co. LLC, Citigroup and Leerink Partners LLC are acting as joint book-runningers.