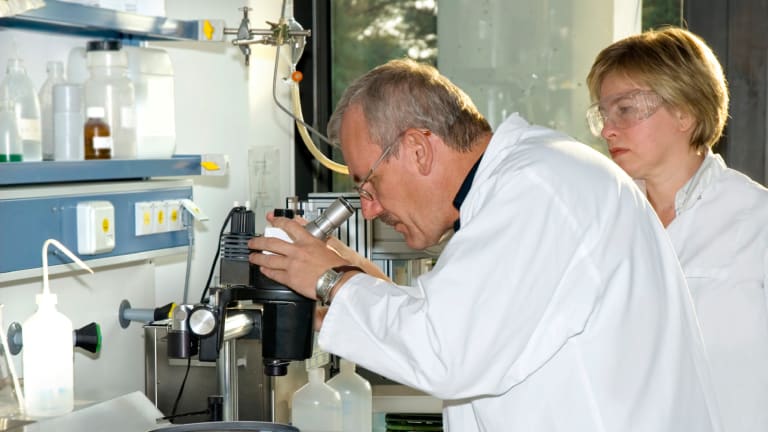 Puma Up as Breast Cancer Program Gets Green Light; Nektar's Oxycodon Comp. Gets Praise
Puma Biotechnology, Nektar Therapeutics and Paratek Pharmaceuticals were among the biotech movers in premarket trading on July 18.
Puma Biotechnology Inc. (PBYI) - Get Free Report  is one step closer to getting its latest breast cancer treatment to market and investors are applauding.
Shares of the Los Angeles-based company soared about $6.90 per share, or 7%, to $92.92 in midday trading on Tuesday, July 18, after it said Monday that it secured the U.S. Food and Drug Administration's approval for neratinib for the extended adjuvant treatment of adults with early stage HER2-overexpressed/amplified breast cancer, to follow adjuvant trastuzumab-based therapy.
Meanwhile, shares of Nektar Therapeutics (NKTR) - Get Free Report shares jumped 6% to $21.90 in premarket trading ($21.38 at midday, up 3%) after the San Francisco company released results from a new study showing its candidate to treat chronic pain carries significantly less abuse potential than oxycodone.
NKTR-181 is the first full mu-opioid agonist molecule designed to provide potent pain relief without the high levels of euphoria that can lead to abuse and addiction with standard opioids.
Nektar chief science officer Steve Doberstein told TheStreet's William McConnell that unlike other recent efforts to make opioids less susceptible to abuse, NKTR-181 was designed to offer less euphoria than other painkillers on the market.
Other biotech movers include Paratek Pharmaceuticals Inc. (PRTK) - Get Free Report   which was up 1.4% to $25.30 in premarket trading after it unveiled positive top-line results from a Phase 3 study that compared its once-daily, oral investigational antibiotic, omadacycline, to twice-daily oral linezolid for the treatment of acute bacterial skin and skin structure infections.
The Boston firm on Monday fell back down to earth in midday trading, sinking 1%, or 25 cents per share, to $24.70.
Worried about how to finance your golden years? Register here to watch a free webinar in which TheStreet's Jim Cramer talks with Ken Fisher, founder of Fisher Investments, about the market trends shaping retirement planning today.