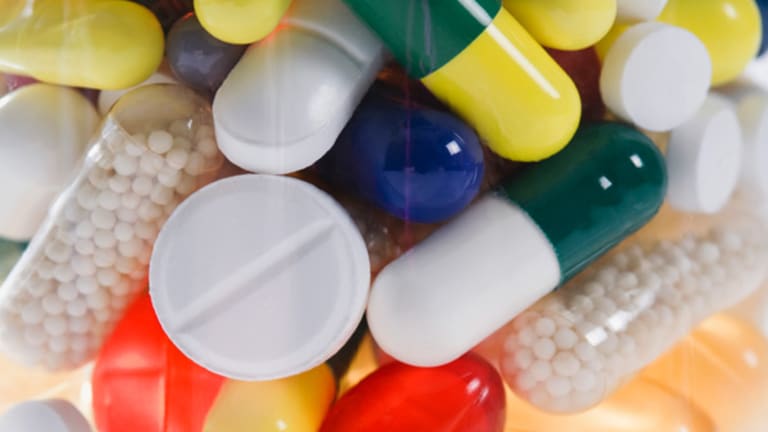 Biotech Mailbag: Xoma Looks Promising
Xoma's promising study results on a diabetes drug makes it more likely it will find a partner.
This column originally posted on
RealMoney.com
at 6:58 a.m. EDT. For more information about subscribing to
RealMoney
, please click here.
Before I open this week's Biotech Mailbag, I'd like to share some news.
On Monday,
TheStreet.com
is launching
, our new subscription-based biotech investment newsletter, written by yours truly.
Biotech Select is a natural extension of what I do now at
TheStreet.com
, with the added fun (and pressure!) of actually picking and managing biotech stocks in a model portfolio. Many of you have written to me over the past two years, asking that
TheStreet.com
start up a biotech newsletter. It took awhile, but we listened.
So yeah, now I'm turning into one of those investment newsletter writers. I'm working hard to make sure that Biotech Select is smart, insightful and filled with good biotech stock picks. I can guarantee that it will be fun to read because I'm not changing my writing style one bit.
I'm also not disappearing from the
TheStreet.com
Web sites. You'll still see me here writing up a storm on biotech and generally trying to cause as much trouble as possible. I live for the hate mail, so I can't let that end. And absolutely, the Biotech Mailbag will continue. It's a very popular, regular column and one that I truly enjoy writing, so please,
your biotech-related questions and comments and I'll respond as best as I can.
I hope you'll consider a subscription to
. If you're interested, you can find
, including a discount offer for charter members.
Now, on to your emails.
John R. took a look at the new diabetes data from
Xoma's
(XOMA) - Get XOMA Corporation Report
lead drug XOMA 052 released this week and asked, "Is this as revolutionary as I think it is? Why am I the only one to think this is huge?"
would be revolutionary and huge if the drug is proven to work against diabetes. We're not there yet, although Monday's data was a nice start.
XOMA 052 is an intravenous monoclonal antibody that targets interleukin-1 beta, a pro-inflammatory protein that is thought to play a role in diabetes, rheumatoid arthritis and other diseases. XOMA 052 binds to IL-1 beta, thereby preventing inflammation that can damage insulin-producing islet cells in the pancreas. This is a unique approach to diabetes care.
Or so Xoma hopes. Interim data from a phase I study of Type 2 diabetes patients presented Monday at a European diabetes conference were encouraging, with patients across multiple dose groups showing evidence of biological activity, measured by decreases in blood glucose levels and biomarkers suggestive of increased insulin production and reductions in systemic inflammation.
There's a lot more work to do on XOMA 052, including final data from this study next year followed by new multi-dosing studies. XOMA 052 is given intravenously once a month, so it has the potential to be very convenient for patients. (Even more so if the company can develop a version that can be given via subcutaneous injection.)
All in all, this was a good week for Xoma. If the data on XOMA 052 continue to impress, the company should be able to attract a partner. Hopefully.
Larry A. wants my thoughts on
Vivus
(VVUS) - Get VIVUS, Inc. Report
and its obesity drug candidate Qnexa.
It's hard to argue with Vivus' stock performance of late. At its current price around $8.50 a share, Vivus is up about 70% since May and is outperforming the two big biotech rivals
Orexigen
(OREX)
and
Arena Pharmaceuticals
(ARNA) - Get Arena Pharmaceuticals, Inc. Report
as they all race to develop a new and effective obesity drug.
The previous knock on Vivus had been that the clinical data for its obesity drug combo Qnexa came from a small, single-center phase II study, which made it hard to believe the 10% weight loss at full face value. But in May and June, Vivus released data from a larger phase II study conducted in Type 2 diabetics. The Qnexa weight loss in that study was 8%, so perhaps the first study wasn't a fluke after all.
Next up, and most importantly, are the phase III studies of Qnexa, with data expected to begin rolling out in the second half of 2009.
Notice I'm not making any predictions. I don't have a call on obesity drugs -- too much uncertainty, too much risk, including regulatory. The FDA, in previous actions, hasn't appeared to be exactly excited to approve new obesity drugs. This is one of those corners of drug development where sinkholes seem to open up unexpectedly, swallowing investors whole.
With that said, I can completely understand why investors like Larry and others (I get a fair amount of email about obesity-related topics) want to play. We live in an obese world, and it's getting fatter by the day. A truly effective weight-loss drug with minimal or tolerable side effects will be a blockbuster.
It's hard to imagine a scenario in which Big Pharma doesn't get involved here, too. After all, blockbuster drugs that can be sold by their existing primary care sales forces would seem to be irresistible for companies like
Pfizer
(PFE) - Get Pfizer Inc. Report
or
Schering-Plough
( SGP).
What does the absence of partnership deals for Orexigen, Vivus or Arena to date say about the prospects for their respective weight-loss drugs? Is Big Pharma as skittish as I am about efficacy and safety in large, phase III studies? Are they waiting for more data before deciding to pull the trigger on deals? Or, is the holdup coming from the other side? Perhaps Orexigen, Vivus and Arena want to wait in the hope that time will increase their bargaining power?
Lots of questions, but hopefully, answers are not too far away. Take note that Orexigen is expected to begin releasing results from its Contrave phase III studies late this year or early (January) of next year.
That may be the more immediate obesity play for risk-seeking biotech investors. Long or short, it's your call. My advice: Be careful.
Next, an email from Stephen V. "Adam, you published an article several months ago listing the dates some drugs would be considered for approval by the FDA. Where can I find a list similar to that with respect to Acapodene 80mg by
GTX
(GTXI)
, particularly when the FDA is going to meet?"
GTX is not expected to complete its FDA approval application for Acapodene (or toremifene, as the company prefers) until the fourth quarter, so it's premature to get specific about when the drug might be approved.
If GTX meets its deadline, broadly speaking, Acapodene could be approved mid- to late 2009, depending on whether the FDA grants priority review.
GTX is developing an 80mg version of toremifene as a treatment for the side effects of androgen-deprivation therapy in men with prostate cancer. This is the indication being filed with the FDA later this year.
Also under way is a phase III study testing a 20mg dose of toremifene for the prevention of prostate cancer in men with a premalignant lesion on their prostates.
Onward. Can you believe that there are still some investors out there who believe
Northfield Labs
( NFLD) and its
experimental blood substitute Polyheme
has a chance of being approved by the FDA?
The agency won't even accept Polyheme for review, in my opinion!
Yes, the Polyhematomas are apparently still out there. I heard from one of them, Travis L., last week. In addition to some other advice, Travis urged me to "go back to the drawing board, do some real research and then write a decent article" on Northfield and Polyheme.
Sorry Travis, been there, done that. Northfield is a lost cause.
In the wake of Pfizer's decision to license the Alzheimer's drug Dimebon from
Medivation
(MDVN)
(and for big bucks, too), several readers emailed to ask about other unpartnered Alzheimer's drugs in clinical trials.
The two public companies that come to mind immediately are
Prana
(PRAN)
, based in Australia, and Canada-based
Allon Therapeutics
(NPC)
.
I'm more familiar with Prana's Alzheimer's drug PBT-2 than I am with Allon's, which goes by the moniker AL-108. Both are in phase II development. I don't have room to go into details here, but let's just say that I walked away rather unimpressed after spending a good bit of time staring at PBT-2 data. I don't know as much about AL-108, but it does target "Tau tangles" -- the other major anti-Alzheimer's theory out there (the beta amyloid plaque hypothesis being the other, more dominant).
Whether these drugs work or not can be divorced completely from the question of whether Prana or Allon can land a Big Pharma partner. At this point, the latter is probably more relevant and important to investors than the former.
The rumors about Prana being close to a partnership deal wax and wane. They've picked up a bit since the Pfizer-Medivation deal was announced.
Are the rumors true or is it wishful thinking? Sadly, I can't say, but the partnership bar for Alzheimer's drugs isn't all that high. I think there are plenty of large drug companies willing to spend some money for a shot at a Alzheimer's blockbuster.
This final, short email this week comes from a guy with a great name. Adam writes:
"I think you are a monkey."
OK! Well, that just about says it all. On that note, this monkey is signing off until next week. That is, unless I get lost in the jungle.
And please, take a look at the offer for
!
Adam Feuerstein writes regularly for TheStreet.com. In keeping with TSC's editorial policy, he doesn't own or short individual stocks, although he owns stock in TheStreet.com. He also doesn't invest in hedge funds or other private investment partnerships. Feuerstein appreciates your feedback;
to send him an email.