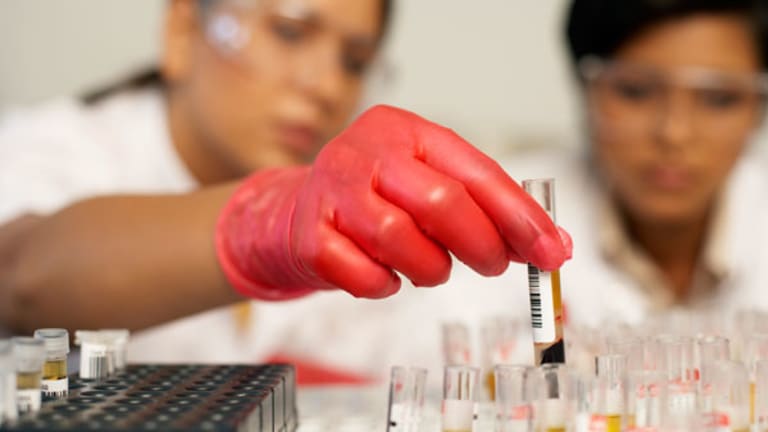 Biotech Mailbag: Who Will Run FDA?
The FDA is in turmoil. Morale is low, resources are scarce and too many drug approvals have been delayed at best, or at worst, have become politicized. A look at some options to run the agency in the Obama administration.
The Biotech Mailbag is open.
Dendreon
(DNDN)
was on the mind of Paul H. in the hours before Tuesday's presidential election was decided. He writes:
What a difference a day makes for some people. Today we elect a new president. Presumably Barak Obama will be elected. Yet, only yesterday, Madelyn Dunham, Obama's maternal grandmother, died from cancer. What would she have done to see just one more day? Critics of Provenge who contend the survival benefits of Provenge aren't robust enough to warrant Food and Drug Administration marketing approval demean the human reality. We all know that patients who received Provenge had longer median survival (4.5 months) than that reported for the placebo arm. That is nearly twice as effective as Taxotere's 2.3-month survival benefit. Yet, that was enough to garner FDA marketing approval for Taxotere. Even more impressive, patients who received Provenge followed by Taxotere were shown to increase their median survival to 35 months. Without question, there is a large unmet medical need. Each year approximately 50,000 men die from prostate cancer. Yet, the only FDA-approved treatment for end-stage prostate cancer in 45 years has been Taxotere. These barriers to reason must not stand. We must bring truth and reason to power in the public arena. I pray for change at the highest levels of the FDA. I'm sure there are others like Madelyn Dunham who would like to see one more day.
I've commented more than enough on
Provenge
, so I don't feel the need to repeat myself. Paul clearly speaks for a large group of retail investors and prostate cancer advocates who believe the FDA was wrong to delay approval of Provenge in 2007.
I will join Paul in hoping for a change at the top of the FDA. The agency is in turmoil. Morale is low, resources are scarce and too many drug approvals have been delayed at best, or worst, have become politicized. Paul will disagree with me on this, I assume, but I don't think Provenge fits that latter category.
I think we need a grown up in the job of FDA commissioner. Someone who is not interested in grabbing headlines, but a competent and intelligent leader who can make a strong case to Congress that the FDA needs more attention and funding.
The next FDA commissioner has to forget about politics and focus 100% of his (or her) energies on two things: 1) Review more new drugs in a timely manner and make sure those decisions are based on science, nothing else; and 2) Make sure that countries like China aren't putting poisonous crap into our food and drugs. A strong and sustained recovery for biotech stocks depends on this happening.
This week I read reports saying that Dr. Steven Nissen, a well-known (some would say controversial) cardiologist from the Cleveland Clinic, is being considered for the job.
Bad choice. Nissen, to me, seems more interested in political grandstanding than actually getting things done. Yes, he's been a vocal advocate on drug safety, but perhaps too zealously, to the point that the FDA may never approve another drug again under his watch. That's not the kind of FDA commissioner investors want.
My pick would be Scott Gottlieb. He's a medical doctor and worked directly under Mark McClellan when he was FDA commissioner. Gottlieb is a free market Republican in the American Enterprise Institute mold. Gottlieb and I know each other; in fact, there are few people in the Wall Street-biotech industry-media sphere who don't know Gottlieb.
Gottlieb and I disagree politically on most things, but he knows the FDA and understands drug development really well. He'd get stuff done there, and return credibility and assertiveness to the agency -- stuff missing for a long time.
President-elect Obama, call me. We can discuss. I also have some advice on that puppy you promised Sasha and Malia, if you need it.
Onward. Norm F. writes "
Zymogenetics
( ZGEN) had an oral presentation of a small trial for their PEG-Interferon lambda. If you attended, or heard anything, it would be good to know."
I was in San Francisco at the liver disease meeting and did see the data presentation on PEG-Interferon lambda in treatment-experienced hepatitis C patients. The data were encouraging, but early. Still, I can understand why Zymogenetics is excited about the drug, it definitely has the potential to be safer and better tolerated than the currently marketed PEG-interferons for hepatitis C.
A lot more work needs to be done on PEG-Interferon lambda. I'd also note that the hepatitis C treatment market is evolving. The use of PEG-interferon (a long-acting immune system booster) is not going away soon, but the development of direct antiviral drugs like
Vertex's
(VRTX) - Get Vertex Pharmaceuticals Incorporated Report
telaprevir or
Pharmasset's
(VRUS)
R7128 may one day allow doctors to stop using interferons when treating hepatitis C patients. That may be especially true if combinations of direct antivirals are found to be effective.
So, Zymogenetics is developing PEG-Interferon lambda at a time when there are beginning to be the early signs of a diminishing market for such drugs in hepatitis C. I don't want to overstate this point because interferons will remain part of hepatitis C treatment in the near future. I'm just saying that if doctors had strong drugs to replace interferons, they'd use them. And drugs like that are under development today.
One more competitive point to make here is that
Human Genome Sciences
( HGSI) is also developing a "new" long-acting interferon that can be dosed every two weeks instead of once weekly for today's PEG-interferons.
Zymogenetic's PEG-Interferon lambda is being tested now in once-weekly and once-every-two week dosing schedules; the latter probably needs to work well for the drug to be competitive in the future.
A more pressing matter for Zymogenetics and its investors today is the slow launch of its blood-clotting drug Recothrom. This stock won't get unstuck from the mud until the company fixes that problem.
Marty P. asks, "What are your favorite biotech stocks right now? Do you see a recovery on the horizon?"
Many of you might find this hard to believe, but yes, I'm generally optimistic about biotech. While the sector has certainly taken its share of the lumps in the past two months, biotech hasn't fared as poorly as the broader market. And I was very encouraged by the strong earnings reports from the big-cap stocks.
The economy is in a recession and the market may or may not be at a bottom. But biotech drugs should be seen by investors as being relatively recession-proof, since most of these drugs address serious and often fatal diseases.
Likewise, if an Obama administration pushes to allow Medicare to negotiate for lower drug prices, I believe that most biotech drugs will not be adversely affected as much as many Big Pharma-style drugs for the reasons stated above. (I know I'll get a lot of arguments about cancer drug pricing.)
As for my favorite biotech stocks, I still favor the big-caps as the best way to play a sector recovery. For me,
Gilead Sciences
(GILD) - Get Gilead Sciences Inc. Report
remains the tops, I also like the big Revlimid growth story in
Celgene
(CELG) - Get Celgene Corporation Report
, especially now that it's price-to-earnings multiple has come down, and
Genentech
( DNA) because, well, it's Genentech and that doesn't need any more explanation. Plus, I still think a Roche takeover bid for well more than $89 a share happens.
If you want to be speculative and own something with much more risk, I like
AMAG Pharmaceuticals
(AMAG) - Get AMAG Pharmaceuticals, Inc. Report
and
Medivation
(MDVN)
.
Not surprising, all these picks are in the model portfolio I manage as part of the
newsletter. Follow the link for more information.
I took a lot of heat from some of you over my negative comments last week on
Savient Pharmaceuticals
(SVNT)
and its experimental gout drug Puricase. Many of the emails I received were similar to this one from Grant G.:
"Your piece on Savient reflects a total lack of research. If you simply listened to the conference call from Savient talking about the safety of Puricase, you would know that all these patients had previous cardiac conditions along with a long litany of other problems. None of the cardiac events could be correlated with the treatments... From all my research, I see no reason why the FDA would not approve this treatment. Results from the treatment are tremendously beneficial to a population that has no other treatment options. For you to imply that the FDA will not approve is simply irresponsible..."
I didn't get a chance to listen to Savient's conference call before writing about Puricase. That was a mistake on my part. I did, however, read the transcript of the call this week and I'm not inclined to change my view.
Yes, Savient defended Puricase's safety (a fact I did note in my previous column) but that doesn't entirely mitigate the concerns the FDA will have about this drug's risk-benefit profile. And let's not forget the poor tolerability of the drug, or the fact that Savient hasn't been able to find a marketing partner.
All in all, I just don't see how the FDA approves Puricase on the first pass, especially this risk-averse, in-no-hurry-to-do-anything FDA.
Even if Puricase is approved, the drug seems destined for use in only the most advanced gout patients -- not a huge market opportunity.
Lastly, in my defense, I did say that the steep decline in Savient's stock price last week already took into account all the negativity on Puricase.
At the time of publication, Feuerstein's Biotech Select model portfolio was long Genentech, Celgene, Gilead Sciences, AMAG Pharmaceuticals and Medivation.
Adam Feuerstein writes regularly for TheStreet.com. In keeping with TSC's editorial policy, he doesn't own or short individual stocks, although he owns stock in TheStreet.com. He also doesn't invest in hedge funds or other private investment partnerships. Feuerstein appreciates your feedback;
to send him an email.