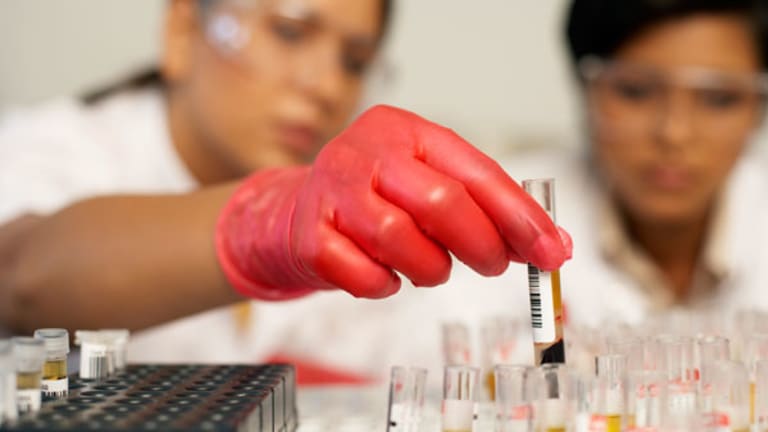 Biotech Mailbag: Vertex Has Verve
The company's experimental hepatitis C drug telaprevir stands tall after taking some shots from
This column originally posted on RealMoney.com at 7:02 a.m. EST. For more information about subscribing to RealMoney, please click here.
The Biotech Mailbag is open.
Wes P. writes, "Adam, did I miss your final verdict on
Vertex Pharmaceuticals
(VRTX) - Get Vertex Pharmaceuticals Incorporated Report
after the hepatitis C meeting last week? The stock has held up well since that meeting ended."
I wrote some about
Vertex's showing
at the American Association for the Study of Liver Disease (AASLD) annual meeting, but Wes is right about me not getting around to summarizing after the confab of hepatitis C researchers ended Nov. 4.
Vertex's stock price, at around $27, tells the tale. It has held up well, in large part because Vertex emerged from AASLD as a winner. The company's experimental hepatitis C drug telaprevir took some shots from competitors but no one landed a knockout punch.
What a difference one year makes. At the November 2007 gathering of the American Association for the Study of Liver Disease (AASLD),
Vertex shares took a beating
because many investors believed that competing drugs from the likes of
Boehringer Ingelheim
,
Merck
(MRK) - Get Merck & Company Inc. Report
, the Tibotec division of
Johnson & Johnson
(JNJ) - Get Johnson & Johnson Report
and
InterMune
(ITMN)
were going to be superior to telaprevir in one way or another.
Never mind that there weren't any data on this crop of alleged telaprevir killers; their mere existence was enough to ratchet up the Vertex worry factor to near panic mode.
At this year's AASLD meeting, we had the first opportunity to dig into early but meaningful data from a lot of these competitor drugs. The results were good, but not unexpectedly good. And none of the data pointed to serious trouble for Vertex.
Boehringer's drug, BI201, for instance, reported a maximum median viral load reduction of 4.2 log at 14 days when used as a monotherapy dosed once daily. This compares to a 4-log reduction in viral load with Vertex's telaprevir monotherapy in a previous 14-day study. And telaprevir, recall, is dosed three times daily while Boehringer is dosed BI201 once daily.
But there were also a lot of patients in the BI201 study reporting significant viral rebound by the time the monotherapy portion of the study ended at Day 14. This means that while BI201 was able to suppress the hepatitis C virus, the effect was somewhat short-lived. This raises the risk that BI201 might not be as effective in some hepatitis C patients, particularly those who have not responded well to previous treatment.
By comparison, Vertex's telaprevir caused far less viral rebound in its 14-day monotherapy study, and so far, Vertex appears to be very potent in treatment-resistant patients.
"Investors have been paranoid about telaprevir competition, but at this year's meeting, I think we saw that there doesn't appear to be anything more potent than telaprevir, and we still need to see a lot more data on safety," Cowen & Co. biotech analyst Rachel McMinn told me in a phone conversation after AASLD. She has an outperform rating on Vertex.
As a reminder, Vertex's phase III studies of telaprevir in both treatment-naïve and treatment-experienced hepatitis C patients are expected to report results in the first half 2010.
Before those data are released, competitors will continue to have their say. The European liver disease meeting is scheduled for April 22-26, 2009, while the next U.S. meeting will be held in November 2009.
Cathy B. emails with a comment and a question: "
Sangamo BioScience
(SGMO) - Get Sangamo Therapeutics Inc. Report
doesn't deserve this kind of trashing. Sure, this SB-509 study didn't work but the other studies did. When a company is developing breakthrough technology, you have to anticipate bumps in the road. Agree?"
Not really. This phase II study of SB-509 in mild to moderate diabetic neuropathy patients was designed with so many efficacy endpoints that it practically guaranteed Sangamo some positive data to share with investors. I'm a Sangamo skeptic, but even I was cowed from coming out strongly against the stock, because I figured this was a low-bar phase II study in which SB-509 would hit at least one efficacy endpoint.
Not so. SB-509 came up with nothing on the efficacy front. That was a surprise, and not a good one if you're a believer in Sangamo and its zinc finger protein technology.
Sangamo did report what it considered positive interim results from a
different phase II study of SB-509
in patients with moderate to severe diabetic neuropathy. But as I pointed out after those results were released, the data were limited and too selective for my taste. At the time, it seemed to me as if Sangamo was giving us all the good news without sharing the bad.
On a conference call Monday night, Sangamo said it still had confidence in SB-509 and that new and updated data from the other phase II trials would demonstrate the drug's potential.
Perhaps Cathy is right and this week's study was a fluke. That's not a bet I'm willing to make.
One last thing on Sangamo: Let's give props to Brean Murray analyst Jon Aschoff, who took a
lot of gruff
from Sangamoans for his persistent sell rating on the stock. Well, it looks like Aschoff was right.
Hey, it was a fantastic week for
Optimer Pharmaceuticals
(OPTR)
and
Amag Pharmaceuticals
(AMAG) - Get AMAG Pharmaceuticals, Inc. Report
, with shares of both companies soaring on positive news. If you haven't done so already, please, please,
please check out the Biotech Select newsletter
. Both Optimer and AMAG were long picks in my model portfolio. I want you to have the early and inside scoop on winners like these, so sign up!
At the time of publication, Feuerstein's Biotech Select model portfolio was long AMAG and OPTR.
Adam Feuerstein writes regularly for TheStreet.com. In keeping with TSC's editorial policy, he doesn't own or short individual stocks, although he owns stock in TheStreet.com. He also doesn't invest in hedge funds or other private investment partnerships. Feuerstein appreciates your feedback;
to send him an email.