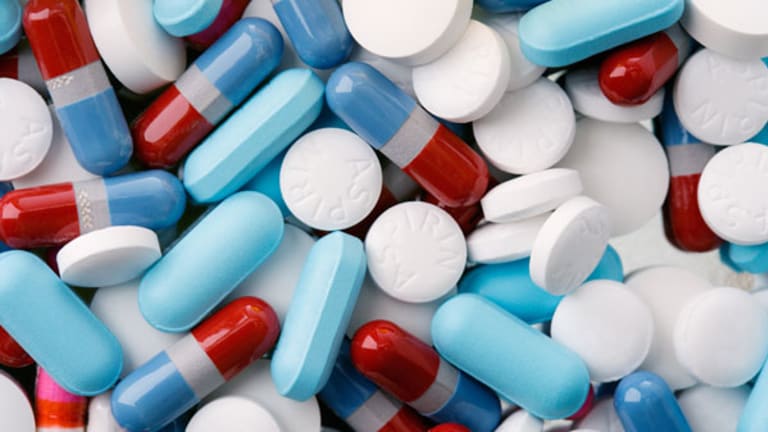 Biotech Mailbag: Savient's Unsavory Surprise
Savient Pharmaceuticals on Monday released new safety data linking its gout drug Puricase to serious cardiovascular side effects.
This column originally posted on RealMoney.com at 7:10 a.m. EDT. For more information about subscribing to RealMoney, please click here.
Let's open the Biotech Mailbag.
Yasha C. asks, "Could you give us your views on
Savient Pharmaceuticals
(SVNT)
and
Arena Pharmaceuticals
(ARNA) - Get Report
?
Arena
and its
experimental obesity drug
. Not much has changed with Arena except for the company's stock price. It's lower. These days, that doesn't qualify as news.
Yasha emailed me on Monday at 4:05 pm, after Savient's share price was absolutely shellacked, down 74% on that day alone. I'm assuming he wants to know if the selloff was warranted, or if there is any reason to hope for a rebound.
Savient surprised a lot of people Monday (and not in a nice, you-made-me-breakfast-in-bed sort of way) with new safety data linking its gout drug Puricase to serious cardiovascular side effects. None of the placebo patients in the study reported an adverse cardiac event.
This is not the kind of news met with investor elation even in the most bullish of markets. In today's environment, it's a disaster, compounded by the fact that the Food and Drug Administration is particularly sensitive to cardiovascular risk. (Anyone remember Vioxx?)
Savient, of course, defends Puricase and says most of the patients with cardiovascular side effects remained on the drug during the trial, so no big deal. The company still plans on filing Puricase with the FDA later this month.
I say good luck with that. How does the FDA not delay Puricase's approval pending more safety data? On the other hand, Savient's share price does appear to price in the bad news.
Here's an interesting (to me, at least) exercise in the effect that the dour market mood has on valuation: If you assume conservatively that Puricase can be a $200 million drug at peak with a five multiple and a 50% probability, Savient's $50 million-ish enterprise value on Tuesday implies peak Puricase sales would be reached at the end of 2020.
In other words, Savient's valuation today implies a Puricase delay in the range of seven to eight years.
The other way to look at it, of course, is that investors don't believe Puricase reaches the market -- ever.
Charles B. says, "As predicted,
Progenics Pharmaceuticals
(PGNX) - Get Report
has done almost everything right, and these
PRO 140 data are fantastic ... This is a game changer -- PRO 140 is as potent as any other existing therapy. This will be licensed, or the company bought, by year-end."
Progenics presented some early data last weekend on PRO 140, a CCR5 entry inhibitor, which demonstrated fairly robust antiviral activity on its own in treatment-naïve HIV patients.
There are two formulations of PRO 140, intravenous and subcutaneous (just under the skin) injections. Injectable HIV drugs have not done well in the market (case in point:
Trimeris'
( TRMS) Fuzeon), but PRO 140 looks as if it could be administered intravenously once a month or via a patient's self-administered, subcutaneous needle either once a week or once every two weeks. So this more convenient schedule may overcome doubts about HIV drug injections.
PRO 140 prevents the HIV virus from entering healthy cells in much the same way
Pfizer's
(PFE) - Get Report
currently marketed HIV drug Selzentry does. Data presented so far, including at ICAAC, show PRO 140 may be better tolerated and cause fewer side effects than Selzentry.
Although PRO 140 is still in its early stages, Progenics is moving ahead with plans to conduct more and larger studies of the drug. The company is also open to finding a partner. At its current $250 million-plus market cap, investors in Progenics are surely getting PRO 140 for free.
With an enterprise value of around $130 million, Progenics' valuation doesn't fully account for the potential of the company's severe constipation drug Relistor, let alone PRO 140. Unfortunately, that situation won't change until Relistor sales accelerate. In this regard, the third-quarter Relistor update from
Wyeth
( WYE), Progenics' marketing partner, was not encouraging.
I was fairly harsh on
Panacos Pharmaceuticals
(PANC)
last June when I talked about the dismal prospects for the company's experimental HIV drug beviramat in this column.
Well, I want to walk back a bit on my previous comments after looking at some updated beviramat data presented this week. I can't say I'm returning open-hearted to the Panacostal fold, but the outlook for beviramat isn't as dim as I described back in early summer, either.
Panacos does seem to understand now why the antiviral response to beviramat was so random in previous studies. Most importantly, the company feels it can now screen HIV patients in advance to determine whether they'd be candidates for the drug or not.
Beviramat belongs to a new class of HIV drugs called maturation inhibitors. As the name implies, beviramat works against the HIV virus just as it's growing up and getting ready to replicate itself and invade other cells. Specifically, beviramat works against the GAG protein, a key structural protein of the HIV virus. By messing with GAG, beviramat causes the HIV virus to mature with structural defects that render it incapable of spreading around the body.
"Maturation inhibitor" -- get it? Neat stuff, and in the HIV world, there is always a need for drugs that work against the virus in novel ways. The problem with beviramat, which bedeviled Panacos and decimated the stock, was that the drug didn't work in all HIV patients, even when there was enough drug on board to do the job.
This is the problem that Panacos' chief medical officer Scott McCallister sought to solve. What he and his team discovered was that some patients had HIV virus with certain genetic abnormalities to the GAG protein. These "polymorphisms" to GAG render beviramat impotent.
The good news, according to McCallister, and demonstrated this week with updated data from a clinical study, is that about 60% of HIV patients have "normal" GAG that can be hit by beviramat. In addition, screening for these patients is a relatively simple procedure that can be done right along the other routine genetic tests conducted for every HIV patient prior to starting antiretroviral therapy.
I just threw a lot of science at you, but in simple terms, beviramat is back from the HIV drug graveyard, which is good news for Panacos.
The news is not all warm and fuzzy. Panacos still needs to confirm that it can make an effective tablet formulation of beviramat. This has been another bedeviling challenge for Panacos, although other data presented this week suggest the company's manufacturing team has it figured out.
There is much more work ahead for beviramat, most important being combination studies with other HIV drugs that will confirm the antiviral effect of beviramat.
From a marketing perspective, I don't retract any of my previous comments. It's going to be tough for Panacos to find a happy place for beviramat outside of very treatment-experienced HIV patients. And a drug that works in 60% of HIV patients isn't ideal when the best drugs work in all of them.
Still, there is the "Panacos is really, really, really cheap" argument, which I understand. The stock is ridiculously cheap. These days, however, cheap is not necessarily an inducement to buy.
At the time of publication, Feuerstein's Biotech Select model portfolio did not contain any of the stocks named in this column.
Adam Feuerstein writes regularly for TheStreet.com. In keeping with TSC's editorial policy, he doesn't own or short individual stocks, although he owns stock in TheStreet.com. He also doesn't invest in hedge funds or other private investment partnerships. Feuerstein appreciates your feedback;
to send him an email.