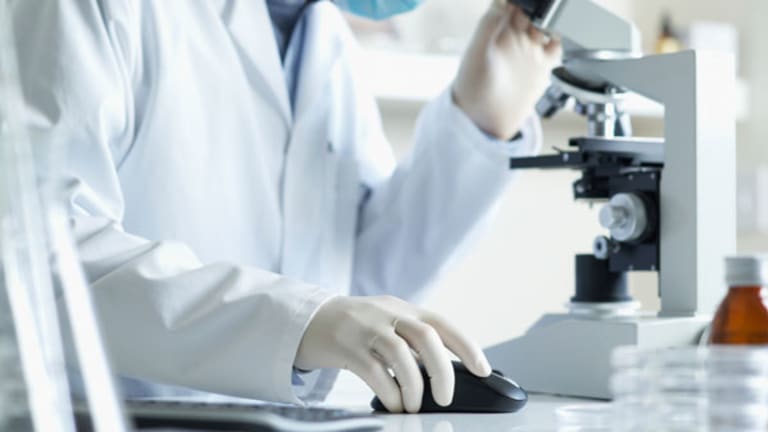 Biotech Mailbag: Myriad Pharma
Adam Feuerstein fields questions on Myriad Pharma, Hemispherx, Cell Therapeutics, Gilead and more.
Adam Feuerstein fields questions on Myriad Pharma, Hemispherx, Cell Therapeutics, Gilead and more.
Editor's note: Adam Feuerstein will be the featured guest on TSC Live at noon EDT Tuesday, Sept. 29. Send him your questions by: Emailing us at tsclive@thestreet.com; posting them on our Facebook page, facebook.com/thestreet; Tweeting us @thestreet_news with #tsclive; or posting them on the live show page in the comments section. Bookmark the TSC Live page now.
Welcome back to the Biotech Stock Mailbag.
Bob M. writes, "Any comment on the recent results of
Myriad Pharmaceuticals'
(MYRX)
beviramat phase II study? Seems like they made a good deal when they bought this drug. Earlier studies showed it worked, just a question of whether they could get it into a tablet and it seems like they did it."
Beviramat is an experimental HIV drug that Myriad
from
Panacos Pharmaceuticals
(now shuttered) for $7 million. At a fire sale price like that, it's hard to call beviramat anything but a good deal for Myriad, despite the drug's
clinical development path.
As Bob alluded in his email, one of beviramat's problems was that it seemed to work OK as a liquid, but more convenient and conventional tablet forms of the drug weren't successful. Data presented earlier this month suggest that Myriad has figured out a way to make a beviramat tablet that can deliver effective levels of the drug into the bloodstream of HIV patients.
Beviramat's other big issue is that the drug does not work for all HIV patients. To get around that, Myriad is developing a companion test to screen patients to determine whether they will benefit from the drug. This, of course, complicates the drug's development and reduces the commercial potential compared to HIV drugs that can treat all patients.
It's still too early to say whether beviramat has a place in the medicine cabinet of HIV patients. I think Myriad has more dosing work to do, and of course, the drug still needs to be tested in combinations with existing HIV drugs in large studies.
But again, Myriad paid nothing for beviramat, so it's worth making the investment.
Hal B. asks, "You recommended
Gilead Sciences
(GILD) - Get Report
over a year ago and it seems stalled. The need for HIV drugs is still there, so what gives?"
Hal is kind to call Gilead stalled. The stock is down about 12% this year despite continued strong top- and bottom-line performance.
Gilead could be a good trade into third-quarter earnings, based on what looks to be another outperforming quarter for its HIV drug franchise if we're to believe currently available prescription tracking data.
Unfortunately, any significant upward movement in the stock this year has been sold rather quickly. I don't know if the third quarter will be any different.
The
2017 patent cliff issue
is still an overhang on Gilead and seems be keeping investors on the sidelines.
Dave T. is a fan. "Great reporting. I appreciate your hard work and that's from a long-time former print reporter. I haven't been able to find any easily searchable archive of your articles -- something where I could type in a ticker or company and find what you've written about them. Is there such a place?"
All of my past stories and columns, including the Mailbags, are available through our archives. Use the search box at the top right corner of our home page. A search for "Feuerstein Dendreon," for instance, will bring up all my past stories on Dendreon.
John S. writes, "Mr. Negitron, what is your beef with
Cell Therapeutics
(CTIC) - Get Report
? You were slamming the crap out of
Human Genome Sciences
( HGSI) before you
bleep your pants on Benlysta. Who is paying you?... You're a scary little man. Do you need some cookies and milk? I'm not expecting a response. Anyways, you are off point on Cell Therapeutics. They are a cash-strapped company with an amazing product line. Hard to make a living in this town. Your gossipy brand of biotech needs to be a little more based on facts less on journalist satire..."
I admit this Cell Therapeutics cycle is getting stale. I write about some
the company has done. I get angry emails about the column. I use one of these emails in the Mailbag for cheap laughs. Repeat.
Moving forward, I'm not going to waste time with emails like these. John accuses me of being "gossipy" and not writing based on facts, yet he offers no facts of his own to refute anything I've written.
And please, I back up everything I write with plenty of facts. Often, these are uncomfortable truths for those on the other side of my argument, yet I rarely hear a rational counter argument. I wish I would! Instead, I get insult-laden emails like John's or worse.
Is there a Cell Therapeutics bull out there who can put together a substantive thesis for why he or she likes the company and the stock? Please, I'd enjoy hearing it.
Jim, aka Southern Beach Guy:
"Adam, just wondering why most of your articles are negative and so often numerous times a month about the same stock. There are so many stocks out there to cover, why not concentrate on the potential up and comers."
We're a news-driven investor site, so I write stories when there's news to write about. Biotech companies love to issue press releases so I'm rarely without something to do.
If many of my stories seem negative to you, it's likely because we don't agree on whatever stock I'm writing about. If you read my stuff long enough, I'm sure you'll find something you consider positive.
Anthony D.S. resurrects another Mailbag perennial,
Hemispherx BioPharma
(HEB)
:
"What will you do if Ampligen receives approval?"
I'll be totally shocked. I'll also admit my mistake. That's a mea culpa I don't envision having to make.
From Peter H.: "I trust you saw the news on
ImmunoGen
(IMGN) - Get Report
."
I did. ImmunoGen announced a technology licensing deal with
Amgen
(AMGN) - Get Report
on Sept. 16, giving Amgen rights to ImmunoGen's chemotherapy payload technology for the development of an undisclosed cancer drug.
Nice deal, although Amgen paid a puny $1 million upfront fee to ImmunoGen because the licensing arrangement stems from a 2000 agreement between ImmunoGen and Abgenix. Amgen later acquired Abgenix and took over the agreement.
More important news to ImmunoGen in the near term will be the results from the phase II study of Roche's T-DM1 in late-stage metastatic breast cancer patients. If the study is positive, Roche is expected to seek regulatory approval for T-DM1, which means small, but still meaningful sales royalties for ImmunoGen.
Adam Feuerstein writes regularly for TheStreet.com. In keeping with TSC's editorial policy, he doesn't own or short individual stocks, although he owns stock in TheStreet.com. He also doesn't invest in hedge funds or other private investment partnerships. Feuerstein appreciates your feedback;
to send him an email.