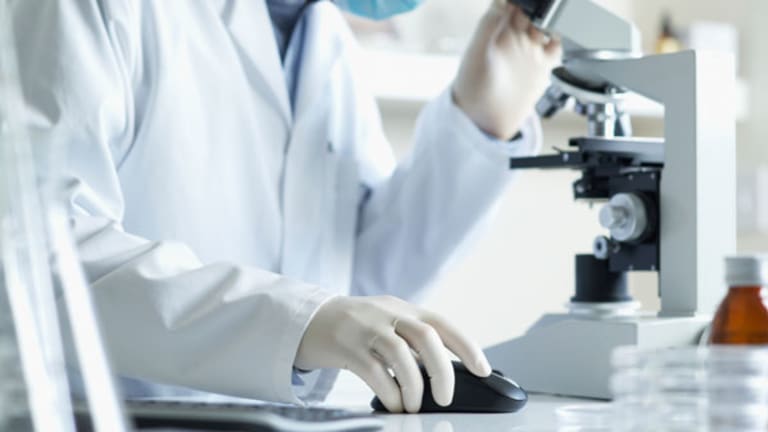 Biotech Mailbag: BIO CEO Wrap
Biotech columnist Adam Feuerstein answers readers' questions and concerns about health care and drug-related stocks.
BOSTON (
) --Let's devote this week's column to the BIO CEO conference and address simmering controversies involving
Rexahn Pharmaceuticals
(RNN)
,
MannKind
(MNKD) - Get MannKind Corporation Report
and
Nymox Pharmaceutical
(NYMX) - Get Nymox Pharmaceutical Corp Report
.
Controversy first. "Kantzler" called me out on my
most recent bearish column on Rexahn
, saying I intentionally omitted any mention of the company's partnership with
Teva
(TEVA) - Get Teva Pharmaceutical Industries Ltd. Report
.
"Your failure to mention the Teva investment is, to me, a significant indicator of bias you imply on the part of others. Regardless of how funds may be applied, an Israeli pharmaceutical putting up the funds it did is as solid an endorsement as one could hope for. Unlike most justifications, the Teva investment is money put where your mouth is. While all small, research biotechs are a gamble, a significant player in the game has seen Rexahn's cards and likes the odds, making this gamble less hair raising than many others."
I strongly disagree. Teva spends about $1 billion a year on research and development. All in, the Israeli pharmaceutical company invested roughly $8 million in Rexahn in order to fund the
preclinical
development of a single cancer drug candidate. That means Teva allocated eight-tenths of 1% of its entire annual R&D budget to the Rexahn cancer drug known as RX-3117 -- a completely insignificant figure.
I'm even tipping the scale in favor of the Rexahnians because Teva's investment actually came in separate $4 million tranches over two years, so as a percentage of total annual R&D spend, Teva's "partnership" with Rexahn is even smaller.
Under the terms of the agreement, Rexahn must use the money received from Teva to fund the preclinical work necessary to advance the drug to the point at which permission can be sought from regulators to proceed to human clinical trials. In other words, RX-3117 can hardly be called an experimental cancer drug because it's still being tested in the lab.
Let's be clear: Teva has not endorsed, licensed or invested in any of Rexahn's more advanced drugs -- Serdaxin, Zoraxel or Archexin. Moreover, to call Teva's investment in RX-311 a "solid endorsement" is laughable. The only thing Teva is doing is funding some lab work.
And Rexahn can't even get that RX-311 lab work done on time. The company was supposed to have RX-3117 ready for human clinical trials in 2010, but the company recently pushed that goal into 2011, according to Rexahn's quarterly filings with the
Securities and Exchange Commission
. The same SEC documents also explain how Teva paid less money to Rexahn than previously agreed upon under the original RX-3117 agreement.
Here's a helpful hint: Stop using press releases as your primary source of due diligence. Press releases are fungible documents that companies rely on to disseminate a sanitized and largely optimistic version of events. A press release is a piece of propaganda -- plain and simple.
SEC documents, on the other hand, can't be fudged or romanticized. Companies can't lie to the SEC, so smart investors read quarterly filings and 8-Ks for real due diligence.
I spent the early part of the week listening to biotech and drug company investor presentations at the BIO CEO conference. I live-blogged the event
and
, so check those out for a complete rundown.
Via Twitter, @BigBadBeethoven asks, "In a nutshell, what was the one company fact you learned at the conference that both surprised and impressed you?"
I wasn't surprised by anything in a good way. I was unpleasantly surprised, but more on that in a minute.
I was impressed by
Medivation
(MDVN)
CEO David Hung, who had no qualms calling last year's Dimebon phase III study in Alzheimer's a "failure." You don't hear biotech or drug CEOs use the "failure" word very often. Hung also downplayed the upcoming Dimebon phase III study in Huntington's disease, even though it's the company's next big catalyst. That study is a long shot, and I think Hung recognizes that, which is why he spent the bulk of his time discussing
MDV3100, a very promising prostate cancer drug
, as I pointed out in a column this week.
YM BioSciences'
( YMI) new CEO Nick Glover did an excellent job outlining the company's new focus on its JAK inhibitor CYT387. That impressed me. Updated midstage data on '387 will be presented at the ASCO annual meeting in June. I expect investors to focus on this important upcoming event.
Similarly,
Exelixis'
(EXEL) - Get Exelixis, Inc. Report
new CEO Michael Morrissey did a bang-up job whetting the appetites of investors with hints about new data on the company's promising prostate cancer drug XL184. As I write this column Thursday, Exelixis and its researchers are preparing to present the new XL184 data at an ASCO-sponsored symposium focused on genitourinary cancers.
Exelixis shares have almost doubled in value since last fall; Medivation share are up 60% in the same time frame. Both stocks have rebounded nicely after being beaten down in the past year or so. YMI is performing fairly well, too.
Some companies presenting at BIO CEO neither impressed nor repulsed me but they did get my attention enough to warrant further research.
Neoprobe
(NEOP)
is on that list, as is
Sangamo BioSciences
(SGMO) - Get Sangamo Therapeutics, Inc. Report
,
OncoGenex Pharmaceuticals
(OGXI)
and
Depomed
(DEPO)
. I missed
Exact Sciences
(EXAS) - Get Exact Sciences Corporation Report
but I liked that story last year and need to follow up. The same can be said for
Ziopharm
(ZIOP) - Get ZIOPHARM Oncology, Inc. Report
.
I saw some bad stuff Monday and Tuesday. Topping the garbage list was
Northwest Biotherapeutics
(NWBO.OB)
-- easily the worst and most laughable presentation I saw at the conference. I almost fell off my chair when Northwest chief Linda Powers showed slides with Kaplan-Meyer survival curves demonstrating a "survival benefit" for the company's DCVax cancer immunotherapy over historical data culled from previously published clinical studies. Heck, Powers even attached a statistically significant p value to this pseudo-scientific nonsense.
The entire Northwest presentation was appalling.
I last covered
Cerus
(CERS) - Get Cerus Corporation Report
and its blood products-cleaning technology about 10 years ago. A decade later, the company hasn't made much progress. Not encouraging.
Likewise,
Genta
( GNTA) is running in place, still trying to convince someone that Genasense can work in melanoma.
Spherix's
(SPEX) - Get Spherix Inc. Report
CEO mentioned a couple of times that his experimental diabetes drug is actually an FDA-approved sugar substitute that can be used to make brownies and cookies. I failed to see how this was a good thing.
Back to some simmering controversies:
George S. emails,
"Thank you for one of the better articles on Nymox Pharmaceutical. You cleared up a lot of questions I have had for some time. One thing that continues to bother me is that Recordati researched the drug for a 'very long time.' I believe that is what Dr. Averback said on his conference call. Why would Recordati write a check for $13 million and agree to pay 26-40% royalty and not even agree to manufacture the drug? It tells me they must be pretty sure of the drug. I realize $13 million is not a huge amount to these companies but it more than likely is someone's job at stake."
The
Nymox article omitted discussion
of last December's deal in which Nymox licensed NX-1207's European rights to the Italian drug maker Recordati in exchange for, as George points out, a $13 million upfront cash payment and royalties on NX-1207 sales ranging from 26-40%.
Nymox fans lauded the Recodarti partnership as a validation of NX-1207 and the spark that's attracted a lot more institutional investor interesting into Nymox and its stock. For not mentioning the Recordati deal, I was criticized for missing the most important piece of the Nymox story and in some instances, accused of purposefully misleading readers and having a negative bias against the company.
I should have mentioned the Recordati deal although I would have done so only in passing because I don't think the European partnership is central to the Nymox investment story at the moment. In fact, the terms of the deal, most notably the paltry $13 million licensing payment to Nymox, suggests Recordati doesn't have much confidence in NX-1207 and therefore wasn't willing to take a lot of risk on the front end. The 26-40% royalty rate that Recordati must pay to Nymox is significant but only comes into play if NX-1207 is approved and sold in Europe.
To get NX-1207 approved in Europe, Recordati and Nymox will have to conduct at least one additional clinical trial. European regulators generally require a new drug to be compared against a current standard of care. The ongoing phase III study of NX-1207 is designed with a placebo control that won't be sufficient to pass European regulatory muster.
It's also fair to mention that Nymox CEO Paul Averback has been promising an NX-1207 partnership for years. In a Jan. 31, 2007, press release, Nymox claimed to have "serious expressions of interest from a number of major pharmaceutical companies wishing to license the drug for sale in global markets."
In that press release, Averback is quoted:
"Based on the term sheets we have received, we are optimistic about a favorable deal for our NX-1207 product," said Paul Averback, CEO of Nymox. "The data and clinical profile of NX-1207 continue to be compelling. Nymox has received serious expressions of interest about NX-1207 from a number of major pharmaceutical companies from around the world and the Company is carefully weighing its options in order to find the right partners on the right terms."
Four years later, Nymox managed to sign a European partner.
Back to the BIO CEO conference: I wasn't there to hear it, but MannKind President Hakan Edstrom used part of his speaking time at this week's BIO CEO conference to walk back a prior statement made by founder and CEO
Al Mann about his decision not to invest any more of his personal fortune into the company at this time
.
Edstrom read a new statement from Mann that said, "My response to a question about financing during last Thursday's conference call was misquoted and misinterpreted. I remain absolutely committed to Afrezza and confident that it will become a major weapon in the battle against the global diabetes epidemic. I continue to believe that AFREZZA will lead to change in diabetes therapy and will become one of the most significant pharmaceutical products of all time."
I believe Mann was referring to my column, which quoted him accurately saying, "I can't make a commitment at this point" in response to a question from an analyst who asked Mann whether he intended to invest additional personal monies into MannKind.
I'll further point out that nowhere in Mann's new statement of commitment to Afrezza does he say he's pulling out his checkbook to prop up the troubled company, which was the point I made in my column. So, Al, with all due respect, I didn't misquote you nor did I misinterpret your previous remarks.
A large number of MannKind supporters are angry at me for suggesting their belief in Afrezza is misguided, especially after two rejections from the FDA.
Scott B. emailed to make sure I saw Mann's "new" statement of support for Afrezza but also to tell me,
"Al can easily afford to write a check for any continued development costs to get Afrezza to market ... It's a luxury that hardly any other company in the world has., not to mention that the market has always had a hungry appetite (always oversubscribed) for any of Al's fund-raising opportunities. No big surprise when you consider his long-term stellar track record. And with one of the only late-stage drug candidates with legit mega-blockbuster potential it shouldn't be any problem signing a partner with upfront cash in which case there will be zero dilution to existing shareholders. I expect a bidding competition among several interested parties."
Scott, no disrespect, but where have you been for the past year? Mann has lost a significant amount on the $1 billion he's invested in MannKind already. The company is now facing another two-year delay and will need upwards of $200 million just to get Afrezza back to the FDA for a third try at approval.
You say the market has an insatiable demand for Mannkind equity, but that's simply not true, witnessed by the most recent "distressed" equity financing deal with Seaside 88. And if signing a partner with upfront cash is no problem, why hasn't MannKind signed a deal? Do you honestly believe that a potential partner is going to more enthusiastic about Afrezza today after a second consecutive FDA rejection letter?
MannKind supporters need a serious dose of reality. Stop living in fantasyland.
Scott J. emails,
"The institutional sponsorship picked up nicely in the fourth quarter for Somaxon Pharmaceuticals( SOMX). My local pharmacist in rural New Hampshire has not filled any scripts yet, but I imagine there were lots of channel checks by the big investors since the rollout."
Adrian S. shares similar sentiments.
"Read one of your earlier blogs on Somaxon where you were not all that bullish about the propsects for Silenor. Rumour and innuendo has it that sales are robust and while one cannot make investing decisions on hearsay alone it's interesting that the company just took a line of credit to expand the sales force by 35 representatives. Interesting move so early in the launch considering they already have a healthy sized sales force out there. What do you make of this?"
Somaxon has yet to announce fourth quarter results, which will include the first full quarter of Silenor sales. However, Somaxon did present at the BIO CEO conference on Monday and chose not to pre-announce any financial results. I find that a bit strange and not altogether encouraging. Obviously, Somaxon's management team knows by now how Silenor performed in the fourth quarter. Management also knows that the company's stock has been under a lot of downward pressure due initial prescription tracking data showing a slow Silenor launch.
If, in fact, Silenor pulled out a better-than-expected fourth quarter, then why not shout the news to the world at BIO CEO where the spotlight could have shown bright?
Oppenheimer has been tracking weekly Silenor prescriptions, but the results don't seem all that encouraging to me. For the week ended Feb. 4 (the last data available), Silenor brought in $230,000 in sales, or just over 1,200 total prescriptions, according to Wolters Kluwer Health data.
By comparison, Silenor was pulling in between 700-800 total prescriptions per week in November.
Silenor weekly sales are averaging $220,000 in the first quarter, up just slightly from $200,000 in the fourth quarter, according to Oppenheimer, again, quoting Wolters Kluwer prescription data.
Oppenheimer's analyst has Silenor doing just under $1 million in fourth-quarter sales, which seems achievable, but his first-quarter Silenor sales estimate jumps to $10.4 million. Silenor is not going to get there based on prescription volume in the current quarter.
Lewis R. asks,
"Adam, I'm surprised you're going to check out the Cell Therapeutics (CTIC) - Get CTI BioPharma Corp. Report presentation at the end of the day? We're you looking for some levity after a long couple of days or perhaps looking for a chance heckle James Bianco like he's working out a set the closest comedy club? I can't think of any other reason to go to the presentation, unless you're looking for further proof to hit on the head of the lemmings who continue to invest good money after bad. Enjoy the conference, we really appreciate what you do for us."
I'm like a moth to a flame when it comes to Cell Therapeutics, especially when I get the chance to see and hear Bianco speak in person. A few observations from his BIO presentation as well as the company's quarterly conference called held Wednesday:
Terren Peizer, through his firm Socius Capital, has made a "meaningful investment" in Cell Therapeutics, according to Bianco. That's not something I would brag about for reasons I discussed recently after Peizer also invested in Advanced Cell Technologies . See also Peizer's past as the founder and chief executive of Hythiam ( HYTM).
Cell Therapeutics is having trouble convincing FDA to sign off on a Special Protocol Assessment (SPA) for its next phase III study of pixantrone in aggressive non-Hodgkin's lymphoma. As a result, the start of this study has been seriously delayed.Cell Therapeutics filed its SPA request in August 2010. At that time, Bianco told investors that he expected to begin enrolling patients in the pixantrone phase III study by November. Well, it's now February and the study still hasn't started.
Cell Therapeutics closed 2010 with $22 million in cash and then raised another $25 million in January. Bianco estimates that he'll burn about $62 million in 2011 excluding the $22 million in debt that comes due this year. How Cell Therapeutics can burn less money this year while running another large phase III clinical trial was not explained. Peizer's investment in Cell Therapeutics was not disclosed, but the company did include this statement in its 10-K filed with the SEC: "We do not expect that our existing cash and cash equivalents are sufficient to fund our presently anticipated operations through the second quarter of 2011. This raises substantial doubt about our ability to continue as a going concern."
--Written by Adam Feuerstein in Boston.
>To contact the writer of this article, click here:
Adam Feuerstein
.
>To follow the writer on Twitter, go to
http://twitter.com/adamfeuerstein
.
>To submit a news tip, send an email to:
.
Adam Feuerstein writes regularly for TheStreet.com. In keeping with TSC's editorial policy, he doesn't own or short individual stocks, although he owns stock in TheStreet.com. He also doesn't invest in hedge funds or other private investment partnerships. Feuerstein appreciates your feedback;
to send him an email.