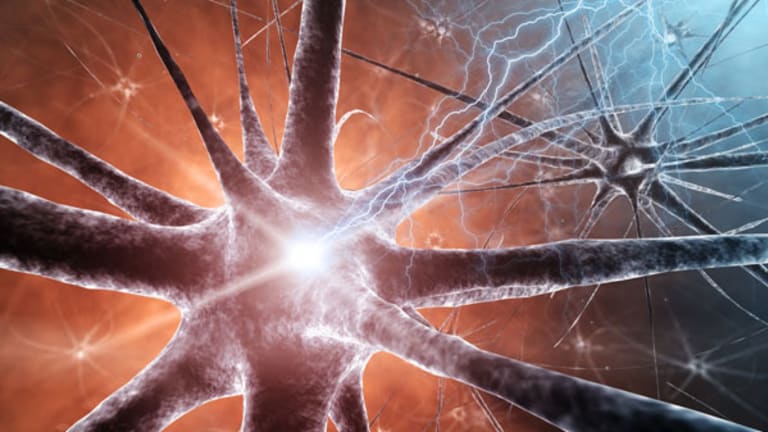 Biotech Mailbag: Bad CEOs Offer Lessons
Senior Columnist Adam Feuerstein's selection of Kelly Martin as the worst biotech CEO for 2008 highlights the need for investors to scrutinize management teams before plunging into an investment.
Senior Columnist Adam Feuerstein's selection of Kelly Martin as the worst biotech CEO for 2008 highlights the need for investors to scrutinize management teams before plunging into an investment.
This column originally posted on
RealMoney.com
at 7:01 a.m. EST. For more information about subscribing to
RealMoney
, please click here.
Welcome back to the Biotech Mailbag, which is overstuffed with new email now that I've moved to a twice-a-month schedule. Let's get to your questions and comments without further delay.
Readers had a lot to say about my choice of
Elan's
(ELN)
Kelly Martin
as the first-ever recipient of the Nance Trophy as 2008's worst biotech CEO. Most of you were happy with the pick. I even heard nice things from the Elanians. Still, you can't please everyone.
Gordon R. emailed to say, "Nice hatchet job on Elan. By the way, since you cover the drug sector, you should do some personal research on Propecia, or is it too late?"
I've never found being follicularly challenged to be much of an impediment. Bald is beautiful.
Karl Keegan, global head of life science research at Canaccord Adams, emailed to say:
"Adam, a really nice article on Elan and Kelly
Martin. My only criticism, albeit slightly biased, is that I did not get a mention as the only analyst that has had two sell calls work out on Elan (Tysabri the first time round and bapineuzumab.) Given that analysts do get bad press (I think you mentioned fawning in your article), it would be nice to highlight to your readers that there are those who believe that biotech sell-side coverage is a calling just like the priesthood. This has a resonance with me as I am Irish but also possess a dilemma that I might be shunned by the Irish investor community for stating that the emperor had no clothes."
Nice work, Karl. I admire analysts who make gutsy calls, especially when they turn out to be right. Pay attention, everyone.
Gerry B. wanted more in the worst CEO column about
Medarex
(MEDX)
CEO Howard Pien.
"I had hoped you would comment further on Pien of Medarex. He definitely presides over a do-nothing public relations department. In my opinion,
Scientific Director Nils Lonberg and his research crew is what keeps the company going. And for all his greedy faults,
former CEO Donald Drakeman did ink a number of worthwhile collaborations and partnerships that appear to be about to bear fruit. But Pien is a definite no-show."
Before I get to specific comments about Pien and why he made the worst CEO list, let me say first that while "worst CEO" lists are fun to read, there is an important investor lesson to be learned.
Don't waste your precious investment dollars in companies with lousy management teams. Successful biotech investing is hard, but it's only getting harder because money is tight and successful drug development is becoming increasing more challenging.
It's important to spend more time than ever assessing the quality of the CEOs and management teams at your favorite biotech firms. Are they conserving cash? Are they investing the money they do have wisely? Can they articulate a clear drug development strategy? Does the company have definitive near-term and long-term goals? Are they meeting those goals on time? Does your CEO under-promise and over-deliver?
The days of biotech companies being allowed to fritter away tens of millions of dollars, or even hundreds of millions of dollars, on silly, high-risk vanity projects is over. Institutional biotech investors (and there are fewer of those today) are holding CEOs to much higher levels of accountability than ever before. Fewer mulligans are being handed out, if any at all.
Don't expect every biotech CEO to be like
Genentech's
(DNA)
Art Levinson. That's unrealistic. But go through those questions above and make sure that the biotech companies you're invested in understand the gravity of the situation they're in right now. I assure you, Wall Street's biotech investors are well aware and are keeping track. You need to do the same.
Back to Pien. Many of the questions above can't be answered in the affirmative when it comes to his tenure as Medarex's CEO. I sat in a breakout room last fall at an investor conference with several large Medarex shareholders who tried in vain to get Pien to discuss in any detail the potential upside to Medarex from
Johnson & Johnson's
(JNJ) - Get Report
promising psoriasis drug Stelara. (The drug uses antibody technology from Medarex.)
It seemed as if Pien was going out his way to be evasive, which made no sense because these were friendly shareholders asking the questions.
I agree with much of Gerry's defense of Medarex, but to be successful moving forward, I think Medarex has to demonstrate to investors that it can develop drugs on its own, and not just be a technology licensing machine. Can Pien make that happen? I'm not so sure.
Moving on to an email from Jon S. regarding
Curis
(CRIS) - Get Report
.
"At the last big cancer conference, you applauded Curis and its partner Genentech for their work with the hedgehog pathway. Do you still recommend Curis in light of the current market?"
Poor Curis. The stock performed well right before and after the American Society of Clinical Oncology annual meeting last June. Since then, it's been tough, with the stock falling from near $2 a share to around 80 cents today.
This fall has more to do with the lousy market and an unfortunate lack of near-term catalysts for Curis than any misgivings or problems with the company and its drug GDC-0449. (For those interested, the hedgehog pathway is not a track in the grass created by the spiny mammal of the subfamily Erinaceinae, but a regulator of cellular growth that when abnormally activated is thought to be implicated in the progression of certain cancers.)
Genentech appears very much committed to this partnership and has moved the drug into three ongoing or planned phase II studies in basal cell carcinoma, colon cancer and ovarian cancer. Data from these studies, however, isn't likely until the end of 2009 or early 2010.
We hear a lot of good things about the potential for the hedgehog pathway in cancer, but until there is a good amount of phase II data available, it's a tough story to sell to investors.
I'm having the same trouble with
ImmunoGen
(IMGN) - Get Report
, another Genentech cancer drug partner, which is a long pick in the
model portfolio. ImmunoGen is in a better position because there is pivotal data from its drug possibly available in late 2009, but still, the stock hasn't moved higher as much as I'd like.
Next up, an email from James W. asking about a small Amex-listed drug company called
RegeneRx Biopharma
(RGN)
.
"I don't tend to be a big biotech guy, but I have been trading around with Regenerx Biopharma for about two years now. From a trading point of view, I'm OK. I got most of my current holding taken out at the open today for a nice gain. That said, between the gains I've made in it lately and the news flow on this, I feel like I'm getting a little too positive on the stock, so I wanted to see if you had a more experienced take on this."
Regenerx is developing various synthetic formulations of thymosin beta-4, a naturally occurring protein found in human cells that is believed to play a role in tissue regeneration. The company's pipeline is focused on wound healing (both skin and in the eye) and cardiovascular tissue repair.
James says he's done well trading the stock, but from a more fundamental basis, I'd want to see data from an ongoing randomized, placebo controlled study of one of these thymosin beta-4 drugs in patients with chronic pressure ulcers. RegeneRx says results from this study are expected before the end of the month.
The study randomized patients to either a once-daily topical application of thymosin beta-4 or placebo over 84 days. Safety and tolerability of the drug are the primary endpoints of the study, but RegeneRx is also measuring wound healing as a secondary endpoint. It's not clear from the study's description, but I'd be curious to learn the severity of these pressure ulcers and what other treatments are being used in both arms of the study.
Outside the clinical trials, RegenerRx appears to be chronically short of cash. Cash on hand totaled $5.4 million at the end of the third quarter and it recently raised another $3 million. Being cash-poor in this market is a bad place to be.
But then, RegenerRx appears to rely on its European partner,
Sigma Tau
, for most of its financing, so if these thymosin beta-4 drugs show promise, perhaps it just makes more sense for Sigma Tau to buy the entire company.
Before I wrap up the Mailbag for this week, I want to make sure that everyone is getting ready for 2009 with my
preview that I posted Thursday.
The list covers significant phase II and phase III studies expected during the first half of next year. Companies like
InterMune
(ITMN)
,
Poniard Pharmaceuticals
(PARD)
,
Orexigen
(OREX)
,
Amgen
(AMGN) - Get Report
and
Neurocrine BioSciences
(NBIX) - Get Report
are included.
At the time of publication, Feuerstein's Biotech Select model portfolio was long Genentech and ImmunoGen.
Adam Feuerstein writes regularly for TheStreet.com. In keeping with TSC's editorial policy, he doesn't own or short individual stocks, although he owns stock in TheStreet.com. He also doesn't invest in hedge funds or other private investment partnerships. Feuerstein appreciates your feedback;
to send him an email.