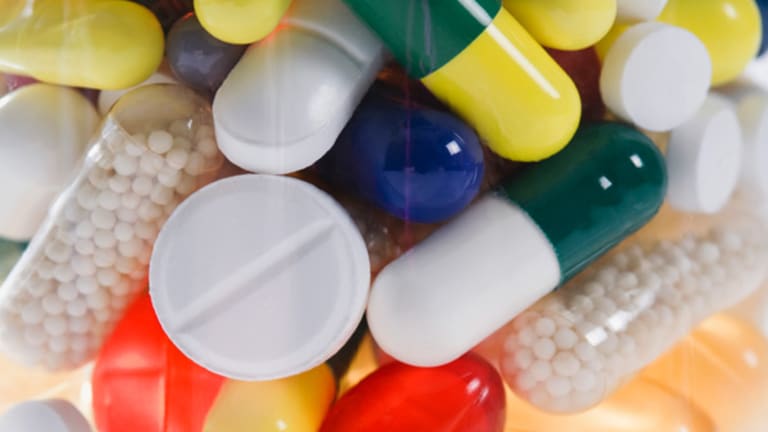 Biotech Mailbag: Avoid Nuvelo-ARCA Merger
The centerpiece of the newly combined company is Gencaro, an unimpressive heart failure drug.
This column originally posted on
RealMoney.com
at 7:07 a.m. EDT. For a first look at columns like these, check out a RealMoney subscription.
Let's open this week's Biotech Mailbag with a commentary on a small merger in biotech-land.
Dore S. emails to ask for my two cents on Thursday's merger between
Nuvelo
( NUVO) and privately held
ARCA Biopharma
.
This deal looks like a train wreck in the early planning stages. Excuse me for being so blunt, but privately held ARCA is run by Richard Brewer. This is the guy who sold
Scios
and its heart failure drug Natrecor to
Johnson & Johnson
(JNJ)
for $2.4 billion in 2003.
It was a fantastic deal for Scios shareholders, not so much for J&J because Natrecor ended up causing all kinds of bad side effects in heart failure patients, so much so that the drug was essentially (but not officially) yanked off the market. This was a total disaster and an embarrassment for J&J.
Now Brewer is back, essentially taking his private company public through the shell that is Nuvelo, a very down-on-its-luck biotech firm. The centerpiece of the newly combined company is another heart failure drug with the brand name Gencaro.
But do this, just look up Gencaro's scientific name, bucindolol on Google. When you do, you'll soon see that bucindolol is one stale drug. The ownership chain for bucindolol is too long to recount here, and the drug's phase III study, published in the
New England Journal of Medicine
in 2001, is decidedly unimpressive.
Here's the conclusion from that NEJM paper: "In a demographically diverse group of patients with NYHA class III and IV heart failure, bucindolol resulted in no significant overall survival benefit."
Now, ARCA has apparently wrapped bucindolol in a shiny new wrapper. The claim is that there is a genetic test which identifies a subgroup of heart failure patients who benefit from bucindolol. The drug is currently being reviewed by the FDA, with a decision date of May 31, 2009. If approved, doctors will have to first test heart failure patients with the genetic test to see if they're eligible for bucindolol. And bucindolol -- a branded drug with the added expense of a genetic test -- will have to compete in a heart failure market loaded with cheaper, generic drugs.
Brewer is a master salesman, so maybe he can pull this stunt off. I highly doubt it.
Next, a nice note from Ray D.
"Hi Adam. I always get up on Saturday morning and eat breakfast while reading the Mailbag.
Neurocrine BioSciences
(NBIX)
just released even better-than-expected phase IIb results on Elagolix for endometriosis. Elagolix has clear efficacy equal to existing therapies, which are not used heavily because of severe side effects. Elagolix avoids the bone loss, bleeding and hot flash side effects, and is oral. Endometriosis is a very large market, and the women with this disease are clearly looking for a treatment as can be seen by visiting endometriosis health message boards.
"The company has no debt, a drug with clear advantages in a large market, plus other drugs in phase II, and of course any value that Indiplon may still have. Elagolix should start phase III in 2009, yet the stock still trades at $5. What am I missing? I expect the market to catch on, but I email you to see if there is indeed something I am not picking up on."
Ray sums up the Neurocrine story as it pertains to Elagolix quite well, and he's right to be optimistic about the phase II data that were announced in early September. I don't view the stock's current price, around $5, lower than it was when the Elagolix data were announced, to be indicative of anything negative about the drug.
What Ray may not be picking up is the fact that a more complete picture of Elagolix and its benefits and risks in endometriosis (and its competitive profile) will come after we see more data from this completed study and two other phase II studies still ongoing.
I haven't heard anything negative about the Elagolix data presented so far, except that close followers of this stuff are waiting for more data. I expect prospective partners want to see more data too.
So far, so good for Neurocrine, and now investors wait for more Elagolix data in the first half of next year. An oral drug with good efficacy and that can address the problems associated with current injectable endometriosis drugs is going to be very attractive to a Big Pharma partner.
Next, Kara L. emails: "Any idea what's going on with
Gilead Sciences
(GILD)
today?"
As I told Kara in a reply to her email on Sept. 19, Gilead is the bane of my existence these days because of how weak the stock's been. I put Gilead in the
model portfolio at just under $49 a share, thinking the heaviest selling was over and that the stock would be relatively stable even in a terrible market.
Nice call, genius. Then came the market meltdown with Gilead sliding into tank with the rest of the big-cap biotechs. When Gilead hit $44 I thought I was going to throw up.
Here's my quick read: Institutions who were invested in biotech this year, successfully, have been using the stocks now as a source of funds. This explains the broad weakness across all the big caps --
Amgen
(AMGN)
, Gilead,
Celgene
(CELG)
, etc.
Fundamentally, I don't see anything wrong here. I saw Gilead and Celgene present at this week's UBS Global Life Sciences conference and walked away feeling very good about the businesses. I think we should see strong third-quarter results, too.
I hope the selling is winding down. Big-cap biotechs are getting their collective clocks cleaned with the broader markets, and understandably so. But these are strong growth stories with recession-proof businesses and none of the balance sheet or liquidity problems. I'm bullish and believe that when the smokes clear, some of the low prices we've seen over the past week or so will look like bargains a year from now.
Excuse me for the gratuitous and somewhat conceited plug, but I'm writing some really good stuff about biotech for my
newsletter subscribers. The model portfolio is filling out with good picks, both long and short. If you haven't checked it out already, I hope you will soon. I'm working hard to make this newsletter the best it can be.
Lastly, an email from a guy known only as Map.
"What value should an investor put into unknown small-cap biotechs that have reputable companies as partners such as
Curis
(CRIS)
with Genentech or
Cell Genesys
( CEGE) with
Takeda
? How much impact should that play into investing in a small biotech that you've never heard of nor know much about the science?"
Biotech investors like to play the partnership angle, and rightly so because it can often catapult an under-the-radar or under-valued biotech stock into the limelight. (Lucrative partnerships tend to send stock prices higher, too.)
"Partnership investing" doesn't always work. Look at Map's examples. Curis was a $4 stock when Genentech signed on as an oncology partner in June 2003, and today the stock is worth a bit more than a buck. Cell Genesys shares climbed to well over $4 in April 2008 after the company licensed rights to its prostate cancer vaccine to Takeda. The fun didn't last long now that Cell Genesys trades around 70 cents.
Don't be fooled into thinking that lucrative partnerships guarantee success. Big drug companies spend money and enter into partnerships for all sorts of reasons, and all too often, the business development types who drive these deals don't know or don't care very much about the science of what they're getting into.
In recent years,
Pfizer
(PFE)
has become the poster child for drug development partnerships gone wrong -- Exubera (with
Nektar Therapeutics
(NKTR)
) and indiplon (with Neurocrine BioSciences) to name just two. Pfizer's recent deal with
Medivation
(MDVN)
, hopefully, works out better.
Here's some advice for the individual investor:
If you've followed or invested in a small biotech company for a long time, hopefully that company has an unpartnered drug or two with a solid scientific rationale, positive early clinical data, and a commercial growth story big enough to attract some attention.
If so, hang tight, because eventually, a big drug company or two or three will come around to kick the tires. After all, lucrative drug candidates don't grow on trees and Big Pharma in desperate need to restock dwindling pipelines.
If, on the other hand, you're noticing a small biotech stock for the first time after it announces a big partnership deal, relax. Take a breath. Don't jump in assuming that the partnership "validates" the drug in question Then, start your homework.
Take a look at the data available, go back and look at the big partner's track record for success. Who's really paying for the drug's development? Are there ongoing payments and milestones, or is most of the money back-end loaded? Will the smaller company still need to raise cash? Who controls the drug's path through clinical trials? How long will that take? Do the partners have interests that are totally aligned?
By the time you find answers to your questions, the mania over the partnership will have settled down. The stock might have also come in, too, which lets you buy at a lower price.
At the time of publication, Feuerstein's Biotech Select model portfolio was long Celgene, Gilead and Genentech.
Adam Feuerstein writes regularly for TheStreet.com. In keeping with TSC's editorial policy, he doesn't own or short individual stocks, although he owns stock in TheStreet.com. He also doesn't invest in hedge funds or other private investment partnerships. Feuerstein appreciates your feedback;
to send him an email.