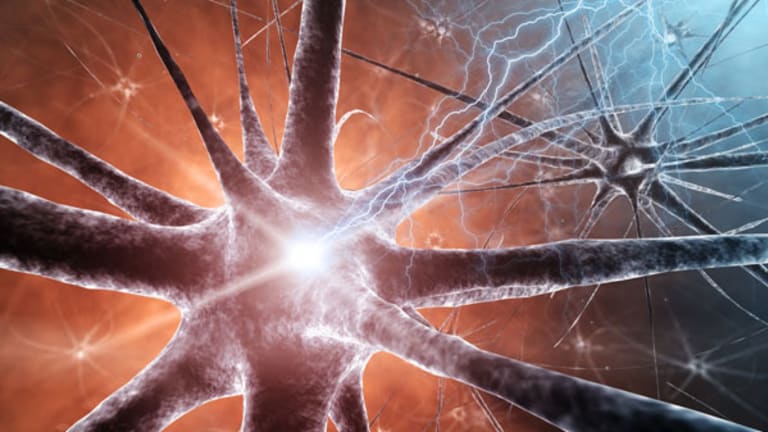 Biotech Mailbag: All About Alnylam
The stock hasn't been this low since July 2007, but lung drug data could set it up for a rebound.
This column originally posted on RealMoney.com at 6:59 a.m. EST. For more information about subscribing to RealMoney, please click here.
Pass the stuffing and please, more cranberry sauce! The Thanksgiving Biotech Mailbag is open for business.
Robert C. writes:
"What is your opinion and record of following Alnylam Pharmaceuticals (ALNY) - Get Alnylam Pharmaceuticals Inc. Report? I am a physician with a research background and although I know that major pitfalls exist of function and approval I cannot see why there is not more interest in this potentially life-changing therapy."
Take your eyes off Alnylam's stock chart for a moment and glance at the company's balance sheet, which will be laden with more than $500 million when the year comes to a close.
That's a very nice cash cushion to have these days. Biotech firms are running out of money right and left, and the equity and debt markets are clamped tight, so for Alnylam to be sitting on several years of cash without any need for additional financing is a good thing indeed.
Kudos to Alnylam's management team -- CEO John Maraganore and President Barry Greene -- for negotiating a string of lucrative partnerships, including deals with
Roche
,
Novartis
(NVS) - Get Novartis AG Report
and
Takeda
, that have helped raise all that money.
Back to the stock chart: Alnylam was trading around $18 on Nov. 24, the day I wrote this Mailbag. The stock hasn't been this low since July 2007, when the company signed the major alliance with Roche.
Blame the lousy market, for starters. The stock is down about 10 points, or 36%, since Sept. 15, the day that
Lehman Brothers
filed for bankruptcy. Alnylam's cash and its leading role in the race to develop RNA interference (RNAi) drugs is comforting, but that doesn't erase the fact that many investors are still in show-me mode when it comes to this exciting, but yet unproven, technology.
Alnylam's stock price will rebound if the data are positive from the next phase II study of ALN-RSV01, the company's lead drug for the treatment of respiratory syncytial virus, or RSV.
Look for those results in the middle of 2009. This is an important study because it's the first time RSV01 will be used to treat lung transplant patients infected naturally with RSV.
In a previous study, normally healthy subjects were innoculated with RSV and then treated with RSV01.
The start of a new phase II study of RSV01 in children infected with RSV (the biggest commercial opportunity for the drug) has been delayed somewhat until data from the lung transplant study can collected. Pediatric studies carry a higher safety hurdle, so Alnylam and the Food and Drug Administration want to make sure RSV01 doesn't carry any unnecessary safety risks before proceeding into a pediatric study.
Alnylam also has promised additional alliances that could move the stock higher.
Next up, an email from Peter G., who writes:
"You seem to know what you are talking about and over the years, you have been right more often than not. I'm a shareholder of Discovery Labs (DSCO) , which was hoping for Class 1 response but got a Class 2 once again. I like this company because of the potential pipeline after approval and of the new aerosol dispensing method. If it is possible, I would love to read your comments about Discovery Labs."
I get email about Discovery Labs and its infant lung drug Surfaxin every few months or so, and my response is
nearly always the same
: Discovery has an abysmal record of meeting its own guidance on regulatory matters. As such, I see no reason to own this stock until the FDA actually approves Surfaxin. When that happens is anyone's guess, unfortunately.
The next opportunity for an FDA decision comes April 17, 2009. Unfortunately, Discovery Labs management all but promised approval this quarter, hence the company's penchant for disappointing investors continues.
Discovery has about one year of cash on hand so it can get to the April FDA decision date. After that, the company needs to hire a sales force to sell Surfaxin, which when combined with launch costs will ramp up expenses. Discovery has a couple of existing financing agreements in place, but overall, the balance sheet isn't all that healthy, especially with 100 million shares of stock outstanding.
Onward. Bob A. inquires:
"The other day James Altucher mentioned a biotech stock called QLT (QLTI) . His case seemed strong on its face. ... The real question is whether his valuations are realistic and achievable, and of course, there is always the question of what happens to the money once the various items have been sold. So, from your perspective does this seem like a good buy?"
I think Altucher has this one right. (You can read the
.) The QLT story is simple and doesn't really involve any complicated biotech stuff. QLT has about $156 million in cash on hand, or about $2 a share, plus the company's current operations are cash flow positive. There is another $120 million in restricted cash on the company's books that may become freely available depending on a court ruling. QLT also is in active negotiations to sell one of its main revenue-generating drugs.
Yet, QLT shares trade at around $1.80. In other words, the market is valuing the company at a discount to cash in the bank, not to mention placing no value whatsoever on the restricted cash, current cash-generating business or a drug pipeline.
There's clearly a disconnect working here, which is why Altucher sees an opportunity, and I agree with him.
At the time of publication, Feuerstein's Biotech Select model portfolio had no positions in the stocks mentioned.
Adam Feuerstein writes regularly for TheStreet.com. In keeping with TSC's editorial policy, he doesn't own or short individual stocks, although he owns stock in TheStreet.com. He also doesn't invest in hedge funds or other private investment partnerships. Feuerstein appreciates your feedback;
to send him an email.