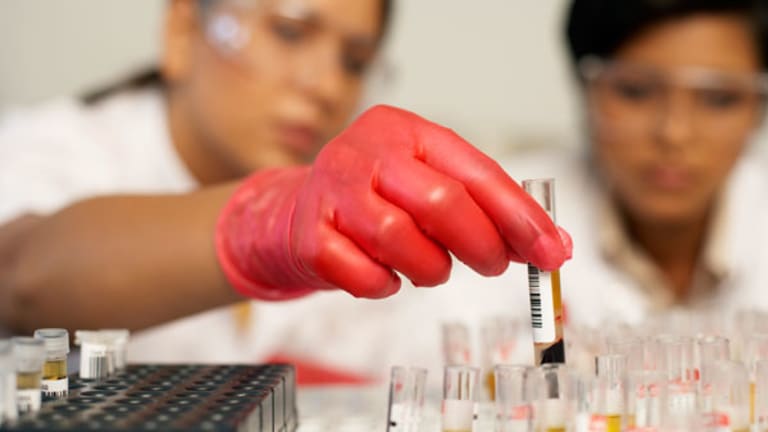 Biotech Earnings Preview: Vertex, Dendreon, Incyte, Medivation, Onyx (Updated)
Third-quarter earnings announcements have been rescheduled due to Hurricane Sandy.
Third-quarter earnings announcements have been rescheduled due to Hurricane Sandy.
Updated with rescheduled dates for earnings announcements due to Hurricane Sandy market closures.
BOSTON (
) -- Investors get their first look at new cancer drug launches from
Onyx Pharmaceuticals
(ONXX)
and
Medivation
(MDVN)
this week when each company reports third-quarter results.
Vertex Pharmaceuticals
(VRTX) - Get Report
,
Dendreon
(DNDN)
and
Incyte Pharmaceuticals
(INCY) - Get Report
round out a busy week for biotech earnings.
Here's what to expect:
Vertex Pharmaceuticals releases third-quarter earnings On Thursday evening with its stock price down 17% since earlier this month.
I've heard multiple explanations for Vertex's recent weakness, so feel free to mix and match: The "cystic fibrosis trade" is being sold now that VX-809/Kalydeco data have been presented; lingering dissatisfaction and questions surrounding said cystic fibrosis data; worries about the next slug of cystic fibrosis data due in the first half of next year; and finally, weakening prescription trends for the hepatitis C drug Incivek.
Absent a huge upside surprise, Vertex's third-quarter earnings aren't likely to make many headlines. The most important number will be Kalydeco sales, with current consensus pegged at $57 million. Comments about the cystic fibrosis drug's European launch in July and market penetration trends will be followed closely. Analysts have been lowering their Incivek sales forecasts due to weak prescription trends (and despite a price increase.) Current consensus is approximately $270 million. One Incivek question: Will Vertex maintain its current 2012 guidance for Incivek of $1.1 billion to $1.25 billion?
Overall, Vertex is expected to earn 20 cents per share on $376 million in total revenue.
Dendreon's recent earnings reports have been painful, stock-crushing affairs so the best thing to be said for Friday is that investor expectations are really low. Absent an announcement that Provenge is being pulled from the market, Dendreon should manage to avoid inflicting too much damage on itself.
At $3.85, Dendreon shares trade at a three-year low. In fact, Dendreon shares are cheaper today than they were when results from the Provenge phase III study were announced.
Provenge sales of $81 million are expected for the third quarter, flat with sales of $80 million in the June quarter. Key topics for the conference call will be an update on the ongoing (and expense lowering) restructuring plan and the impact that two new prostate cancer drugs --
Johnson & Johnson's
(JNJ) - Get Report
Zytiga and Medivation's Xtandi -- are having on Provenge market share.
Onyx Pharmaceuticals launched Kyprolis in July so investors get the first significant update on the multiple myeloma drug's launch Tuesday when the company reports third-quarter results on Thursday.
Consensus sales expectations for Kyprolis are hard to pin down. I've seen some guesses in the $6 million range for the September quarter although whisper estimates are at least double that based on monthly sales data captured by Wolters Kluwer. But then, access to Kyprolis prescriptions by third-party tracking services is believed to be spotty, so it's hard to gauge the reliability of the monthly estimates.
Kyprolis demand appears to be high, according to anecdotal evidence gathered from physician surveys conducted by various analysts. According to the surveys, doctors are using Kyprolis at higher doses and for longer treatment duration than what's described in the drug's FDA label.
Overall, Onyx is expected to post a net loss of 90 cents per share on total revenue of $80.25 million in the third quarter.
Incyte can't afford a repeat performance of its dismal, stock-crushing second-quarter report when 1) Jakafai sales of $29.7 million fell short of expectations; and 2) management's guidance for 2012 Jakafi sales in the range of $120-135 million disappointed. Adding to Incyte's woes: The unexpected departure of its chief commercial officer.
I don't have a fix on Jakafi consensus for the third quarter to be released Thursday, but Oppenheimer is at $33 million, Wells Fargo at $45 million, J.P. Morgan at $32.6 million.
Incyte adopted a new accounting method to recognize Jafaki sales starting in the third quarter that adds approximately $9 million in deferred revenue. It's not clear if analysts have factored this into their estimates.
On Thursday's conference call, Incyte management will be asked (again) about patient dropout, duration of Jakafi therapy and the trajectory of new patient additions. Jakafi was also launched in Europe during the quarter, so expect an update on the drug's launch there.
Overall, Incyte is expected to report a net loss of 21 cents per share on total revenue of $60.6 million.
Astellas
is reporting fiscal second quarter results on Thursday, which will include sales of Medivation's prostate cancer drug Xtandi. Astellas will also be providing Xtandi sales guidance for the rest of the companys fiscal year ending March 31, 2013. Medivation will issue an 8-K with the Xtandi sales report on Thursday and report its own third-quarter financial results on Nov. 9.
It's been difficult to track Xtandi sale to this point because Medivation and Astellas have been trying to block prescription data from third-party tracking services. Note that Xtandi was approved on Aug. 31, leaving just four weeks of third-quarter sales.
Xtandi consensus for the fourth quarter is $25-30 million, although whisper number is closer to $40 million based on the limited prescription data available.
-- Reported by Adam Feuerstein in Boston.
Adam Feuerstein writes regularly for TheStreet. In keeping with company editorial policy, he doesn't own or short individual stocks, although he owns stock in TheStreet. He also doesn't invest in hedge funds or other private investment partnerships. Feuerstein appreciates your feedback;
to send him an email.