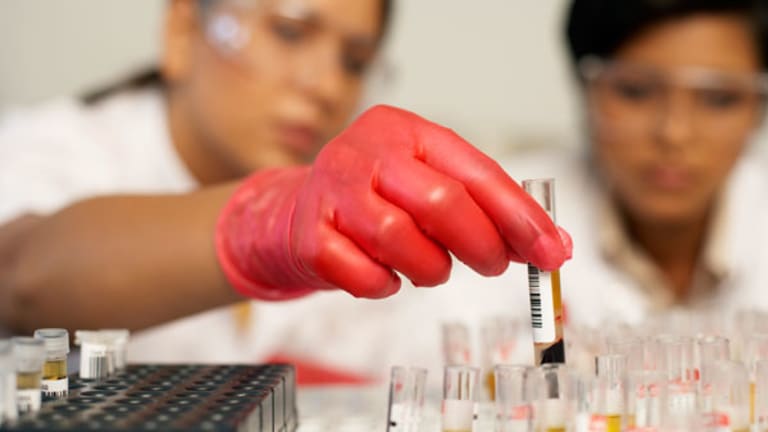 Biomarin: Four Clinical Trial Events to Watch Before Year End
TheStreet contributor Dan Rosenblum explains why Biomarin is a very busy biotech.
NEW YORK (
) --
Biomarin Pharmaceuticals
(BMRN) - Get BioMarin Pharmaceutical Inc. Report
has four major clinical trial catalysts before the end of the year -- one of which could possibly be the most important event in the company's history.
I've been an investor in Biomarin since 2006. In fact, the company is the longest-tenured stock in my
portfolio. As with most biotech stocks, investing in Biomarin requires patience because, at times, the periods between stock-moving events can be long. But the pace of news coming out of Biomarin is going to accelerate over the next three months. Here's a breakdown of what's in store:
1. The announcement of top-line results from a phase III study of GALNs in Morquio syndrome, also known as MPS IV. I have confidence that the GALNS data will be positive. Results from phase II studies were strong, showing improvements in walking ability and a sustained decrease in keratin sulfate levels.
Morquio syndrome patients lack an enzyme that breaks down keratin sulftate in cells, leading to progressive skeletal and spinal cord malformation. GALNS is a replacement enzyme that reduces the harmful levels of keratin sulfate.
Morquio syndrome is an ultra-orphan disease closely related to two other diseases, MPS I and MPS VI, that are treated with Biomarin's currently approved Aldurazyme and Naglazyme, respectively. The company's proven expertise in developing effective enzyme replacement therapies in this area bolsters the odds that GALNS will also succeed. The body language from Biomarin management regarding GALNS has been excellent.
GALNS is Biomarin's most important growth driver because the identified population of Morquio patients exceeds those of MPS 1 and MPS VI. The company has already identified more than 1,200 Morquio patients to target for the GALNS launch. By comparison, Aldurazyme and Naglazyme launched with 200 and 300 patients, respectively. Peak annual sales of GALNS could exceed more than $500 million.
2. Data from phase II trials of Peg-Pal in phenylketonuria (PKU) is expected within the next several weeks. If positive, Biomarin will move the drug into a pivotal phase III program.
PKU is a genetic disease that causes the inability to break down the amino acid phenylalanine (PHE). Peg-Pal significantly lowers PHE levels but some patients have experienced tolerability issues that forced Biomarin to tweak the drug's formulation and dosing schedule. It's very important Biomarin gets this right because PHE levels can be maintained at an acceptable level with a strict non-protein diet. Lingering safety/tolerability issues could hurt the drug's acceptance within the PKU patient community.
Biomarin already markets a drug for PKU known as Kuvan but its efficacy is limited. Peg-Pal is more effective and could be used by a larger swath of PKU patients.
3. The most intriguing drug in Biomarin's pipeline is BMN-111, which is under development for achondroplasia (dwarfism.)
Dwarfism is caused by a mutation in the FGFR3 gene, a negative regulator of growth. BMN-111 is designed to work by dimming the "always on" signal sent by the mutated FGFR3 gene, thereby helping patients grow. The trick for Biomarin is to get BMN-111 to reduce the effects of the FGFR3 gene but not shut it down completely because complete blockage of the gene can lead to abnormal growth and mental retardation.
Biomarin is expected to announce soon results from a phase I safety study in adult patients. While primarily designed to assess the safety and blood levels of BMN-111, the study may also offer some hints about the drug's efficacy. A larger 12-month study of BMN-11 is being planned for early next year.
BMN-111 is exciting for Biomarin investors because the dwarfism population is many times greater than any of the orphan diseases the company typically focuses on. There are over 25,000 patients with dwarfism in the world and at least 500 are born every year. If the phase 1 safety study is positive, Wall Street will start including BMN-111 in the company's valuation.
4. Finally, before year's end, Biomarin will release data from its only non-orphan drug program: BMRN-763, a very potent PARP inhibitor. Early data from an ovarian cancer trial looked very promising. Updated results will be out in December.
With four data events in the next three months, the rest of the year could be a very exciting time for Biomarin shareholders. Excitement doesn't always mean positive. If the GALNS phase III study fails, Biomarin's stock price will take a huge hit. I'll be very surprised if GALNS fails, but positive results in clinical trials can never be taken for granted. Consider using options to mitigate the downside risk in Biomarin just in case GALNS doesn't work.
Rosenblum is long Biomarin.
Dan Rosenblum has been a full-time stock trader since 1999 after leaving a job at a publicly held medical-device company. Rosenblum joined
that year and has been the online trading community's resident biotech expert ever since. Rosenblum writes the
newsletter, which has outperformed the S&P 500 and the Nasdaq Biotechnology Index every year since its inception in 2006. Rosenblum lives with his wife and kids in Rockland County, New York.