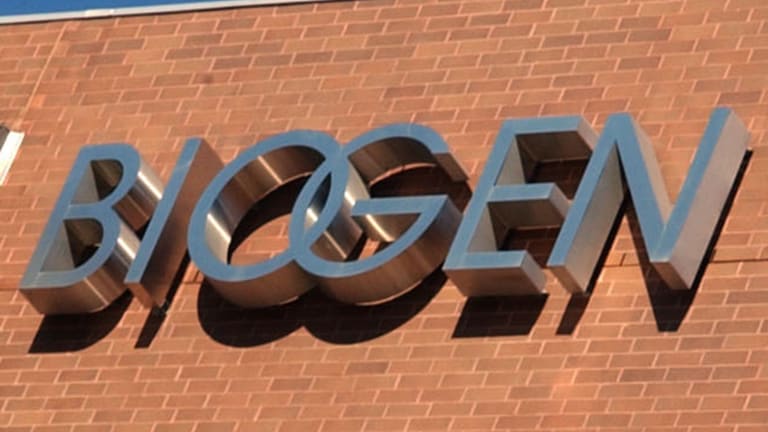 Biogen Sparks Hope on Treating Alzheimer's Disease: Everything You Must Know
Biogen delivered promising results on a new Alzheimer's disease treatment. And investors rewarded the company accordingly.
Biogen execs will have a good weekend.
Massachusetts-based Biogen Inc. (BIIB) - Get Free Report and Japanese pharmaceutical group Eisai Co. Ltd.  (ESALY) announced positive results of the Phase 2 of the study of their joint beta-amyloid antibody BAN2401 on Friday, marking an important milestone in the companies' quest to tackle Alzheimer's disease.
Biogen soared more than 19% in Friday trading, while Eisai popped 21%.
Here's the in-depth coverage you won't find anywhere else, all in one tidy package. 
Jim Cramer on Biogen
"This is obviously worth more than 50 points [in the stock]," TheStreet's founder Jim Cramer said. Watch more of Cramer's Biogen breakdown below. 
What Our Sources Are Saying
It's now up to Biogen to keep the momentum going. 
"We're going to start these conversations (with regulators) as soon as reasonably possible, and we can't comment on any launch timing after that," says Samantha Budd Haeberlein, VP Clinical Development Late Stage Alzheimer's for Biogen. Haeberlein spoke exclusively with Real Money Executive Editor Daria Solovieva.
Investors should still view the stock as a good buy, Canaccord Genuity analyst Sumant Kulkami told Real Money reporter Martin Cassidy. Kulkami remains bullish because the positive news should draw interest to Biogen's other ongoing trials, including Aducanumab, another Alzheimer's drug.
Not everyone is upbeat on Biogen's big news though. 
TheStreet's Alexander Nicoll points out that Jefferies analyst Michael Yee continues to be cautious on Biogen. Yee contends there have been numerous setbacks in the development of an Alzheimer's treatment, most recent being Eli Lilly and Co. (LLY) - Get Free Report and AstaZeneca PLC's (AZN) - Get Free Reportdecision to discontinue their development of lanabecestat in mid-June.
Science has yet determined the true cause of the debilitating disease, which makes finding a cure challenging, analysts say.
Yee maintained his "hold" recommendation on the stock, arguing that the latest data was not significant enough to change his rating. 
The Next Trade
As with most pharma stocks in the wake of very positive news, momentum to the upside is likely to continue. 
Real Money technical analyst Bruce Kamich thinks Biogen has room to rally another $16 to $416 a share. Want more exposure to Biogen? Kamich suggests going long the iShares Nasdaq Biotechnology ETF (IBB) - Get Free Report and First Trust NYSE Arca Biotechnology Index Fund (FBT) - Get Free Report on their exposure to Biogen.
The iShares Nasdaq Biotechnology ETF counts Biogen as 7.8% of its holdings. First Trust NYSE Arca Biotechnology Index Fund is 4.1% weighted towards Biogen.
Register for Jim Cramer's latest monthly call with Action Alerts PLUS Club members here.