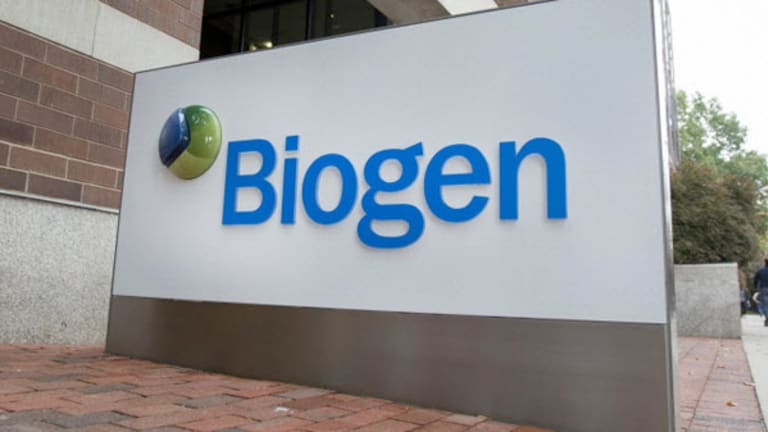 Biogen Scores FDA Approval for First Spinal Muscular Atrophy Drug
The biotech earlier this month enlisted Michael Vounatsos to replace George Scangos as chief executive.
As takeout prospects around Biogen (BIIB) - Get Report persist amid the recent appointment of a new chief executive, investors on Monday applauded the biotech for winning FDA approval of its treatment for spinal muscular atrophy. 
Biogen's Spiranza is the first therapy of its kind in the U.S. for the treatment of pediatric and adult patients with SMA, a common genetic cause of death in infants and toddlers. Biogen has licensed the global rights to develop, manufacture and commercialize the drug from Ionis Pharmaceuticals (IONS) - Get Report .
The product will be made available for shipment to U.S. healthcare providers in about one week, Biogen said in the late Friday, Dec. 23 announcement. 
Shares of the Cambridge, Mass., biotech were up just over 8% in early morning trading Tuesday to $295.57 each. The shares are up Ionis shares jumped about 4.8% to $55.98.
Tuesday's announcement comes after Biogen earlier this month completed the spinoff of its hemophilia business Bioverativ Inc., positioning the remaining company to focus on developing therapies for autoimmune, serious neurological and rare diseases.
Biogen last week named Michael Vounatsos as its new CEO months after current company head George Scangos revealed his plans to step down. Vounatsos, who will be promoted from his post as COO, remained relatively vague on a call with investors last week on matters of future potential M&A, stating that the company is "pretty open" to various options. 
While the company has been viewed a target of takeover for several months, Biogen's comfortable cash position also raises the likelihood that it may go on the M&A offense. Vounatsos last week noted the company's interest in ophthalmology. 
Newly created Bioverativ, which will trade on the Nasdaq under the symbol BIVV, will concentrate on developing treatments for hemophilia and other rare blood disorders. The new entity will be led by CEO John Cox, a former executive vice president at Biogen.