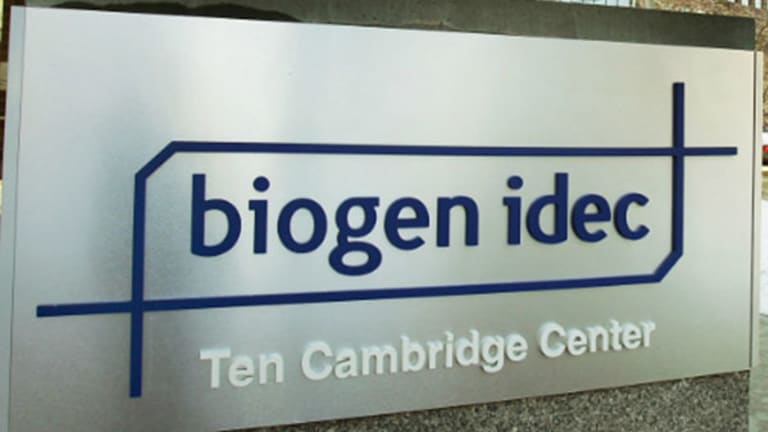 Biogen Idec's Critical Nerve Repair Drug is Poised for Big News -- Soon
Study results from the most important drug in Biogen Idec's pipeline are expected as early as Monday. Here are essential points you need to know.
CAMBRIDGE, Mass. ( TheStreet) -- Study results from the most important drug in Biogen Idec's (BIIB) - Get Biogen Inc. Report pipeline are expected imminently. The news may come as early as Monday, during Biogen's presentation at the 33rd Annual J.P. Morgan Healthcare Conference in San Francisco.
In an effort to help you prepare for these results, here's an FAQ on the Biogen drug known as anti-LINGO-1, or BIIB033.
Why is anti-LINGO-1 so important to Biogen?
Biogen's anti-LINGO-1 antibody is a potential therapeutic game changer for chronic neuro-degenerative diseases like multiple sclerosis. The drug is designed to block the production of a protein known as LINGO-1, which when expressed in the central nervous system, leads to the degradation of the protective myelin sheath around nerve fibers. The breakdown, or "demyelination," of nerve fibers interferes with the transmission of nerve impulses, leading to physical and cognitive disability.
Okay, but Biogen already markets a bunch of multiple sclerosis drugs. What sets anti-LINGO-1 apart from the others?
Biogen's existing multiple sclerosis drugs -- Avonex, Tysabri, Tecfidera, Plegridy -- all work by slowing down the demyelination of nerve fibers. If anti-LINGO-1 antibody can prevent the destructive LINGO-1 protein from being produced, nerve fibers in multiple sclerosis patients might be "remyelinated" and the damage caused by the disease reversed, or even eradicated altogether. This is a really big deal because no drug today has been shown to repair nerve fibers in multiple sclerosis patients.
Cool. So, the study data will tell us if anti-LINGO-1 works in multiple sclerosis patients?
No, sorry, it won't. Biogen is first conducting a phase II study, which evaluates anti-LINGO-1 in patients with acute optic neuritis. This disease creates inflammation and damage to the optic nerve that links the eye to the brain, resulting in pain and vision loss. Optic neuritis and multiple sclerosis are related diseases. A diagnosis of optic neuritis is often the first sign that a patient may also have multiple sclerosis.
How will we know if the anti-LINGO-1 data in optic neuritis is any good?
Here's where the story gets a bit squishy. The phase II study enrolled 80 patients with acute optic neuritis and randomizes them to treatment with six doses of anti-LINGO-1 or six matching placebo doses over 20 weeks. At 24 weeks, the patients in both arms of the study will be evaluated and compared.
The primary efficacy endpoint is change in nerve conduction velocity (NCV) -- a measurement of the speed at which electrical impulses travel through the nerve. The key secondary endpoints of the study will look at changes in nerve thickness and visual acuity. If anti-LINGO-1 works the way Biogen hopes it does, we should see improvements in these measures in treated patients because the drug will be repairing the optic nerve.
What's so squishy about this study design?
Biogen is cautioning investors not to expect a crystal clear conclusion from the data obtained in the optic neuritis study. Basically, Biogen hopes to see evidence to support anti-LINGO-1's proposed nerve repair mechanism works, without worrying about whether or not the results are clinically meaningful to patients.
Um... This sounds suspiciously like pre-announcement spin
It is, a bit. But to be fair to Biogen, the optic neuritis study is just an appetizer to the main course, which is an ongoing phase II study of anti-LINGO-1 in multiple sclerosis patients. We'll see results from the second study in 2016.
I also think it's fair to conclude something positive about anti-LINGO-1's effect on nerve repair, even if the optic neuritis study doesn't achieve the primary endpoint with statistical significance. There is a legitimate need to interpret the data across all the endpoints, and that's what the company and investors will probably do.
Any take on investor sentiment going into the anti-LINGO-1 optic neuritis study results?
Sure, everyone's favorite gatherer of buyside sentiment, Evercore ISI analyst Mark Schoenebaum, included a Biogen anti-LINGO-1 question in a recent buyside survey. By a two-to-one margin, investors do not expect any of the study's endpoints to hit statistical significance.
Credit Suisse analyst Ravi Mehrotra issued an anti-LINGO-1 data preview note on Tuesday, a worthwhile read by the way, which lays out four scenarios of the study and potential reaction of Biogen's stock price. 
Mehrotra's handicapping note:
Best-case scenario of hitting primary end point with 30% effect on latency on NCV; stock could move to our $400 12 month TP (20% probability)
Mid-case scenario of positive trends in all three end-points could drive the stock to the $350-370 levels (50% probability)
Bad-case scenario of little/no-effect in all three endpoints, stock retrenching to the $310-320 levels (20% probability)
"Super-bad" scenario where a new safety signal effectively places a major handicap on Anti-LINGO-1. Under this scenario BIIB stock could trade to below the $300 support level levels (10% probability)
Are there any other companies developing similar drugs which might move in reaction to the study's findings?
Great way to end this FAQ. There are two other companies developing drugs designed to repair nerves.
GlaxoSmithKline's
(GSK) - Get GlaxoSmithKline Plc Report
is in phase II testing and
Acorda Therapeutics
'
(ACOR) - Get Acorda Therapeutics, Inc. Report
.
Vertex Pharmaceuticals
(VRTX) - Get Vertex Pharmaceuticals Incorporated Report
has a multiple sclerosisremyelinating drug candidate inpreclinical development.
Adam Feuerstein writes regularly for TheStreet. In keeping with company editorial policy, he doesn't own or short individual stocks, although he owns stock in TheStreet. He also doesn't invest in hedge funds or other private investment partnerships. Feuerstein appreciates your feedback;
to send him an email.