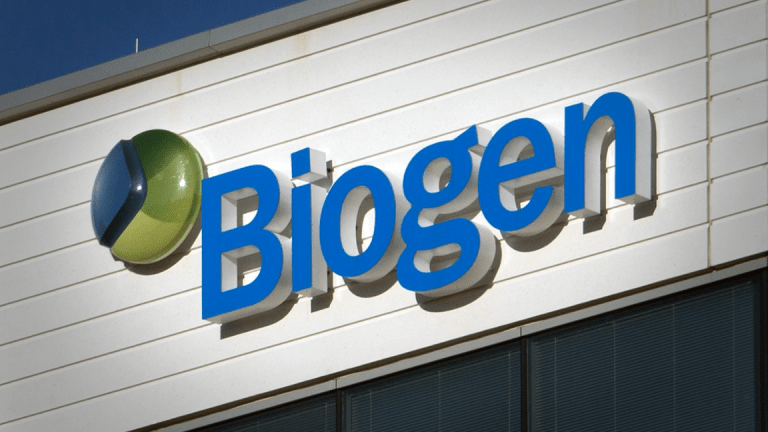 Biogen Shares Plummet Despite Alzheimer's Drug Exceeding Expectations
Shares fell by more than 11% in after hours trading Wednesday.
The results were good but apparently not good enough.
Biogen Inc. (BIIB) and Eisai Co. Ltd. (ESALY) exceeded Wall Street's expectations surrounding the performance of the companies' joint Alzheimer's antibody, BAN2401. But Biogen shares still fell hard after-hours on the results.
Eisai Vice President Lynn Kramer reported that BAN2401 showed to reduce the rate of cognitive decline in people afflicted with Alzheimer's disease by 30% on an ADCOMS basis, which beat analysts' estimates of a 15-20% reduction. Kramer presented the detailed results from the Phase II trial of BAN2401 at the Alzheimer's Association International Conference in Chicago on Wednesday.
The large difference should have been good news for investors and Biogen, according to analysts' outlook, but Biogen still fell more than 11% in after hours trading Wednesday. Biogen shares have spiked dramatically since preliminary results from the Phase II trial were first released on July 6.
Investors might also be hesitant to rejoice in the news as Biogen could be following the same trajectory as other companies that have pursued Alzheimer's treatments, with results from Phase II trials showing promise but eventually failing in Phase III tests. Shares of Biogen 
However, BAN2401 results support the amyloid hypothesis that has become one of the main theories behind the cause of Alzheimer's, Kramer said.
Biogen rose $10.99 -- or 2.95% -- to $383.83 a share during the day while Eisai increased by $3.67 -- or 3.76% -- to $101.17.