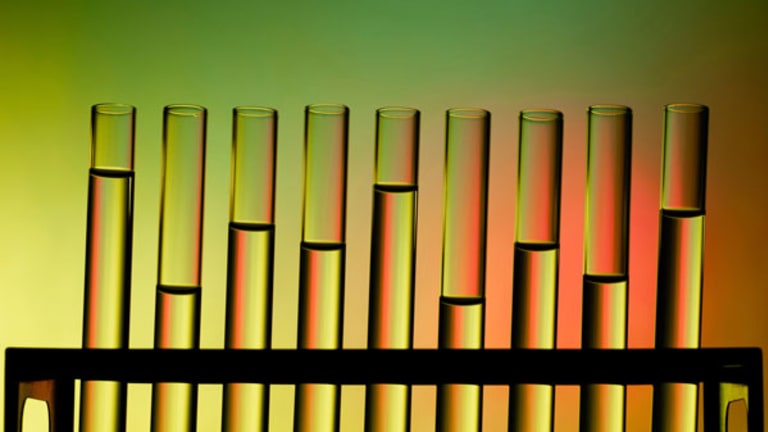 Biogen Earnings Rise, Surpass Estimates
Third-quarter adjusted earnings of 98 cents a share from the biotech company easily topped the estimates of analysts.
Biogen Idec (BIIB) - Get Report beat profit expectations Tuesday, becoming the third big biotech to deliver better-than-expected third-quarter product sales.
Shares closed at $47.49 on Monday.
The company said Tuesday that it earned $207 million, or 70 cents a share, in the third quarter, versus a year ago profit of $119 million, or 41 cents a share. On an adjusted basis, Biogen earned 98 cents a share, up from 58 cents in the year-ago quarter. Revenue increased 38% to $1.09 billion.
Profit results trounced the expectations of analysts, who on average were expecting 89 cents a share on $1 billion in revenue, according to
Thomson Reuters
.
Biogen followed its peers
Genentech
(DNA)
and
Gilead
(GILD) - Get Report
, which reported earnings last week, in presenting better-than-expected sales of its key products.
Biogen said sales of Rituxan, a drug partnered with Genentech, rose to $299 million, beating the consensus targets for $276 million.
The company garnered $573 million in worldwide sales from multiple sclerosis drug Avonex. Multiple sclerosis drug Tysabri, for which Biogen partners with
Elan
(ELN)
, beat expectations with $237 million in sales. Biogen will record $171 million of those Tysabri sales.
Analysts had predicted $528 million in sales from Avonex and $220 million from Tysabri, with $164 million of that going to Biogen.
In the third quarter, Biogen reported the first two confirmed cases of brain infection progressive multifocal leukoencephalopathy -- a known risk of the drug -- since its relaunch in 2005. Subsequently, the Food and Drug Administration expanded the label to include the risk of progressive PML with Tysabri when it's used alone.
Biogen said Tuesday that as of the end of September, there were more than 35,500 patients on commercial and clinical Tysabri therapy worldwide, compared with 31,800 patients on the therapy at the end of the second quarter.
Looking ahead, the company now expects adjusted earnings above $3.50 a share, and above $2.51 a share on a GAAP basis, including the potential for up to $40 million in upfront and milestone payments. The company is now guiding for 2008 revenue growth above the mid-20% range over 2007.
Biogen had previously guided for adjusted EPS "at-or-above" $3.50, with revenue growth in the mid-20% range.
Analysts surveyed by Thomson Reuters expect 2008 earnings of $3.55 a share on revenue of $3.98 billion.