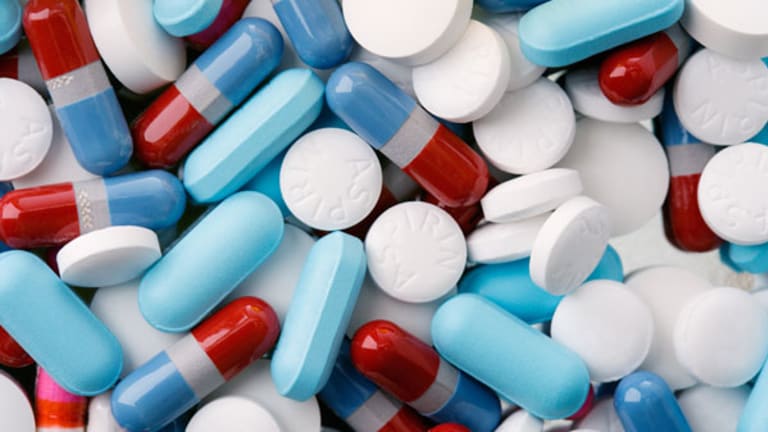 Biogen Confirms Third Brain Infection
The biotech reveals in a regulatory filing a third case of PML, an often deadly infection, in an MS patient taking Tysabri.
Updated from 4:56 p.m. EDT
Biogen Idec
(BIIB) - Get Report
confirmed late Wednesday that a third patient taking its multiple sclerosis drug Tysabri developed the dangerous brain infection progressive multifocal leukoencephalopathy.
The biotech company's shares were losing 11% in post-market trading, while its partner on the drug,
Elan
(ELN)
, was shedding 25%.
Biogen reported in an 8-K filing with the
Securities and Exchange Commission
that regulatory agencies were notified Wednesday of the new confirmed case of the condition in a patient with multiple sclerosis.
The drug was removed from the market in 2005 after being linked to PML, which can be deadly, but it has since been relaunched with information about the PML risk on its label.
The new patient was a female in the U.S., according to Biogen spokeswoman Naomi Aoki. The patient is under the care of her treating physician, and she was confirmed to have the infection after 14 injections of Tysabri.
In late July, Biogen and Elan disclosed the first two
since the drug's relaunch, sending both stocks into a tailspin. Both of those patients have shown signs of improvement, said Aoki, noting that heightened clinical vigilance and risk-management programs have been key to early detection. One of the patients remains hospitalized.
The Food and Drug Administration has since expanded
warning label to include the risk of the infection with the drug when it is used alone.
"PML remains a rare adverse event in Tysabri patients, and the rate seen is consistent with what you'd expect to see based on the cases discussed in the label," Aoki said. The label currently indicates that the expected rate is 1 occurrence in 1,000 patients, which was calculated at the time of the drug's reintroduction to the market.
Wall Street had been watching
Biogen's third quarter
numbers last week to see how the two new cases might be affecting sales of the drug. Sales came in ahead of expectations, but shares declined as investors weighed comments by management regarding Biogen's goal for patients on the MS drug. The company said growth would now have to accelerate in order to reach 100,000 patients on Tysabri by 2010, although it was sticking to the target.
Biogen said last week that as of the end of September, there were more than 35,500 patients on commercial and clinical Tysabri therapy worldwide, compared with 31,800 patients at the end of the second quarter.
"It's an important therapeutic option that's offered hope to many patients living in U.S.," said Aoki. "We think the risk-benefit profile remains favorable."
Tysabri isn't alone when it comes to instances of PML. There have been a number of other immunosuppressant drugs linked to PML, notes Summer Street's Carol Werther, including Rituxan, a drug from
Genentech
(DNA)
and Biogen Idec. There have also been postmarketing reports of PML in patients who took
Roche's
CellCept and
Novartis'
(NVS) - Get Report
Myfortic, drugs used to keep the body from rejecting transplanted organs.
Deutsche Bank analyst Mark Schoenebaum commented Wednesday that new cases in patients taking Tysabri were expected, and he believes Biogen's stock will recover.