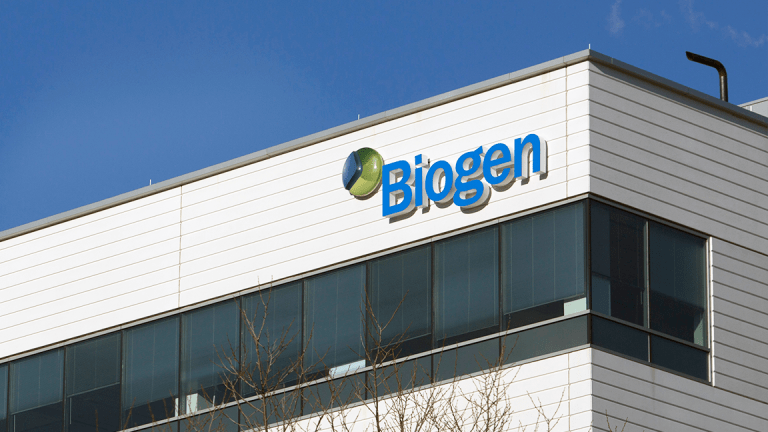 Biogen's Big Alzheimer's Presentation on Wednesday: What You Need to Know
The biotech giant will present detailed results of its mid-stage trials of BAN2401 at the Alzheimer's Association International Conference in Chicago.
The big day is almost here.
Expectations are high for Biogen Inc. (BIIB) - Get Biogen Inc. Report ahead of its presentation for its Alzheimer's drug, BAN2401, which could have a dramatic impact on the company's outlook moving forward, analysts say.
"These Alzheimer's results will be the biggest determinant of its long-term growth," William Blair analyst Matt Phipps said.
Biogen will present detailed results from its Phase 2 study of BAN2401, which was developed with Japan-based Eisai Co. Ltd. (ESALY) , at the Alzheimer's Association International Conference in Chicago on Wednesday.
The company previously announced July 6 that initial results of the drug showed to significantly reduce cognitive decline in patients at 18 months compared to the placebo, which spurred a 20% jump in Biogen's stock as investors seemed pleased with the findings.
One of the most important elements Phipps will be watching for is if there is a correlation between the dose size and timing of BAN2401, and how much plaque was removed from the brain in conjunction with the rate of cognitive decline in patients, Phipps said.The dosage size will be important to watch because it shows the mechanism of the drug is working as expected and shows a cleaner picture about the efficacy of BAN2401, Phipps said.
The mid-stage trial was designed for an endpoint of a 25% reduction in cognitive decline, so Phipps thinks investors would be happy if results came close to that mark, he said.
"Somewhere in that range would be good," Phipps said.
Leerink analyst Geoffrey Porges released a note last week saying investors will be looking for a reduction in cognitive decline of 15% to 20% and anything over 20% would be especially meaningful.
While no one will see revenue from BAN2401 for the foreseeable future, Wednesday's presentation could inspire confidence in aducanumab, Biogen's other Alzheimer's drug, Phipps said. Aducanumab just finished enrollment in its Phase 3 trials for the drug and results are expected to come in 2020.
A treatment for Alzheimer's disease continues to elude industry titans as many of the large-cap biotech and pharma companies have halted development of Alzheimer's medication or have had failed test results over the years.
Pfizer Inc. (PFE) - Get Pfizer Inc. Report  stopped pursuing research into the neurodegenerative disease in January, while Merck & Co. (MRK) - Get Merck & Company Inc. Report ended its late-stage trial for an experimental drug in February after that drug failed. Most recently, Eli Lilly and Co. (LLY) - Get Eli Lilly and Company Report and AstraZeneca Plc's  (AZN) - Get AstraZeneca PLC Report collaborative effort ended in June after a third-party group recommended they should stop development of their lanabecestat drug because the group found it did nothing for people with early onset and mild dementia.
Confidence about Alzheimer's treatments remains low among investors, but Biogen's BAN2401 differs slightly from how other tests have been conducted, which has stirred interest.
"There are all these little variables that make it different," Phipps said. "But that's the question if all these variables add up to be that different."
BAN2401 and aducanumab are both antibodies that latch onto and reduce the amount of amyloid plagues that build up in the brain. Amyloid plaque buildup is the prevailing theory for the cause of Alzheimer's at the moment, and strong results could support the continuation of investigative studies based on the beta-amyloid hypothesis, analysts say. 
Porges warned investors of the volatility that could arise based on the trial results and foresees shares falling as much as $20 or rising as much as $40 after the data is released. 
"A positive outcome for BAN2401 could influence investors to assign a higher probability of success for aducanumab, a higher probability for BAN2401 or a higher likelihood that both antibodies come to market," Porges wrote.
Phipps remains cautious of being too optimistic about BAN2401's results mostly because Biogen's initial announcement did not give investors much significant information about data endpoints.
Biogen CEO Michel Vounatsos said on Biogen's second-quarter conference call on Tuesday that he was excited for the presentation on Wednesday and thinks the data set supports aducanumab, as well as the possibility for future Alzheimer's treatments.
"We believe, as many of you, that it's not one single treatment that we treat all the patients at all the stages," Vounatsos said in a conference call. "So we need to envision new studies, including potentially combination therapies or sequential therapy to...answer the unmet medical needs."