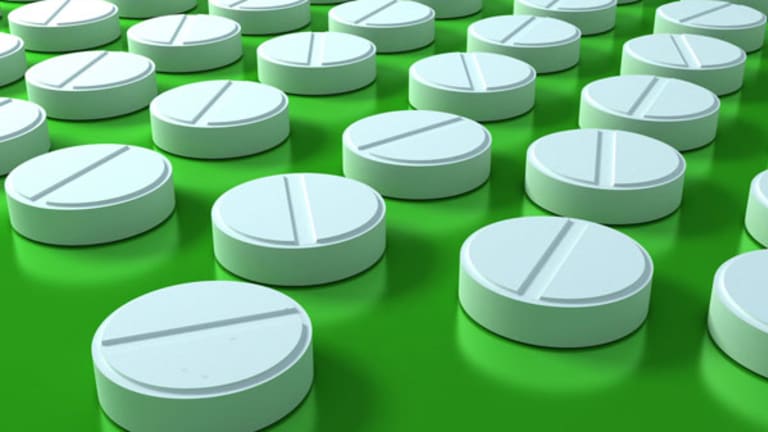 BioCryst Warns Peramivir Sales May Not Bring Profits: BioBuzz
Flu drug maker's small but perhaps important change to its disclosures
Flu drug maker's small but perhaps important change to its disclosures
BIRMINGHAM, Ala. (
) --
BioCryst Pharmaceuticals
(BCRX) - Get Report
made a small change to its investor disclosure statements Tuesday, warning investors that a government purchase order for its flu drug peramivir may not be profitable.
The company added the new disclaimer to its "forward-looking statements" appended to its Sept. 15 press release. These statements tend to be heavy on legalese and are not often read, though changes can signal something important.
In the forward-looking statement of its Sept. 15 press release, BioCryst now warns that the "U.S. government and ex-U.S. governments may choose not to issue a request for peramivir to treat influenza or such requests, if any,
may not result in an order or such order, if any, may not be profitable for BioCryst
..." (Emphasis added.)
The disclaimer about the profitability of a peramivir purchase order was not previously included in BioCryst's forward-looking statements, including the company's July 30 press release announcing second-quarter financial results.
Kevin McNamara, a drug analyst who runs his own independent research shop, BioLogic, picked up on the new BioCryst risk statement and wrote about it in an alert sent to his institutional investor clients Tuesday.
McNamara said the new disclaimer could be nothing more than BioCryst wanting to be overly cautious.
However, he adds, "One could also argue that BioCryst has more information to make a judgment call on the potential profitability of a government order than it had on July 30, 2009. Since then, for example, the NBSB has met and the CDC has updated its guidance with respect to antivirals
September 8.. Among the recommendations is that all persons with suspected or confirmed influenza requiring hospitalization be treated with oseltamivir
Tamiflu or zanamivir
Relenza. As most investors are now aware, there's no mention of peramivir in the guidelines."
BioCryst has not disclosed peramivir pricing for any potential government stockpiling order but the company's supporters believe that peramivir may be priced at $300 per treatment course, or on par with pricing for hospital-based intravenous antibiotics.
BioCryst bears, including McNamara who has a sell rating on the stock, point out that peramivir is an antiviral drug, not an antibiotic, and other antiviral flu drugs, most notably Roche's Tamiflu, are bought by the government for $15.
New Medicare Rules For Dialysis Affect Biotech
(At 7:34 AM EDT)
The early morning biotech buzz will be about the stock impact of Tuesday night's release by Medicare of proposed rules for bundled reimbursement of drugs and services for end-stage kidney disease patients, i.e. dialysis patients.
The proposed bundling rules are complicated (550 pages!), but simply put, Medicare, starting in 2011, will reimburse dialysis service providers with single fixed payment for each patient treated. In the old system, drugs used in the dialysis were a profit driver for dialysis providers because they were reimbursed separately.
Under the new Medicare rules, however, drugs are included in the fixed bundled payment. That means drugs used in dialysis are now a cost driver for dialysis providers, which theoretically will mean reduced use and lower revenue for the drug companies.
So who wins and loses in biotech? As I sort through reams of analyst notes this morning dissecting the Medicare proposals,
Amgen
(AMGN) - Get Report
and
Genzyme
(GENZ)
seem to be on the losing side, although some of the negatives for both were entirely expected.
The biggest hit to Amgen will be from reduced use and sales of its anemia-fighting drug Epogen, a mainstay drug in dialysis clinics but one that is expensive. Under the new rules, dialysis clinics will try to use less Epogen in patients. The positive for Amgen is that reduced Epogen use is very much baked into investor expectations.
Amgen may take another hit, however, because in a surprise move, Medicare wants to include oral drugs in the dialysis bundle. This was not expected and could also pinch use of Amgen's Sensipar. A hit to Sensipar is not a critical blow for Amgen, however, as the drug only accounts for 4% of expected total revenue in 2009, according to J.P. Morgan.
Genzyme is a potential loser for the same reason since its oral phosphate binders Renagel and Renvela are used widely by dialysis patients. And Genzyme's kidney drug business is more significant, contributing 22% of total revenues, according to J.P. Morgan.
AMAG Pharmaceuticals
(AMAG) - Get Report
appears to skate through relatively unscathed. Bundling helps because dialysis clinics are incentivized to control patients' anemia by increasing their use of less-expensive injectable irons over the more expensive drugs like Amgen's Epogen. However, AMAG's Feraheme is priced at a premium to other competing injectable irons, which could hurt sales.
It's important to note that the Medicare proposals released last night are just that, which means changes and amendments will be made. Look for a lot of pushback from industry and their friends in Congress on the inclusion of oral drugs into the kidney dialysis bundle.
Analyst: Buy Big-Cap Biotech
J.P. Morgan's biotech analyst Geoff Meacham is telling clients this morning to buy large-cap biotech and that his favorite stocks are Amgen and
Celgene
(CELG) - Get Report
.
"We are becoming much more positive on the biotech sector, where a continued small- to mid-cap rally may now be complemented by a re-rating of the large cap group. We think the cloud over healthcare reform may finally be lifted this fall, which coupled with attractive valuation, a good 3Q earnings season, ample industry catalysts, and stabilizing fund outflows, could drive year-end outperformance for the biotech sector. We've been cautious on the group for most of the year, but we view current levels ( less than 15 times 2010 estimates) as broadly attractive," he writes in a research note published this morning.
Amgen is a top pick for Meacham due to expected denosumab approval in osteoporosis and new denosumab data in cancer expected next week and into 2010.
Meacham also likes Celgene for Revlimid data coming in December and accelerating earnings.
Gilead Sciences
(GILD) - Get Report
is also mentioned as the large-cap biotech stock most likely to beat third-quarter earnings estimates.
Amgen is up 1% year to date; Gilead down 10%, Genzyme down 15%,
Biogen Idec
(BIIB) - Get Report
up 8% and Celgene down 5%.
-- Reported by Adam Feuerstein in Boston
Adam Feuerstein writes regularly for TheStreet.com. In keeping with TSC's editorial policy, he doesn't own or short individual stocks, although he owns stock in TheStreet.com. He also doesn't invest in hedge funds or other private investment partnerships. Feuerstein appreciates your feedback;
to send him an email.