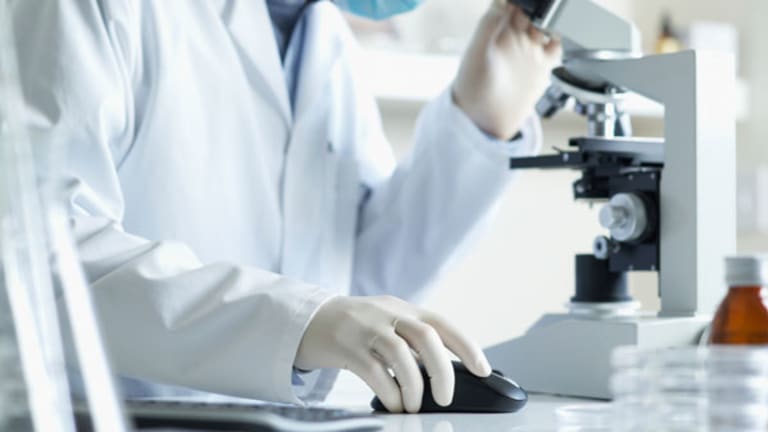 Biocryst Flu Drug Missing From CDC Guidelines: BioBuzz
Investors waiting for government to buy emergency stockpile of peramivir
BIRMINGHAM, Ala. (
) --
Biocryst Pharmaceuticals
(BCRX) - Get Free Report
shares dipped around 1:30 pm EDT because the company's antiviral flu medicine peramivir is not mentioned in
updated flu treatment guidelines
just released by the
Centers for Disease Control and Prevention
.
The new CDC guidelines say, "treatment with oseltamivir or zanamivir is recommended for all persons with suspected or confirmed influenza requiring hospitalization."
Oseltamivir is the scientific name for
Roche's
Tamiflu while zanamivir is
GlaxoSmithKline's
(GSK) - Get Free Report
flu drug Relenza.
BioCryst has been lobbying the U.S. government to purchase an emergency inventory of peramivir, which is administered intravenously, as a treatment for patients hospitalized with the flu. Peramivir is not an approved drug.
It's not entirely clear what peramivir's omission from the new CDC guidelines means to the chance for a U.S. government contract, but the drop in Biocryst's stock price (down 7% to $10.61) seems to reflect investor' uncertainty and concern.
The CDC is holding a press briefing on the new flu treatment guidelines now that can be viewed
.
Updates as the briefing continues.
Spectrum Shares Fall Despite Drug Approval
(At 11:18 am EDT)
Spectrum Pharmaceuticals
(SPPI) - Get Free Report
received expanded FDA approval for its
Friday, yet the drug maker's stock fell 5% to $8.33.
In Tuesday trading, Spectrum shares are down 11% to $7.39.
Reason to panic? Not yet.
Chalk up the Friday's reaction to selling on the news. The Zevalin approval was widely anticipated and expected. Spectrum's stock ran up into the approval announcement, so quick profit taking by the traders' crowd shouldn't be surprising or a matter for much concern.
If you want to worry about something then fret about Spectrum's ability to execute on the expanded Zevalin label. This, more than anything else, might be the overhang on Spectrum's stock price we're seeing Tuesday, which won't resolve itself until the company starts putting up solid and growing Zevalin sales figures.
The new first-line consolidation label expands Zevalin's available patient pool to 46,000 non-Hodgkin's lymphoma patients in the U.S. That's a lot to work with, but don't forget that Zevalin's old patient pool with the crappy, third-line label numbered 6,000 (still a decent commercial opportunity), yet the drug
never grabbed more than 12% market share
seven years after approval.
The new label is a big help, but revamping Zevalin is still going to be a challenge that shouldn't be under-estimated. I like what I've heard from Spectrum so far in terms of turning Zevalin around. Now, we wait to see what the next few quarters of sales look like.
I recently pegged Spectrum's
at $9-10 a share (on the conservative side) but that assumes $110 million in Zevalin sales.
I won't be surprised to see Spectrum's short interest increase going into the Zevalin relaunch later this year. It's the same Wall Street play being deployed against
AMAG Pharmaceuticals
(AMAG) - Get Free Report
as it launches its new iron replacement therapy.
Osiris Stem Cell Drug Fails
(At 8:44 AM EDT)
Osiris Therapeutics
(OSIR) - Get Free Report
announced that its stem cell drug Prochymal failed both pivotal, phase III studies in patients with graft-versus-host-disease.
The stock is currently halted with shares at $12.21.
More details to follow.
Update
: The response rate data from the two Prochymal studies are horrible, despite Osiris' attempts a data-mining for something positive to say.
In the study of patients with steroid-refractory GVHD, the Prochymal response rate was 35% compared to a 30% response rate for placebo – a result that wasn't statistically significant.
The phase III study in first-line GVHD patients was even uglier, with Prochymal patients doing worse than placebo patients (a 45% response rate for Prochymal versus 46% response rate for placebo.)
Osiris data mines the study for something positive to say, finding a couple of retrospective subsets of patients who seem to do better on Prochymal, but that's not going to matter. Bottom line: Prochymal failed, as
.
Osiris shares are down 43% to $6.97 in pre-market trading.
Cell Therapeutics Gets Standard Review
(at 6:59 AM EDT)
Cell Therapeutics
(CTIC) - Get Free Report
spokesman Dan Eramian says the company was not aware that FDA had decided to refuse the company's request for a priority, six-month review of its lymphoma drug pixantrone on Aug. 19, the day it entered into a sale of preferred stock and warrant to a single investor.
On Friday, Aug. 21, two days after the $30 million stock sale, a regulatory consultant working for Cell Therapeutics made a phone call to FDA for an update on the pixantrone review. The consultant was told that FDA had decided to grant pixantrone a standard, 10-month review,
the company had planned for, according Eramian.
Cell Therapeutics announced the FDA's decision via press release on Monday, Aug. 24. The company appealed the FDA's decision, but the agency wouldn't budge. Pixantrone's approval decision date is set for April 24, 2010; Cell Therapeutics was hoping for a speedier review wrapping on Dec. 24 of this year.
Perhaps there is nothing to the timing of that Aug. 19 stock sale -- a coincidence coming just before the FDA's decision on the pixantrone review. Yet, the deal was fortuitous for Cell Therapeutics, which arguably raised more money than it could have post FDA decision. The unnamed investor who bought the deal may not be as happy. His preferred shares convert to common stock at $1.59 a share. Cell Therapeutics closed Friday at $1.49.
With pixantrone's approval a Spring 2010 event, investor attention will likely turn now to the European review of Cell Therapeutics' lung cancer drug Opaxio (nee Xyotax.) The company is supposed to be meeting with European regulators this month to discuss Opaxio, with the possibility of an approval decision before year's end, according to the company.
I've had my say on
Opaxio and its chances for approval
already.
Whether the longer pixantrone review will impact Cell Therapeutics guidance for reaching break even by the fourth quarter and a possible licensing deal with
Novartis
(NVS) - Get Free Report
is also unclear.
Cell Therapeutics is scheduled to present at the Rodman & Renshaw Global Investment Conference Wednesday, so perhaps a significant update is coming.
The Summer's Best and Worst Biotech Stocks
It's been a remarkable summer for stocks and biotech was no exception. The Nasdaq Biotechnology Index rose 21% between Memorial Day and Labor Day, exceeding the 15% gain in the S&P 500 for the same time period.
The biggest story of the summer, of course, was the monster gains in small- and mid-cap biotech and drug stocks. Here are the top-10 biggest returns from Memorial to Labor Day, according to Capital IQ:
Jazz Pharmaceuticals
(JAZZ) - Get Free Report
: 1,017%
Human Genome Sciences
( HGSI): 938%
Targacept
(TRGT)
: 466%
Inovio Biomedical
(INO) - Get Free Report
: 364%
Helicos Biosciences
(HLCS)
: 355%
Gentium
(GENT)
: 317%
IsoRay
(ISR) - Get Free Report
: 311%
Opexa Therapeutics
undefined
: 292%
Somaxon Pharmaceuticals
( SOMX): 284%
Sinovac Biotech
(SVA) - Get Free Report
: 278%
The summer's biggest losers:
Repros Therapeutics
(RPRX) - Get Free Report
: -88%
Star Scientific
(STSI)
: -75%
Matrixx Initiatives
( MTXX): -65%
ARCA Biopharma
(ABIO) - Get Free Report
: -59%
Catalyst Pharmaceutical Partners
(CPRX) - Get Free Report
: -59%
RXi Pharmaceuticals
undefined
: -57%
Discovery Labs
(DSCO)
: -55%
Quigley
( QGLY): -53%
GTC Biotherapeutics
( GTCB): -51%
Insmed
(INSM) - Get Free Report
: -49%
-- Reported by Adam Feuerstein in Boston
Adam Feuerstein writes regularly for TheStreet.com. In keeping with TSC's editorial policy, he doesn't own or short individual stocks, although he owns stock in TheStreet.com. He also doesn't invest in hedge funds or other private investment partnerships. Feuerstein appreciates your feedback;
to send him an email.