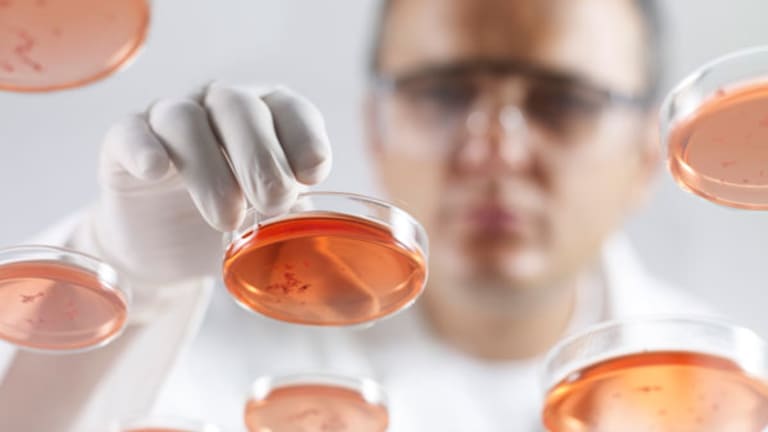 BioBlast Scant Data Links Drug to Improved Swallowing in Patients
BioBlast paints a very optimistic picture of Cabaletta's potential as an effective treatment for OPMD, but the data announced Tuesday are scant, cherry-picked and hardly conclusive.
Oculopharyngeal muscular dystrophy (OPMD) is a rare, genetic, muscle-wasting disease that mostly strikes people in their 40s and 50s. The first symptoms of the disease are often an inability to keep the eyelids open, coupled with difficulty swallowing. As the muscles in the face and throat weaken over time, patients lose the ability to properly swallow food or water. In severe cases, OPMD patients die from choking or from infections caused by food getting into the lungs.
There are no drugs approved to treat OPMD currently, but on Tuesday, an Israeli biotech company,BioBlast Pharma (ORPN) , disclosed partial results from a small, mid-stage clinical trial showing a common sugar used for years to preserve frozen food and as a non-active stabilizer in other drugs might improve the swallowing ability of OPMD patients.
The sugar-turned-drug being developed by BioBlast is called Cabaletta. The phase II open-label study in OPMD was stopped early -- only one-third of the planned number of patients were enrolled -- because the Cabaletta data seen to date were so promising it was unethical to continue, said Dalia Megiddo, BioBlast's co-founder and chief development officer, in an interview Monday night.
BioBlast intends to meet with regulators at the U.S. Food and Drug Administration seeking clearance to advance Cabaletta into a phase III study in OPMD patients.
Megiddo and BioBlast CEO Colin Foster paint a very optimistic picture of Cabaletta's potential as an effective treatment for OPMD, but the data announced Tuesday are scant, cherry picked and hardly conclusive.
BioBlast shares closed Monday at $5.06 and with an overall market value of $74.9 million. The stock has lost 21% of its value so far this year.
The original design of the phase II study called for 74 patients with OPMD to be treated with weekly, intravenous injections of Cabaletta for six months. BioBlast only enrolled 25 patients into the study at two hospitals, one in Israel and the other in Canada. The results disclosed Tuesday came from an unplanned, interim analysis conducted on Sept. 1.
Since difficulty swallowing and ingesting food into the lungs puts OPMD patients at the greatest risk, BioBlast relied on a moving x-ray of the mouth and throat to measure if Cabaletta could improve the ability of patients to swallow (or avoid having food get into the airway).
On this efficacy endpoint, known as the Penetration Aspiration Score, BioBlast says 10 of 12 patients, or 83%, showed stabilization or improvements in swallowing ability following six months of treatment with Cabaletta.
BioBlast enrolled 25 patients into the study, so why only results in 12 patients? In seven other patients treated in Israel, the moving x-ray taken at baseline didn't work, so BioBlast excluded them from the analysis. One patient died during the study. The data from the remaining five patients have not yet been analyzed, said Megiddo.
The mean and median improvements in Penetration Aspiration Score were not disclosed. Megiddo says these data are unimportant because the study enrolled so few patients. Instead, the difference in swallowing ability of individual patients at six months was measured against their own baseline scores.
The Penetration Aspiration Score is an eight-point scale, with the lower score correlated to better swallowing ability. Megiddo says four patients with stabilized swallowing had the same Penetration Aspiration Score at six months as they did at baseline. The six patients with improved swallowing after six months reduced their Penetration Aspiration Score by 1 or 2 points. The study had no control arm by which these results could be compared.
BioBlast intends to use the Penetration Aspiration Score as the primary endpoint of its phase III study.
Other measures of swallowing ability and muscle function used in the phase II study yielded mixed results in different and inconsistent numbers of patients.
Cabaletta is a form of the natural sugar trehalose, already approved by FDA as a food-safe ingredient. Trehalose is also used a non-active stabilizing agent in protein-based cancer drugs like Avastin and Herceptin. As a sugar, trelahose is broken down in the small intestine, so Cabaletta is formulated as an intravenous injection to bypass the intestine and deliver a therapeutic dose more effectively to muscles and nerve cells.
The genetic mutation which causes OPMD creates an unstable protein, PABPN1, which then collects in muscle cells instead of being removed. Bioblast believes trehalose, formulated as Cabaletta, acts as a stabilizer for the misshapen PABPN1 proteins, preventing the proteins from accumulating together and helping rid them from the body.
BioBlast has no composition of matter patents on Cabaletta since trehalos is a naturally occurring sugar. The company is developing Cabaletta based on method-of-use patents protecting the intravenous formulation for use as a drug.
Adam Feuerstein writes regularly for TheStreet. In keeping with company editorial policy, he doesn't own or short individual stocks, although he owns stock in TheStreet. He also doesn't invest in hedge funds or other private investment partnerships. Feuerstein appreciates your feedback; click here to send him an email.