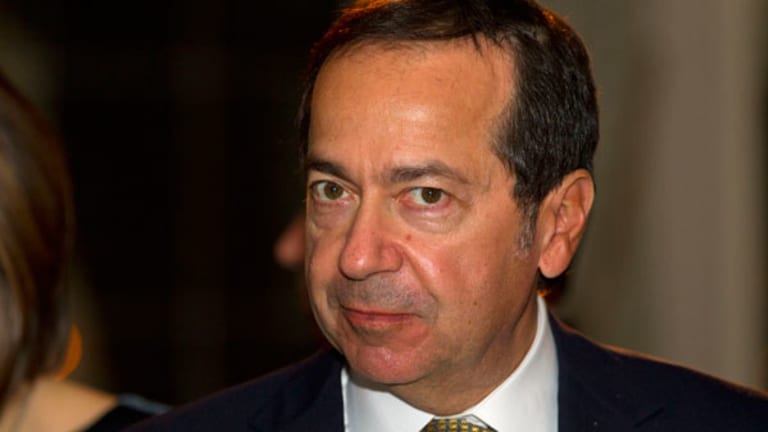 Billionaire John Paulson Wants You to Buy Valeant -- Here's What the Chart Says
The price action is pointing toward more upside in this beaten-down biotech stock.
The price action is pointing toward more upside in this beaten-down biotech stock.
News hit Mondays morning that billionaire hedge fund manager John Paulson is joining the board of beleaguered biotech stock Valeant Pharmaceuticals International Inc. (VRX) . Shares are up 6% in reaction to the news today.
Paulson's new role at Valeant comes after he became the firm's biggest shareholder, picking up a 5.7% stake worth $255 million at current price levels.
And notably, Paulson & Co.'s big bet on Valeant follows after another well-known hedge fund billionaire, Bill Ackman, who publicly got out of Valeant earlier this year.
So, which billionaire is right?
Should you be buying Valeant with both hands right now? Or is today's pop in shares your chance to cut and run?
To figure out the near-term for Valeant's price trajectory, we're turning to the charts for a technical look.
For starters, it doesn't take an expert technical trader to figure out that Valeant's stock has been under a lot of pricing pressure this year. Year to date, VRX has lost about 10% of its market value. Zoom out to this stock's highs back in the fall of 2015, and that selloff ramps up to about 95%.
Along the way, Valeant has been extremely technically obedient -- in other words, the bearish trends haven't been hard to spot, and shares have reacted fairly predictably to key price levels.
But something changed back in May.
Meanwhile, Jim Cramer and the AAP team dig into energy often. Get their insights or analysis with a free trial subscription to Action Alerts Plus.
After spending the last year and change in a well-defined downtrend, Valeant broke out above that trendline in May, pushing through prior resistance on news that the firm was raising its outlook and selling assets to shore up its balance sheet.
Now, that change in trend is setting shares up for potentially bullish trading in the shorter term.
Since finding its near-term high following May's change in trend, Valeant has been forming an ascending triangle pattern, a bullish continuation pattern that indicates the potential for higher ground ahead. The pattern is formed by horizontal resistance up above shares (at $14 in this case), along with uptrending support to the downside. Basically, as Valeant bounces in between those two technically important price levels, it's been getting squeezed closer and closer to a breakout through our $14 price ceiling. When that happens, we've got a new buy signal.
What makes $14 the decisive price level for Valeant? It all boils down to buyers and sellers. Price patterns, like this ascending triangle setup, are a good quick way to identify what's going on in the price action, but they're not the ultimate reason shares look attractive here. Instead, the "why" is driven by basic supply and demand for VRX's shares themselves.
The $14 resistance level is a price where there is an excess of supply of shares; in other words, it's a spot where sellers had previously been more eager to step in and take gains than buyers have been to buy. That's what makes a breakout above $14 so significant - the move means that buyers are finally strong enough to absorb all of the excess supply above that price level.
The fact that $14 was previously a support level for Valeant on the way down, plus this stock's break through the top of its former downtrend last month add extra confidence to the materiality of a $14 breakout from here.
Long story short, it looks like Paulson is the man to bet on when it comes to Valeant -- buyers are clearly back in control of this stock right now, and shares are within grabbing distance of another major breakout signal. If you decide to pull the trigger on Valeant's $14 breakout, the 50-day moving average is a logical place to park a protective stop.
Valeant's shares rose 6.1% to $13.44 early Monday afternoon.
At the time of publication, author had no positions in the stocks mentioned.