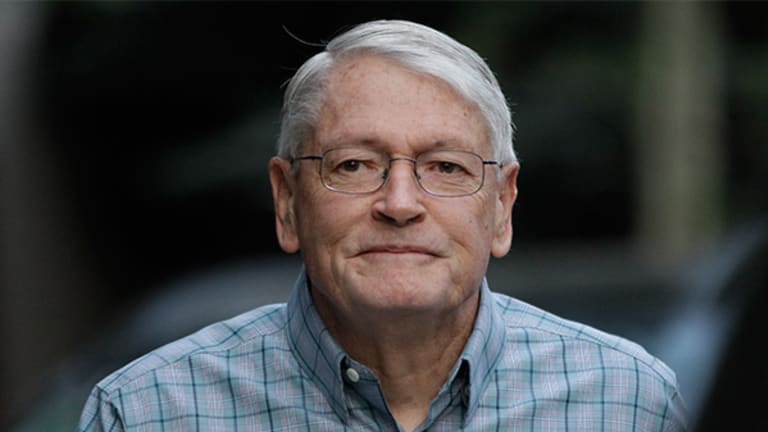 Billionaire John Malone's 'Free Radical' Roll-Up Propels Discovery's Buyout of Scripps
Billionaire John Malone all but telegraphed Discovery's acquisition of Scripps, making the deal announcement seem almost anticlimatic.
John Malone, the billionaire media mogul, is nothing if not a long-range thinker.
So when Discovery Communications Inc. (DISCA) - Get Free Report  fell the most in two years after announcing plans to acquire Scripps Networks Interactive Inc. (SNI) in a transaction valued at $14.6 billion ($11.9 without debt), he probably wasn't fazed. Discovery fell 8.2% to $24.60 on Monday, July 31 but truth be told it was as much a reaction to both companies missing their second-quarter projected earnings as to the deal itself.
Malone, 76, has usually invested for the long term, making acquisitions and divestitures with an eye toward something bigger. An electrical engineer by training, he built Tele-Communications Inc. into the country's largest cable TV operator by acquiring hundreds of smaller rivals through the 1970s and 1980s before selling it to what was then AT&T Corp. in 1999 (T) - Get Free Report .
While many on Wall Street may have doubted the logic of combining Discovery and Scripps Networks, two relatively small niche cable TV owners with their own issues, Malone apparently sees a set of underutilized assets. (CEO David Zaslav told investors on Monday that Malone loves the deal.)
At the Vanity Fair New Establishment Conference in October 2015, Malone all but telegraphed that Discovery, in which he holds a 21% share of its voting stock, had to get larger to keep pace with the rest of the industry. 
"The content business is all about scale," he said. "The denominator needs to be big, right. This is something [Netflix Inc.'s (NFLX) - Get Free Report ] Reed Hastings has clearly discovered. And in order to get scale in the U.S. cable industry, you have to aggregate through cooperation or consolidation."
Malone was mostly referring to Charter Communications Inc. (CHTR) - Get Free Report , the cable and internet service provider in which he owns a roughly 27% stake. Last year, Charter acquired Time Warner Cable Inc., making it the country's second-largest internet provider behind Comcast Corp. (CMCSA) - Get Free Report yet ahead of AT&T. If Discovery taking on Scripps' $2.7 billion in debt can be rationalized, it could be argued that staying still is a worse option.
"The pay-TV service providers are getting bigger, which means they have more leverage," said Michael Goodman, president of Strategy Analytics, a Boston research and consulting firm. "The result of consolidation on the pay-TV operator side is consolidation on the content side as well."
But Discovery's acquisition of Scripps Networks is an attempt to strengthen its ability to negotiate with pay-TV operators while affording the combined company more distribution options. Though critics labeled the merger a defensive move, Malone would likely counter (as Zaslav did) that it provides more platforms -- digital, international -- for distributing a portfolio of nonfiction networks that include HGTV, Food Network, Discovery Channel and Animal Planet.
"If this is a defensive move, it's defensive in a good way," Goodman said. "It's a move that strengthens both companies at a time when AT&T is buying Time Warner (TWX) and the pay-TV universe is shrinking."
On Wall Street, though, doubts ran high that the merger of two cable network groups each suffering declines in subscribers and advertising revenue will ipso facto make them stronger. It's also unclear that a bundle of nonsports, nonfiction networks will find a wide audience despite its comparatively low subscriber cost.
(The combined fees that Discovery and Scripps charge pay-TV operators to carry their 18 networks is about $3 per subscriber, whereas Disney's ESPN costs $7.86 per subscriber, according to SNL Kagan.)
But while the two companies boasted that the combination would generate $350 million in cost-saving synergies, Wall Street analysts weren't swayed -- at least in the short term.
More of What's Trending on TheStreet:
Tesla Is On Fire! Here Are 20 Eco-Friendly, Gas Conscious Vehicles
"We remain cautious that affiliate pricing power really improves with a larger portfolio of networks, particularly with domestic 'virtual' [pay-TV services]," Credit Suisse media analyst Omar Sheikh said in an investor note. "And [we] see little evidence that factual/non-scripted content will work at scale in direct-to-consumer products."
The need to get bigger has been especially heightened in recent quarters as the pace of cord-cutting and pay-TV subscriber has accelerated. Pay-TV providers are projected to have lost roughly 1 million subscribers in the second quarter.
For small cable network companies, that decline has made them particularly vulnerable given that the new wave of multichannel pay-TV services such as Alphabet Inc.'s (GOOGL) - Get Free Report YouTube TV and Hulu LLC's Live TV offer baseline packages of 50 channels or less. Interest in the 100-channel-plus traditional cable TV bundle is fast declining.
Discovery, which has faced lower ratings at most of its networks in recent quarters, had little choice but to find a partner. Malone said as much a year ago when he talked about the need for "free radicals" to get together. A few months later, Lions Gate Entertainment Corp.
(LGF.A) - Get Free Report
acquired Starz LLC, two entities in which Malone was a shareholder.
The Scripps Networks acquisition is likewise a means of leveraging Discovery's presence in Europe and its ownership of the continentwide Eurosport network.
"John Malone is a long-term purchase value guy," said Jimmy Schaeffler, a pay-TV consultant at the Carmel Group. "Discovery already has that international presence, which is huge to Dr. Malone, and then you can use that to grow the other networks internationally as well."
Through interlocking ownerships in Liberty Global plc (LBTYA) - Get Free Report and Liberty Media Corp. (FWONA) - Get Free Report , Discovery acquired a 3.4% stake in Lions Gate in November 2015. In recent weeks, Malone's name has been tied to speculation he would like to acquire a stake in legacy Spanish-language television station owner Univision Communications Inc. as part of a push by Starz to produce more content aimed at Latino viewers.
A marriage between Discovery and Scripps may simply be part of a larger plan.
"There aren't too many smaller properties still available," Schaeffler added. "It's not like Scripps is attached to a purchase of Time Warner. It's still special enough and independent enough that it has franchise value. It's content people love and people will buy, just the kind of content Dr. Malone likes to own."
Watch More with TheStreet:
Alphabet and Comcast are holdings in Jim Cramer's Action Alerts PLUS Charitable Trust Portfolio. Want to be alerted before Cramer and the AAP team buy or sell GOOGL or CMCSA? Learn more now.
Tesla's Elon Musk Is All Jokes as the Model 3 Accelerates Into 'Production Hell'