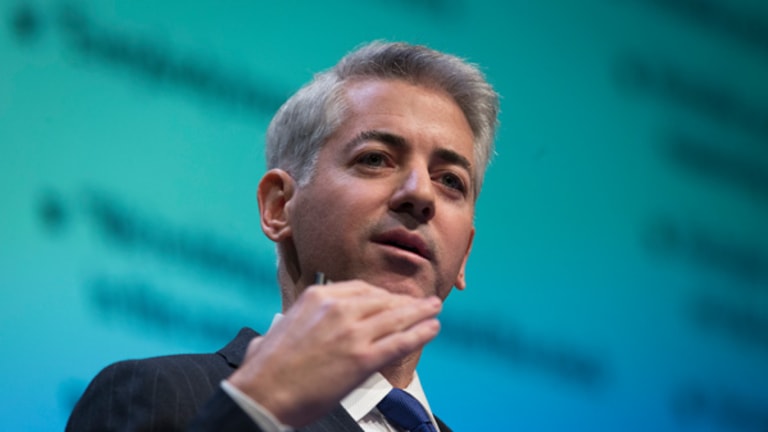 Bill Ackman's Next Daring Bet: Fannie Mae, Freddie Mac
Pershing Square's Bill Ackman disclosed a less than 10% stake in both bailed-out housing giants.
NEW YORK (TheStreet) -- Bill Ackman's Pershing Square is the latest investor to pile on to the seemingly long shot bet on bailed-out housing giants Fannie Mae (FNMA) and Freddie Mac (FMCC) .
In a 13D filing with the SEC, Ackman disclosed a 9.98% stake (115.56 million shares) in Fannie Mae and a 9.77% stake (63.5 million shares) in Freddie Mac. A 13 D filing is usually made by activist investors.
Pershing Square said it deems the stocks of the government-sponsored enterprises or GSEs as "undervalued" and an "attractive investment".
Further, in light of Fairholme Fund's offer on behalf of preferred stockholders to buy out parts of the GSEs, disclosed on Wednesday, Pershing Square said it would engage in discussions with management, board members, other stockholders and government.
Shares of Fannie Mae and Freddie Mac, which were taken into conservatorship in 2008, have soared over the past year, as the agencies returned to profitability. By December, the companies would have paid out nearly all of the $188 billion in bailout money through dividends.
But there is no repayment mechanism under the conservatorship agreement which means that the agencies continue to be stuck in limbo. Junior preferred stockholders and common shareholders are unlikely to get a penny of the profits unless the agencies are recapitalized. But there is bipartisan consensus in Congress that the agencies should be wound down.
Institutional investors including Fairholme's Berkowitz and hedge funds such as Perry Capital are suing the government, arguing that the terms of the conservatorship agreement have been violated and that shareholders have a right to the profits.
Although analysts believe that the investors are disregarding political reality, shares of Fannie Mae and Freddie Mac preferreds are up over 400% this year as investors bet that they will win in court.
Fairholme's latest offer however is a twist in the tale as it tried to answer the broad call for more private capital in housing finance.
But even so, analysts believe Congress will reject the fund's proposal. "No matter the type of fund -- hedge, mutual, or private equity -- the bulk of lawmakers will publicly distance themselves from any proposal which could be framed as 'enriching' money managers no matter its merits," Isaac Boltansky, analyst with Compass Point, wrote in a note.
"The plan would, in our view, short circuit ongoing efforts in Congress to change the mortgage finance system and deal with the GSEs. We think the Administration wants to give those efforts a chance to succeed," KBW analyst Brian Gardner said in a report.
Gardner adds that the fact that the private investors would get to keep all the "attractive" parts of the GSEs will be politically unpalatable.
"Even if FHFA and the Administration were disposed to accepting this type of plan, and we do not think they are, we believe any sale of GSE assets would be subject to some kind of auction or competitive bidding process. In our view, such a process would require an administrative rule writing and public comment period. Neither the Volcker rule nor the risk retention/QRM rules are finished over three years after Dodd-Frank was passed, so it does not require much imagination to see such a rule writing/auction process taking several years to conduct," wrote Gardner.
-- Written by Shanthi Bharatwaj New York.
RELATED STORIES:
>>Fairholme GSE Proposal: What's In It For Shareholders
>>Fairholme Proposal for GSEs Can't Work Without Congress
>Contact by Email.
Disclosure: TheStreet's editorial policy prohibits staff editors and reporters from holding positions in any individual stocks.