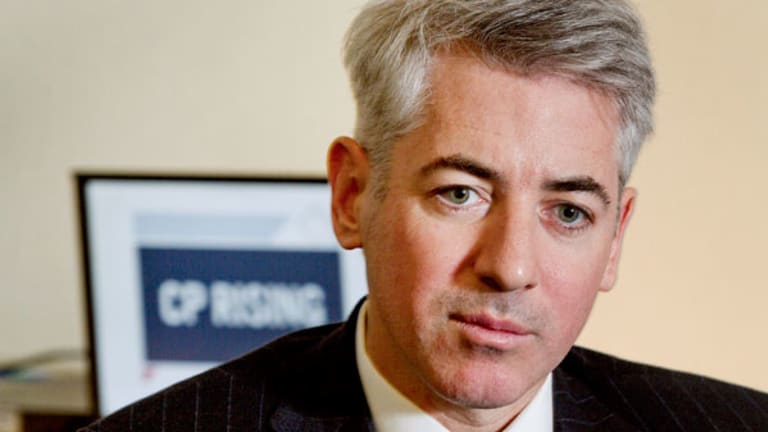 Bill Ackman to Sue U.S. Over Fannie, Freddie Mortgage Profits
Fannie Mae and Freddie Mac common shareholders led by investor Bill Ackman's Pershing Square Capital Management will on Friday file the latest of many lawsuits against the federal government.
NEW YORK (TheStreet) -- Fannie Mae (FNMA) and Freddie Mac (FMCC) common shareholders led by investor Bill Ackman's Pershing Square Capital Management plan to file on Friday the latest of many shareholder lawsuits against the federal government tied to the profits of the Government Sponsored Enterprises (GSEs), according to a person with knowledge of the suit.
The suit joins others in contending the government wrongfully diverted profits from the GSEs to the Treasury, trampling the rights of shareholders.
In addition to the giant hedge fund, which is by far the largest non-government owner of common shares of GSEs Fannie Mae and Freddie Mac, numerous individual investors will join the lawsuit. Among these is a 90-year-old widow with 36,000 shares she has owned for more than 20 years.
A spokesman for Pershing Square at Rubenstein Communications, who requested that he not be named in the story, declined comment.
Pershing Square owns about 63.58 million common shares of Freddie Mac worth $246 million, about four times as many as the next-largest shareholder, Bruce Berkowitz's Fairholme Capital Management, according to the latest filings compiled by Bloomberg.  Pershing owns some 115.57 million shares of Fannie Mae worth about $448 million, more than 10 times Fairholme's stake, which again is the next largest. Like many other large investors in Fannie and Freddie, including Perry Capital and The Blackstone Group (BX) , Fairholme has a large stake in Fannie and Freddie junior preferred shares. Fairholme has its own lawsuits pending.
In addition to its $189.4 billion senior preferred stake, the U.S. Treasury has warrants to own 79.9% of both Fannie and Freddie common shares. It has not yet exercised the warrants, however.
Treasury spokesman Adam Hodge had no immediate comment.
Representing the plaintiffs will be the law firm Jones Day, though other law firms may also be involved, the person said.
Jim Gauch, a Washington, D.C.-based partner at Jones Day, declined comment, but referred further questions to the Pershing Square spokesman at Rubenstein Communications without elaborating on why he was doing so.
Some 20 lawsuits have been filed against the Treasury and other U.S. government entities on behalf of Fannie and Freddie shareholders. Many of them focus on a controversial 2012 amendment to the Federal Housing Finance Authority's 2008 conservatorship of Fannie and Freddie, which will also be a focus of Friday's lawsuit. The amendment changed the terms of the Treasury's $189.4 billion preferred stake in the GSEs so that instead of owing a 10% annual dividend to the U.S. Treasury, the GSEs owed all of their profits, minus capital cushions of $3 billion for each GSE. That left nothing for private shareholders, many of whom claim the so-called "sweep" was a violation of their fifth amendment rights against the seizure of private property for public use without just compensation.
What Friday's suit will claim, according to the person who knows about it, is that there are numerous longtime individual investors who were harmed by the government's actions with regard to Fannie and Freddie. The highest profile spokesman for those individual investors has been Ralph Nader, the storied consumer advocate and occasional presidential candidate, but Nader has been quiet of late. Nader is not suing the government and will not be involved in Friday's suit. The Treasury Department has tried to characterize the battle as being led by greedy hedge funds. 
Correction: This story has been corrected from an earlier version. It is the fifth amendment of the U.S. constitution, not the first, that prohibits the taking of private property for public use without just compensation.  Also, one of the plaintiffs is a 90-year-old widow who owns 36,000 shares, not a 94-year-old widow who owns 46,000 shares.
Clarification: This article was changed to clarify that Treasury owns warrants on Fannie and Freddie, which it may choose to exercise, not shares. 
Disclosure: TheStreet's editorial policy prohibits staff editors, reporters and analysts from holding positions in any individual stocks.