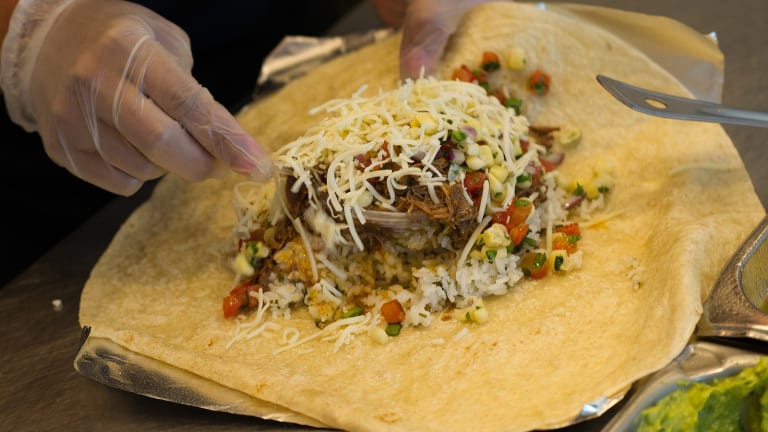 Chipotle and Tesla Should Both Scare the Living Daylights Out of You
TheStreet talks with well-known hedgie Bill Ackman about a range of issues, one being his battle with ADP. Meanwhile, Tesla's earnings stunk.
Listening is important: It's often best to shut up and listen to people sink their own ship or share something incredibly insightful. I couldn't help but remember this dose of wisdom sitting in on TheStreet's interview Wednesday with hedgie Bill Ackman. Yes, the guy's offices are nice -- the conference rooms have a high-end feel with an appreciation for air travel. Anyway, TheStreet's Ron Orol asked Ackman about his bet on Chipotle (CMG) - Get Chipotle Mexican Grill, Inc. Report that hasn't played out too well. Ackman seemed to stop short of offering a reiteration of his massive support for Chipotle founder Steve Ells. Again, that's just from me sitting in the room and watching the exchange with Orol play out. The full interview on this one will be out shortly, so check back. 
Tesla brings pain to others: Count me as one that doesn't get Wall Street's infatuation with Tesla (TSLA) - Get Tesla Inc Report . It's a money-losing operation in an industry that is about to become way more competitive. Further, how can you not own own a Mercedes or BMW as opposed to a Tesla? I digress. Tesla's third quarter is likely to remind everyone of the challenging road ahead for Elon Musk's chaotic creation. And finally, the stock market may be getting that. Shares of Tesla's China suppliers fell overseas as Musk warned that the company is three years away from beginning production in the country. It's likely to be longer than that as Musk tries to get the company's U.S. operations in order. Overall, one leaves Tesla's earnings report wondering if Musk should give former Ford CEO Mark Fields a call -- this company needs a professional auto guy.
Cool IPO alert: Hat tip to the team over at toymaker Funko (FNKO) - Get Funko, Inc. Class A Report , which has created one hell of a brand. The company will IPO on the Nasdaq Thursday, sharing a story of a pop culture toy brand that has managed to defy weak retail traffic. I profiled the company back in January after talking with the long-time CEO. Give this a read. 
What's Hot
Obviously, our interview with Ackman. Watch him shred ADP's (ADP) - Get Automatic Data Processing, Inc. Report business below. I will say this, the guy is well-prepared.
To receive the free "Morning Jolt" daily newsletter, click here.
More of What's Trending on TheStreet: