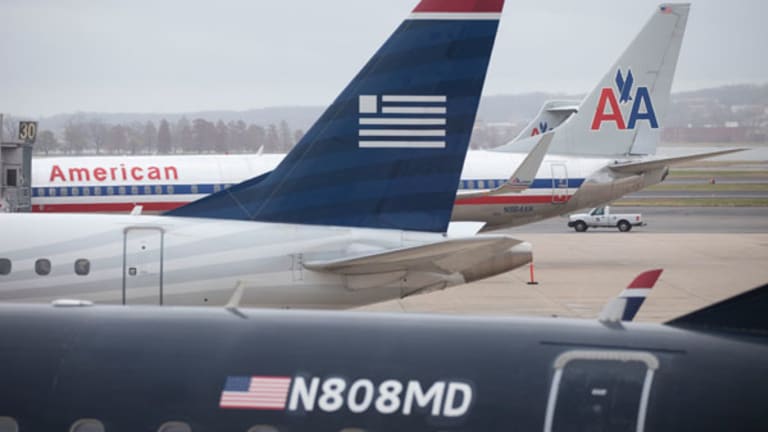 CHARLOTTE, N.C. (TheStreet) -- US Airways and its biggest union said Monday they have reached tentative contract agreements following three years of negotiations, removing a roadblock to the labor peace that has been viewed as a cornerstone to the merger of US Airways and American (AAL) - Get American Airlines Group, Inc. Report
The tentative deals involve about 11,000 workers in three US Airways work groups -- mechanics and related, fleet service and maintenance training specialists. Each group gets substantial pay increases as well as other benefits. Ratification votes have not yet been scheduled.
In general, of the six major unions involved in the merger between the two airlines, the International Association of Machinists had been the most recalcitrant, refusing to endorse the merger at a time when labor unity was a key piece of the airline's effort to secure backing for the merger from Wall Street and the creditors of bankrupt American.
The IAM insisted it wanted a contract before it would endorse the merger, which took place in December 2013. In March, the union sought release from mediation, which would have enabled it to strike. It was demanding that US Airways negotiate long-delayed contracts for its workers before negotiating joint contracts covering its members as well as the Transport Workers Union members who do the same jobs at American. The two unions agreed last year to joint representation.
The IAM's demands appear to have been met in the tentative agreements announced on Monday. Union leadership and negotiating committees unanimously endorsed the tentative agreements.
"In addition to wage increases and other improvements, what's most impressive about the tentative agreement is that it provides unprecedented job protection following a merger," said IAM spokesman Joe Tiberi, in an interview. "It offers protection from furlough for all members, and if US Airways starts to cross-utilize US Airways and American employees, our members cannot be displaced from their locations."
The three work groups include about 6,500 fleet service workers; 4,500 mechanic and related workers and 30 maintenance training specialists.
Besides job security and wage hikes, the three-year-deal maintains health care benefits as well as the IAM's defined benefit retirement plan at a time when most U.S. employers have found ways to abandon such plans. Fleet service workers will get an increase in retirement benefits resulting from an increased company contribution. Additionally, fleet service workers will receive signing bonuses of $1,500 for full-time employees and $750 for part-time employees.
For mechanics and related, the contract provides a 3% pay increase on date of signing, plus an additional 3% increase in September 2014 and an additional minimum 3% increase in September 2015. Additional pay increases of 1.5% are provided in September 2016 and September 2017 if no new joint collective bargaining agreement has been reached.
The roughly maintenance training specialists will receive similar pay increases plus $1,500 signing bonuses. Fleet service workers receive pay increases on the same dates, but the amounts have not been publicly disclosed.
The mechanics' agreement also provides various additional premium increases for licensed mechanics, 100% sick pay after the first day and other contract benefits, voluntary early out in the event of a reduction in force. Also, start time for first shift will be no earlier than 6 a.m.
Now that US Airways and the IAM have a deal, American Airlines can begin three-party negotiations that include the TWU.
"We are very pleased to have reached tentative agreements covering the US Airways mechanics, fleet service and maintenance training specialist employees," said American CEO Doug Parker in a prepared statement. "We look forward to working together to reach joint collective bargaining agreements for all of the employees in these job classifications at American Airlines."
Sito Pantoja, IAM general vice president, said in a prepared statement: "When these tentative contracts are ratified by IAM members at US Airways, the IAM-TWU Alliance will then begin the process of negotiating joint contacts that will cover over 30,000 alliance members at the 'new' American Airlines."
Written by Ted Reed in Charlotte, N.C.
To contact this writer, click here.

>>Read More:
What's Wrong with United Airlines? A Little Bit of Everything
American Air President: Don't Call Us 'Nickel and Dimers'
People Express Revival: Airline Magic or Wishful Thinking