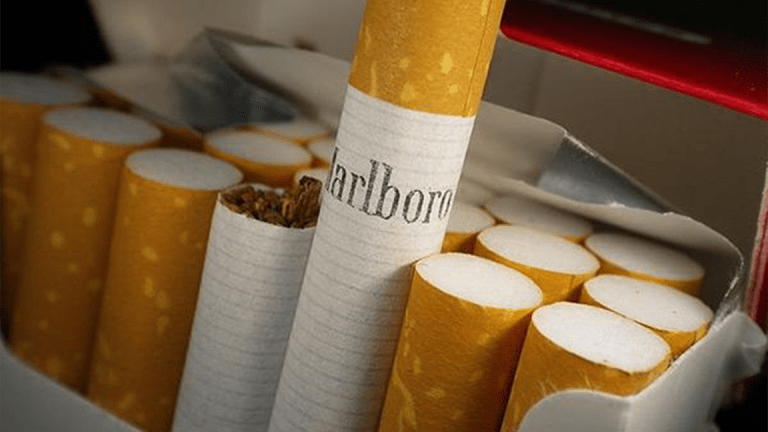 Big Tobacco to Start Running Anti-Smoking Ads on Primetime This Sunday
After a decade of back and forth, big tobacco companies including Altria and British American will run anti-smoking ads under a court order. Ads will run during primetime television and in prominent newspapers starting this weekend.
The jig is up for Big Tobacco.
Firms including Altria Group Inc. (MO) - Get Free Report and British American Tobacco PLC (BTI) - Get Free Report   have been forced to advertise smoking's deadly and addictive effects during prime-time television and in newspapers starting this Sunday, Nov. 26.
The court-ordered advertisements will begin 11 years after a judge initially ruled tobacco companies had misled the American public about the dangerous effects of smoking cigarettes.
The ads have been the subject of legal back-and-forth for over a decade. When they run, they will be simple text and voice-over statements illustrating the ill-effects of smoking, similar to the disclosure statements at the end of pharmaceutical commercials. Last month, Altria estimated it would spend $31 million on the ad spots, which are scheduled to run five times per week for the next year.
One ad will read, "More people die every year from smoking than from murder, AIDS, suicide, drugs, car crashes and alcohol combined," according to several media reports.
The court case began in 1999, when the Justice Department sued several Big Tobacco companies including Philip Morris, RJ Reynolds and Lorillard LLC, according to anti-tobacco group ClearWay. All of the original defendants are now owned by Altria or British American.
In 2006, district Judge Gladys Kessler ordered the companies to publicize "corrective statements." The Supreme Court this year declined to hear tobacco companies' case, meaning the 2006 decision would be enforced as previously ruled, ClearWay said.
Altria stock has fallen 2.7% since the start of the year. British American shares have increased 17.4%.
More of What's Trending on TheStreet:
Editors' pick: Originally published Nov. 21.