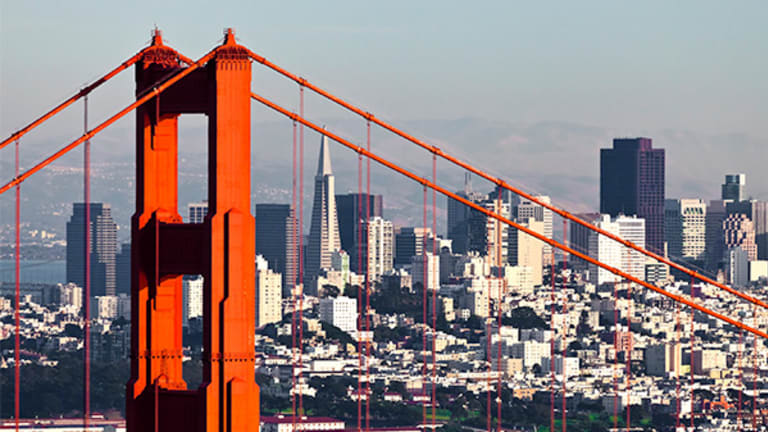 Publish date:
Big Pharma Spends Millions to Keep Prices High for California Agencies
Drug companies like Merck, Pfizer and Johnson & Johnson are spending big bucks on the opposition of Proposition 61.
Drug companies like Merck, Pfizer and Johnson & Johnson are spending big bucks on the opposition of Proposition 61.
California's attempt to curb drug prices, Proposition 61, could cause drug companies including Merck (MRK) - Get Report , Pfizer (PFE) - Get Report and Johnson & Johnson (JNJ) - Get Report to raise prices, according to analysts, and the companies are already taken steps to block the bill's passage.
Proposition 61 is a proposal Californians will vote on in this November's election that requires state agencies to pay the same prices the U.S. Department of Veterans Affairs pays for medication - approximately 50% less than list prices.
The federal department already pays less for most prescription drugs, so the bill will likely be a boon to patients in the state. As a result, Proposal 61 has received overwhelming support from citizens and visible politicians like former Democratic presidential candidate and Vermont Senator Bernie Sanders, but not so much love from large drug companies.
If the bill passes into law, drug manufacturers don't have to offer savings to the state.
According to analyst David Larsen of healthcare-focused investment bank Leerink, the major drug companies could choose to extend the prices they offer to the Department of Veterans Affairs to the state, while offsetting the discounts by raising the prices of other drugs.
"If drug manufacturers chose to extend [Veterans Affairs'] pricing to California, the state might realize savings but this could be partially offset by prices raised on drugs not purchased by the VA," Larsen wrote. "Additionally, drug companies could risk a domino effect of having to discount other states."
This, though, is unlikely, as companies are not required by law to extend the prices. Instead, the state must pay those same prices, and if they can't, they can no longer offer to pay for the drug under insurance plans.
Drug manufacturers could also decline to offer the Veterans Affairs prices to California agencies, which Larsen said is most likely. As a result, fewer drugs will be offered under state funded insurance programs.
Finally, manufacturers could raise the prices they offer to the VA, which was threatened in 1992 when Congress considered doing something similar on a federal level.
While drug companies stand to benefit politically from opposing this bill, they likely won't see an impact on their bottom lines if Proposition 61 passes - at least at first.
"In our opinion, due to the fact that Prop 61 addresses such a narrow portion of the California population - state agencies and non MCO Medi-Cal, the revenue and earnings exposure for the distributors and PBMs is minimal," Larsen wrote.
He added that down the line, it is likely that California's legislature will realize that companies can raise prices elsewhere, and will ultimately repeal the ballot measure.
Merck, Pfizer and Johnson & Johnson each contributed over $7 million to efforts opposing the proposition, while Amgen (AMGN) - Get Report , Abbvie (ABBV) - Get Report and Sanofi (SFY) - Get Report contributed over $5 million, according to the California Fair Political Practices Commission. In total, those opposing the bill have spent $70 million, seven times the amount those supporting the bill have spent.
These numbers may seem small in comparison to each company's market cap, but it is important to note that this bill would only affect a sliver of the state's population--those using Medicare, Medicaid and other state-run healthcare programs.
Still, it could encourage other states to attempt to pass similar bills, especially in the wake of recent drug pricing scandals, like Mylan's MYL decision to boost EpiPen prices 25% each year, resulting in a $600 pricetag for some patients.
Percent Changes in Medicare Spending in California by Year | HealthGrove