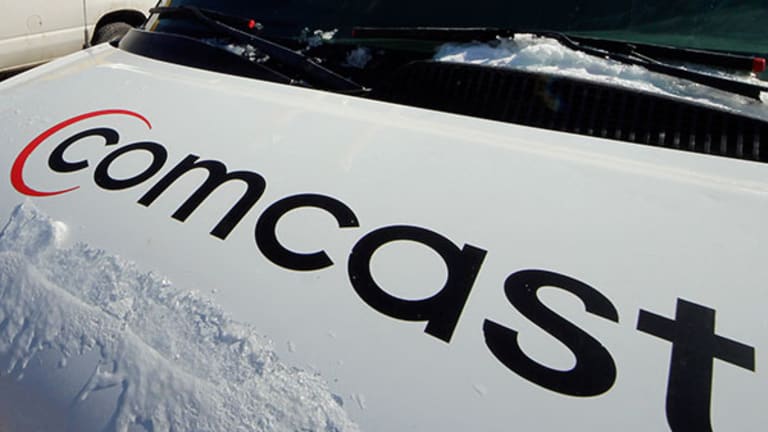 Disney, Fox, Time Warner Will Win, With or Without Net Neutrality
Big media companies are poised to maintain their domination, regardless of how Congress, the FCC and the courts rule on Net Neutrality.
NEW YORK (TheStreet) -- The topic of the day is Net Neutrality. But in the world of Big Media, it may not amount to more than footnote in the quarterly earnings report.
The fact is, Big Media had a great first quarter for 2014.
Time Warner  (TWX) , owner of HBO and the studio behind The Lego Movie, beat the estimates of Wall Street analysts for operations in the first three months of the year, and raised its full-year guidance after getting more money than expected in re-transmission fees from Comcast Corp  (CMCSA) - Get Comcast Corporation Class A Report , the country's largest cable TV operator.
For its part, Comcast also did well as profits grew on increased broadband subscribers and a jump in revenue at its cable TV networks Bravo, CNBC and MSNBC. Elsewhere, Rupert Murdoch's 21st Century Fox (FOXA) - Get Fox Corporation Class A Report  got a huge boost from Super Bowl advertisements as revenue at its broadcast unit, which includes the Fox network and local TV locations, jumped 27% jump to $1.6 billion. And The Walt Disney Co (DIS) - Get Walt Disney Company Report  blew everyone away as revenue at its film studio surged 35% on the back of Frozen.
And we haven't even mentioned CBS (CBS) - Get CBS Corporation Class B Report . Well, they did just fine as well.
This week, though, the eyes of media watchers are on distribution, rather than production. That is, how viewers and readers will access the content produced by the world's largest entertainment companies as well as many much smaller purveyors of video and text.
On Thursday, the Federal Communications Commission will begin hearings on what's known as "Net Neutrality" - whether all companies that use broadband to transmit their content will be charged equal fees, or will the owners of broadband, Comcast chief among, be allowed to institute a pay-to-play system whereby wealthier companies can arrange for higher-speeds?
FCC Chairman Tom Wheeler, the former head of the cable TV industry's largest lobby, will attempt to appease his former employers at Comcast, Verizon (V) - Get Visa Inc. Class A Report and AT&T (T) - Get AT&T Inc. Report , broadband owners pulling for a system of tiered rates, while simultaneously playing nice with Democratic lawmakers and Internet heavyweights including Google (GOOG) - Get Alphabet Inc. Class C Report  and Facebook (FB) - Get Facebook, Inc. Class A Report  which are carrying the flag for Internet users, start-up business and enterprising content creators.
The big media companies, outside of Comcast, have been conspicuously quiet on the issue. One spokesman at a large entertainment company said "we're waiting to see how this shakes out."
Comcast's David Cohen, though, pulled no punches in a talk on Wednesday, telling Wall Street analysts and media company investors, that when it comes to charging different amounts of money for different levels of Internet connectivity, his company will do what it needs to do until it's told otherwise.
"Whatever it is -- a 'fast lane,' 'paid prioritization' -- whatever you want to call it, it has been completely legal for 15 or 20 years," said Cohen, Comcast's executive vice-president, during a presentation at the MoffettNathanson Media & Communications Summit in New York. "Whatever it is, we are allowed to do it."
And Comcast has done it. In February, the Philadelphia-based broadband and cable TV operator, which also owns NBC/Universal, struck a deal with Netflix (NFLX) - Get Netflix, Inc. (NFLX) Report  for faster and more reliable streaming. 
"Every company has to pay for distribution, so Netflix has already said they'll pay to be on the faster lane," David Miller, managing director at Topeka Capital Markets, said in a phone interview from Los Angeles. "Why should Netflix pay and no one else pays?"
Time Warner, Disney, Fox, Viacom and CBS would likely negotiate any new broadband connectivity charges with existing retranmission contracts by which pay-TV operators pay them for their content. The cost to Big Media may be negligible.
Regardless of how net neutrality plays out, Big Media has never been healthier or more in control of its business model. Advertising may be cyclical but the pay-TV bundle is alive and well, providing consistently higher re-transmission fees.

NBC, the Comcast broadcaster which also owns a slew of pay TV networks, said as much this week as its Advertising Sales President Linda Yaccarino boasted that being owned by the largest cable TV company in the country affords prospective advertisers with many more synergies than its rivals. Advertisers, Yaccarino said, have the opportunity to make a "portfolio wide investment" at NBCUniversal's Cable Entertainment Group, a collection of 17 cable TV networks. 
"We proved it. It works. It works by a mile," she said this week at a New York presentation.
And she's right. Comcast is the world's fifth-largest company by advertising revenue as estimated by ZenithOptimedia in a report published on May 6, trailing only Fox, Disney, DirecTV (DTV)  and Google.
As owner of broadband pipes, NBC and Universal studios, Comcast is more than in control. And that's even before it seeks to win government approval for a $40 billion merger with Time Warner Cable (TWC) . 
In Washington at the FCC, Netroots activists are sure to counter that the pay-to-play model will put startup companies at a disadvantage. Rather than allowing Comcast or Verizon to act as the gatekeeper, Google (GOOG) - Get Alphabet Inc. Class C Report and Facebook (FB) - Get Facebook, Inc. Class A Report , among others insist the FCC should regulate broadband connections like a utility, similar to electricity, water or natural gas.
Comcast and others will be pushing back.
"Ultimately, consumers have shown a willingness to pay for high-speed internet access," Miller said. "In the end, a lot of it is going to be passed onto the consumer. That's just a fact."
Read More: Why Comcast Will Do Whatever it Wants With Net Neutrality
--Leon Lazaroff is TheStreet's deputy managing editor.
>Contact by Email.
Leon Lazaroff is TheStreet's deputy managing editor.