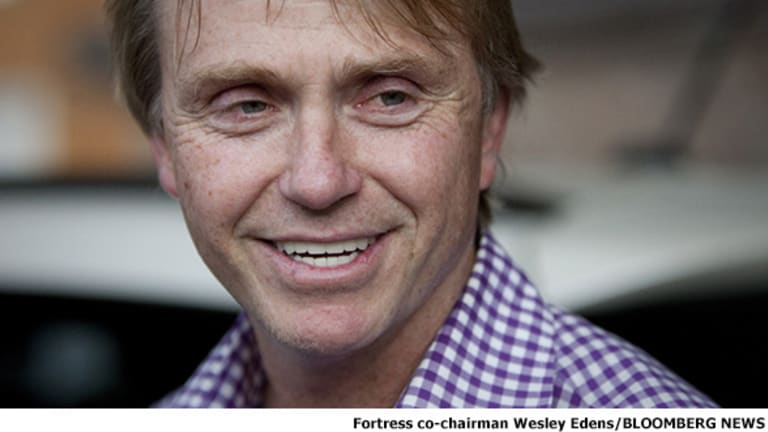 NEW YORK (The Deal) -- Companies linked to mortgage debt collector Ocwen Financial  (OCN) - Get Ocwen Financial Corporation Report and asset management giant Fortress Investment Groupundefined may face a legal battle over a $1.4 billion deal reached earlier this year without shareholder approval.
The potential legal threat comes from a major shareholder in Home Loan Servicing Solutions (HLSS) an affiliate of Ocwen, who contends that all of HSSL's assets were sold to New Residential Investment Corp. (NRZ) - Get New Residential Investment Corp. Report, a Fortress-managed REIT, without shareholders being able to vote on the transaction. This shareholder would only talk on the condition he not be identified.
The shareholder's possible action comes as several market watchers are expecting litigation over a stock sale by Nationstar Mortgage Holdings (NSM) , another Fortress-controlled mortgage company with close ties to New Residential.
At issue in this case is the sale of substantially all the assets of HLSS, a Caymans Islands-based company that had just 14 employees before the deal, to New Residential. 
HLSS and New Residential had initially agreed to an outright sale on Feb. 22, but on April 6 they changed the structure of the deal to a sale of substantially all the assets of HLSS. The change was designed to get past large investors who were opposed to the deal, according to a major HLSS institutional shareholder who said he is considering bringing a lawsuit accusing HLSS and its management of breach of fiduciary duty.
The original transaction would have required that a super-majority of HLSS shareholders approve the deal, according to a regulatory filing. However, the way the deal was restructured no longer requires a shareholder vote for the asset sale.
The asset sale valued HLSS at slightly more than $17 per share, roughly where it traded the day before the deal was announced and below the $18.25 price originally agreed upon between the two companies. HLSS had spent much of 2013 and 2014 above $22 while paying a dividend that yielded in the high single digits. Shares of New Residential are up nearly 12% since the deal was announced compared to a gain of roughly 2% for the S&P 500.
The institutional shareholder considering litigation said the asset sale significantly undervalued HLSS, and the company's management and board should either have let the company remain independent or given more serious consideration to other bidders described in a May 1 proxy.
Ocwen is the only bidder identified out of the five described in the proxy, but according to four people familiar with the deal three of them were Credit Suisse (CS) - Get Credit Suisse Group AG Sponsored ADR Report, Apollo Global Management (APO) - Get Apollo Global Management Inc. Class A Report and Fidelity National Financial (FNF) - Get Fidelity National Financial, Inc. - FNF Group Report.
Spokesmen for Credit Suisse and Apollo declined to comment. Fidelity National Financial did not respond to a call or an email message. A spokesman for Citigroup, which advised HLSS, declined to comment. An Ocwen spokesman declined to comment. Calls and email messages to executives at Fortress were not returned.
Had HLSS been incorporated in the state of Delaware, as most U.S. companies are, it would have required a shareholder vote on the asset sale. However, because HLSS was based in the Cayman Islands, shareholder approvals weren't necessary for such transactions.
In an interview, John Van Vlack, CEO of HLSS, acknowledged U.S. companies have different rules. Still, he said, "our analysis was we were a company based in Cayman and we were looking at options given how we were domiciled."
Van Vlack pointed to disclosures in HLSS's 2011 registration statement prior to its public listing which notes, among other things, that "the rights of shareholders under Cayman Islands law may differ from the rights of shareholders of companies incorporated in other jurisdictions."
Nonetheless, Van Vlack disputed the assertion that the deal was switched to an asset sale to avoid a shareholder vote.
"We were told by our auditors we would not receive a clean audit opinion based on the merger," he said. "Filing our financial statements as needed for the merger with a qualified audit opinion would have resulted in defaults in our financing facilities."
A spokesman for HLSS's auditor, Deloitte and Touche, declined to comment on the grounds that "profession standards prohibit us from discussing client business."
HLSS struck the deal under severe pressure from regulators, lenders, investors, and ratings agencies because their entire business involved buying mortgage servicing rights from Ocwen. A Dec. 19 settlement between Ocwen and the New York Department of Financial Services (NYDFS) over alleged conflicts of interest and other improper practices in its debt collection business.
The settlement upset a delicate financial relationship that Ocwen had with HLSS as well as Altisource Portfolio Solutions (ASPS) - Get Altisource Portfolio Solutions S.A. Report, Altisource Residential (RESI) - Get Front Yard Residential Corp. Class B Report and Altisource Asset Management (AAMC) - Get Altisource Asset Management Corp. Report.
Bill Erbey, chairman and de facto leader of all five companies, was forced by regulators to resign from those positions. The California Department of Business Oversight was threatening to suspend Ocwen's license in that state. That put pressure on HLSS because its business and Ocwen's were so closely interrelated.
Following the NYDFS settlement, hedge fund Mangrove Partners, one of HLSS's 10 largest shareholders, first pressured the company to terminate its relationship with Ocwen and then, meeting resistance from the board, vowed to replace the directors..
Another hedge fund, Blue Mountain Capital Management, argued HLSS was in default on certain debt securities and announced it was shorting shares of both Ocwen and HLSS. Ratings downgrades were making financing more expensive, perhaps prohibitively so.
Calls to Mangrove were not returned. An attorney representing Blue Mountain, Erik Hass of Patterson Belknap Webb & Tyler, wrote via email, "thanks for the inquiry and opportunity to comment, but [we] are not in the position to do so at this time in view of pending matters."
After HLSS and New Residential announced the sale of HLSS Feb. 22, Kingstown Capital, owner of 5.1% of HLSS shares, stated in a filing the following day it opposed the deal, which valued HLSS at book value compared to a historical value of 1.2 to 1.3 times book value.
Luxor Capital, another hedge fund, disclosed March 12 it had acquired a 9.8% stake in HLSS to become its largest shareholder. While Luxor did not publicly disclose its position on the proposed sale, Piper Jaffray analyst Mike Grondahl contended in a March 13 note he believed Luxor was concerned New Residential would transfer debt collecting contracts from Ocwen to Nationstar. That would have hurt Luxor's stake in Altisource Portfolio Solutions.
Calls and email messages to executives at Luxor and Kingstown weren't returned.
Another detail disclosed in the proxy that has received scant attention is the disclosure of a Securities and Exchange Commission subpoena requesting HLSS "provide information concerning communications between HLSS and certain investment advisors and hedge funds. The SEC also requested, among other things, documents relating to HLSS's structure, certain governance documents and any investigations or complaints connected to trading in HLSS's securities," the proxy states.
HLSS CEO Van Vlack declined to elaborate on the SEC inquiry and an email to the SEC press office produced no response.
Further opposition to the original proposed sale of all of HLSS came from a lawsuit filed by a retail investor, David Rattner, arguing the transaction undervalued the company. In an argument also made by the anonymous institutional shareholder who is contemplating a lawsuit, Rattner's suit argued the HLSS board rushed to get a deal done with New Residential because they feared losing their jobs in the event Mangrove succeeded in replacing them.
Rattner had sought to block the proposed sale or, if it could not be stopped, recover damages from HLSS, New Residential and Van Vlack, among other defendants, for alleged violations of their fiduciary duties. A call to the law firm representing Rattner, Faruqi and Faruqi, was not returned.
Once the sale of the entire company was changed to a sale of substantially all its assets, however, Van Vlack said he heard no complaints.
"My sense was, prior to hearing from you that there was not any concern, really, about the asset sale," he said.
Compass Point analyst Jason Stewart was less surprised to hear of lingering shareholder discontent. Still, he argued HLSS had to act quickly as a major debt refinancing was imminent, and the company was under severe stress.
"I can see how shareholders are upset about how the whole thing happened, but they really had no other choice, Stewart said. "Yeah, they had deals that were maybe for a higher price contingent on financing but they didn't have something they could act on quickly that had no contingencies, that was all cash."
The institutional shareholder said whether or not he brings a lawsuit will depend in large part upon whether he can make a case that HLSS is effectively a U.S. rather than a Cayman Islands company and so was required to receive shareholder approvals for the asset sale.
Read more from: