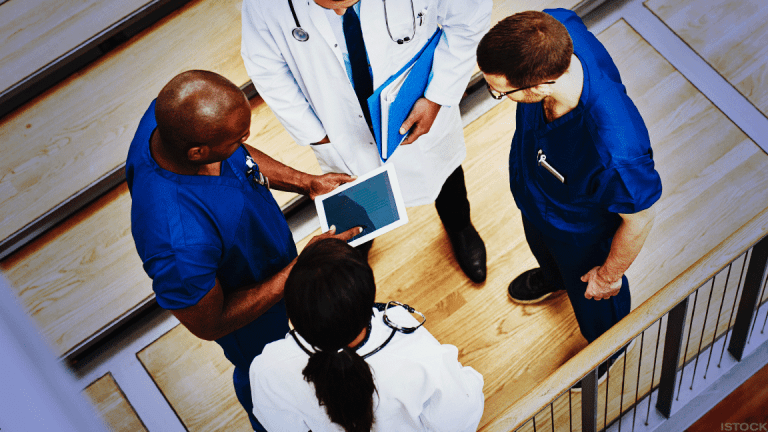 Big Five MCOs on Pace to Beat Market in Medicare Advantage Growth for January
Managed care organizations have seen Medicare Advantage enrollment increase 7.1% sequentially in January.
January has been a good month for MCOs.
The top five MCOs, or managed care organizations, have outperformed the broader market in Medicare Advantage enrollment growth on average during January, as MA membership has increased 7.1% sequentially in the group, according to a Jan. 17 note from RBC Capital Markets. The rest of the market has seen a 4.1% increase in January.
Aetna Inc. (AET) led the pack, with MA membership up 13.4% versus last month. UnitedHealth Group Inc. (UNH) - Get Report continued to tally the strongest growth in absolute numbers, RBC found, adding 358,000 members, or 7.3%, sequentially.
Humana Inc. (HUM) - Get Report added 192,000 members, up 5.8%, and Anthem Inc. (ANTM) - Get Report added 22,000 members, up 3.1%. Cigna Corp. (CI) - Get Report was the only member of the Big Five to decline in January, posting a loss of 3,605 members, or 0.8%.
While the Big Five managed to easily top the broader market in MA enrollment so far this month, they lagged the market in Part D membership. The group posted a 1.4% decline in Part D membership vs. December, while the market at large added 0.1%.
United, Anthem and Aetna posted Part D membership gains, but Humana and Cigna notched declines.
According to CMS data, Medicare Advantage and Part D enrollments combined to add 830,000 members to its rolls since December, up 4.1%. Total enrollment stands at 21.06 million.
"Note that the January MA numbers reflect a large bolus of new members from the 2018 open enrollment," RBC wrote in the note. "MA membership country-wide has increased 7.6% since January of last year, reflecting increased penetration of Medicare Advantage membership among the Medicare eligible population. Medicare Part D enrollment upticked 0.1% sequentially and has increased 1.7% since January of last year."
More of What's Trending on TheStreet: