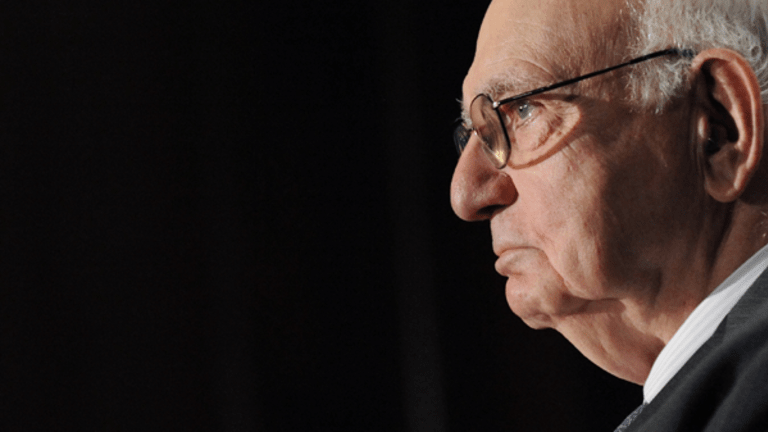 Big Break for Banks on Volcker Rule (Update 2)
Regulators decide not to force banks to sell their investments in CDOs backed by trust preferred securities, staving off huge writedowns.
Regulators decide not to force banks to sell their investments in CDOs backed by trust preferred securities, staving off huge writedowns.
Updated from 7:08 p.m. ET with detailed comments from Kevin Petrasic, a partner in the Global Banking and Payments Systems practice of Paul Hastings in Washington.
NEW YORK (TheStreet) -- Community bankers and their accountants are breathing a sigh of relief tonight.
The Federal Reserve, Federal Deposit Insurance Corp., the Office of the Comptroller of the Currency, the Securities and Exchange Commission and the Commodity Futures Trading Commission together late on Tuesday announced an important exception to the Volcker Rule.
The regulators in a joint press release said they had "approved an interim final rule to permit banking entities to retain interests in certain collateralized debt obligations backed primarily by trust preferred securities (TruPS CDOs) from the investment prohibitions," of the Volcker Rule.
The Volcker Rule -- named after former Federal Reserve Chairman Paul Volcker -- is part of the Dodd-Frank banking reform legislation that bans "proprietary trading" by banks.  The idea of the rule is to make sure banks don't "gamble" while enjoying the advantage of gathering deposits insured by the FDIC.
More than two years after proposing a set of regulations to implement Volcker, the federal bank regulators on Dec. 10 issued their final rules. 
Following a "preliminary assessment" of the final Volcker regulations, Zions Bancorporation (ZION) - Get Report of Salt Lake City on Dec. 16 said it had determined that "substantially all" of its investments in trust preferred collateralized debit oblations (CDOs) would be disallowed under Volcker. The company said it would record a fourth-quarter other-than-temporary impairment charge of $629 million on the transfer of disallowed held-to-maturity securities to held-for-sale. The bank also said it had until July 21, 2015 to sell the trust preferred CDOs, "unless, upon application, the Federal Reserve grants extensions to July 21, 2017."
KBW analyst Collyn Gilbert wrote in a note to clients on Dec. 16 that there were two community banks -- Sun Bancorp (SNBC) of Vineland, N.J., and First Commonwealth Financial (FCF) - Get Report of Indiana, Pa. -- under her firm's coverage that could see relatively large losses from the sale of securities springing from the Volcker Rule.
Community Bank System (CBU) - Get Report of DeWitt, N.Y., took an even stronger step, selling its entire portfolio of the CDOs in question, while taking several other steps to strengthen its balance sheet.
The regulators on Dec. 30 said they would decide by Jan. 15 they were reviewing the final rules to implement Volcker, and would decide whether the CDOs backed by trust preferred securities should be exempt from the Volcker ban.
The interim rule announced Tuesday will presumably enable Zions to reverse course on its writedown of the CDOs it announced for the fourth quarter. 
Under the interim rule, a bank will be allowed to keep its held-to-maturity investments in CDOs containing trust preferred securities issued by banks, as long as the CDOs were issued before May 19, 2010, the bank purchased the securities before Dec. 13, 2013 (after the regulators finalized their Volcker regulations) and the bank "reasonably believes that the offering proceeds received by the TruPS CDO were invested primarily in Qualifying TruPS Collateral."
American Bankers Association president Frank Keating in a statement following the regulators' announcement said "ABA commends the regulators' speed and judiciousness in revisiting the impact of the Volcker Rule. Their action today should allow banks to avoid taking millions of dollars in unexpected and unnecessary write downs. The inclusion of a list of issuers that meet the test of the interim final rule is also appreciated, and will help minimize the cost and compliance burden on affected banks. We look forward to continuing to work with the regulators to ensure that the implementation of the 1000-plus-page Volcker Rule is well reasoned and workable."
A Dissenting Voice
One member of the Securities and Exchange Commission issued a dissenting statement on Tuesday, after originally dissenting on Dec. 10, when he said the rulemaking agencies, when finalizing Volcker, had "not complied with legal obligations that apply to any rulemaking."
SEC Commissioner Michael Piwowar followed up on this theme in his statement on Tuesday said in a statement, "we should immediately rescind and repropose the entirety of the Volcker Rule with a comment period sufficiently long enough for the public to identify other unintended consequences."  Piwowar favors this approach, since the public "has already identified two serious flaws in the final rule," and because the flaws in the final rule have resulted from "a needlessly rushed rulemaking process and the agencies' unwillingness to perform a reasoned analysis to understand the potential impacts of the many changes in the final rule."
"Needlessly rushed" may be a bit of a stretch, considering that Dodd-Frank was signed into law by President Obama in July 2010.  But the regulators' apparent surprise that banks were in a panic over their apparent need immediately to transfer the CDOs in question to "held-for-sale" and write the securities down to market value, backs Piwowar's view that the regulators hadn't done their job very well.
More Volcker Arguments May Come
The regulators' change of heart on Tuesday over CDOs backed by trust preferred securities that had apparently been banned on Dec. 10, offers a break to large banks, as well as to community banks, according to Kevin Petrasic, a partner in the Global Banking and Payments Systems practice of Paul Hastings in Washington.
"This treatment was necessary to avoid the wholesale liquidation of small banks' TruPS CDOs, which would almost assuredly have occurred as bank holders would have jettisoned such instruments to deal with the mark-to-market consequences of no longer being able to hold the instruments to maturity," Petrasic wrote in an email exchange.  "Perhaps a greater concern was the fact that most investors in the TruPS CDOs are banks themselves.  Thus, in order to liquidate existing TruPS CDO holdings, the industry would have had to look elsewhere for investors, which presented considerable challenges and likely deep discounts that banks would have had to accept to liquidate their holdings."
The federal regulators have set a 30-day comment period on their interim rule making an exception to Volcker for the CDOs in question.  This could open up quite a can of worms, because "the industry may look to weigh in on any potential loose ends not addressed by the interim final rule, and perhaps even use the opportunity to speak to other possible issues with the Volcker Rule," according to Petrasic. 
"While that would be outside the scope of the request for comment, it may be the only opportunity for the industry to weigh in one last time on the Agencies' final Volcker Rule," he added.
RELATED STORIES:
An Uplifting Explanation for Wells Fargo's Refinancing Boom and Bust
Bank of America Pushes Higher Ahead of Earnings
Buy Capital One Now, Says UBS
Bank of America's Cost Cutting Will Face Scrutiny
Mortgage Originations Projected to Drop Even Further in 2014
JPMorgan Posts Fourth-Quarter Profit of $5.3 Billion
Wells Fargo Ends 2013 as America's Most Profitable Bank
Regional Bank Earnings: What to Expect

-- Written by Philip van Doorn in Jupiter, Fla.
Philip W. van Doorn is a member of TheStreet's banking and finance team, commenting on industry and regulatory trends. He previously served as the senior analyst for TheStreet.com Ratings, responsible for assigning financial strength ratings to banks and savings and loan institutions. Mr. van Doorn previously served as a loan operations officer at Riverside National Bank in Fort Pierce, Fla., and as a credit analyst at the Federal Home Loan Bank of New York, where he monitored banks in New York, New Jersey and Puerto Rico. Mr. van Doorn has additional experience in the mutual fund and computer software industries. He holds a bachelor of science in business administration from Long Island University.