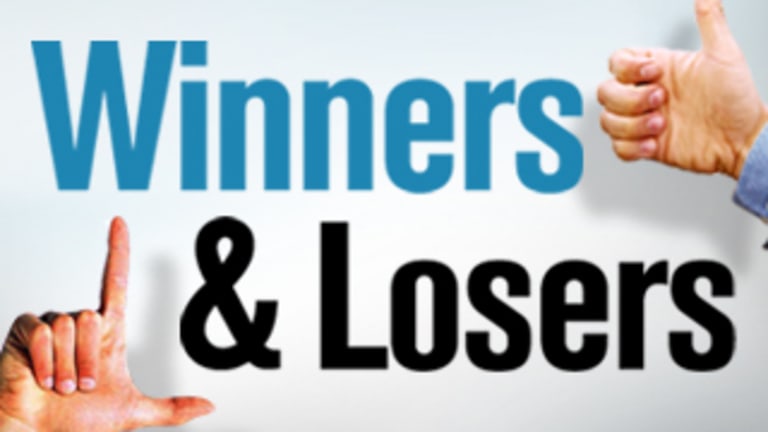 Big Bank Earnings: Winners & Losers
Analysts compare the first-quarter numbers of the big four commercial banks and rank who's faring best and worst.
NEW YORK (
) -- The big four "money center" banks --
Bank of America
(BAC) - Get Report
,
Citigroup
(C) - Get Report
,
Wells Fargo
(WFC) - Get Report
and
JPMorgan Chase
(JPM) - Get Report
-- reported mixed results for the first quarter.
While credit quality improved overall this quarter, revenue was stifled by lower mortgage originations, an increase in foreclosures, and lack of loan growth.
"The big thing
s weighing on them is there is no loan growth, a tough interest rate environment and banks fees, under the regulatory environment, are under pressure," said
Sandler O'Neill
analyst Jeff Harte.
Even though this quarter was full of hurdles for banks, there were areas where banks showed major improvement.
"Credit was a clear winner," said
Evercore
(EVR) - Get Report
analyst Andrew Marquardt. "Charge offs and reserve releases decreased and there were major improvements in commercial and consumer loans."
Strength in capital markets helped offset some margin softness for the banks but it's clear how dependent the group is on the recovery of the economy and the regulatory environment, added Marquardt.
Among the challenges confronting the banks in the second quarter and beyond include the final shape of Basal III capital requirements and the Durbin Amendment as well as getting increased clarity on foreclosure settlements, mortgage putbacks and the future of the GSEs.
Here's the analyst read on which of these four banks fared best and which fell short.
Wells Fargo
was a winner for the first quarter with the best return on average assets of the big four, at 1.23% in the first quarter, according to data from SNL Financial.
The San Francisco-based bank reported
of $3.8 billion, or 67 cents a share, up from earnings of $2.5 billion, or 45 cents a share, a year earlier.
"Wells Fargo is the best in the group in terms of organic revenue growth, credit leverage and expense leverage," said Marquardt.
However, while net income beat analyst expectations, the top line was a disappointment, mainly because of a $741 million decline in mortgage banking revenue. Overall revenue fell to $20.3 billion for the three months ended in March from $21.4 billion in the same period a year earlier.
"The lower core revenue number caused investors to realize the company may not be able to grow earnings as quickly as once thought and the stock sold off 4% through the day," said
FBR Capital Markets
analyst Paul Miller.
Based on Thursday's close at $28.54, Wells Fargo shares have fallen 3% since the start of 2011 and nearly 13% in the past 52 weeks. That puts the stock's forward price-to-earnings ratio just shy of 8X based on a consensus fiscal 2012 profit view of $3.56 a share.
Another plus is that Wells Fargo is stepping up on giving back to shareholders. CEO John Stumpf
said the bank's board has approved a second-quarter
dividend of 12 cents a share and that the company will soon begin its repurchase of up to 200 million shares.
JPMorgan Chase
was also another
first-quarter earnings winner.
The bank's return on average assets grew 1.06%, according to SNL Financial.
"I think when you really look at this JPMorgan continues to be the winner," said FBR's Paul Miller. "I would believe what people would say is, if you got to own one of those big four, people would probably own JPMorgan."
JPMorgan reported earnings of $5.6 billion, or $1.28 a share, for the first quarter, a performance that topped Wall Street's consensus estimate by 10% and represented a 60 percent increase from a profit of $3.3 billion or 74 cents a share, in the same period last year.
Similar to Wells Fargo, JPMorgan also reported a drop in revenue to $25.8 billion from $28.2 billion last year mostly because of mortgage losses. The business reported a loss of $208 million, which
reflects a $1.1 billion mortgage servicing rights fair value adjustment charge
.
Investment banking drove earnings higher with net revenue of $8.5 billion, mostly from trading activities. Net charge-offs for the quarter came in at $123 million, compared with net charge-offs of $697 million in the first quarter of 2010, showing an improvement in credit.
"For JPMorgan, you had all of the good credit trends and you really had the best trading results in the industry," said Sandler O'Neill analyst Jeff Harte
The bank also has the second highest Tier 1 common equity ratio for Basal III requirements at 10%.
The stock has gained 5.3% so far in 2011, but it's still down nearly 2% in the past year. At Thursday's closing price of $44.68, the shares have a forward P/E of 7.9X based on a current consensus estimate for a profit of $5.65 a share in fiscal 2012.
In March, JPMorgan
increased its quarterly dividend
to 25 cents per share from 5 cents per share and authorized a $15 billion share repurchase program.
Citigroup
expectations by a penny reporting first-quarter earnings of $3 billion, or 10 cents a share. The results compared to net income of $4.4 billion, or 15 cents a share, for the first quarter of 2010.
Revenue was also challenging for Citigroup, whose $19.7 billion total in the March-ended quarter was down 22% from $25.4 billion a year earlier, and below the average analysts' view of $20.54 billion.
The bank's return on average assets was 0.63 percent, according to SNL Financial. Citigroup had the strongest Tier 1 common equity ratio of 11.30% of the group as of Dec. 31, according to Basal III requirements.
Revenue from Citigroup's international banking business was a bright spot, rising 8% year-over-year to $4.6 billion as the bank continues its strategy to
expand in international markets.
The bank boosted its performance in the quarter by releasing
$3.3 billion in credit reserves.
"Citi had good credit and also the potential for more earnings asset growth from outside the country," said Sandler O'Neill's Harte.
Citigroup trades at the highest forward P/E among the big four, but is still relatively cheap, trading at a forward P/E of 8.6X based on Thursday's closing price of $4.55 and an average analysts' estimate for a fiscal 2012 profit of 53 cents a share.
In late March, Citigroup's board and shareholders approved the bank's
and penny dividend.
Bank of America
looks to be the clear loser of first-quarter earnings season. The Charlotte, N.C.-based institution, the largest U.S. bank by assets, reported a return on average assets of 0.35%, well below the other three banks, according to SNL Financial.
"I think when you really say who the big loser is this quarter it would be Bank of America," said FBR's Miller. "It is one of those names that a lot of people want to own and are looking for reasons to own it and I think that name continues to give you reasons not to own it."
The bank
reported first-quarter earnings of $2 billion,
or 17 cents a share, a dime below Wall Street's consensus view.
Mortgage exposure and settlements with the GSEs and monoline
Assured Guaranty
(AGO) - Get Report
dragged down results this past quarter.
Bank of America's shares, down 7.5% in 2011, will likely continue feeling a major drag, at least until there is more clarity on what the financial impact of an eventual settlement related to mortgage servicing and foreclosure practices will be.
The bank faced declining revenues in several business lines in the first quarter with sales and trading activities suffering the most.
Revenue from this business fell to $4.8 billion in the first quarter of 2011
from $7 billion in the same period last year.
"Bank of America results were mixed, but not terrible," said Evercore's Marquardt. "Bank of America management is still trying to build credibility."
Along with its quarterly numbers, Bank of America announced a series of management moves and
, including the promotion of chief risk officer
Bruce Thompson to the CFO posts.
The move raised eyebrows with some analysts.
"This is the bank's fourth CFO in less than two years," said Marquardt. "There's just not a lot of continuity that Bank of America can fall back on."
At Thursday's closing price of $12.31, the stock has a forward P/E of 7X based on a consensus earnings estimate of $1.71 a share for fiscal 2012.
--
Written by Maria Woehr in New York
.
To contact the writer of this article, click here:
Maria Woehr
.
To follow the writer on Twitter, go to
.
To submit a news tip, send an email to:
.