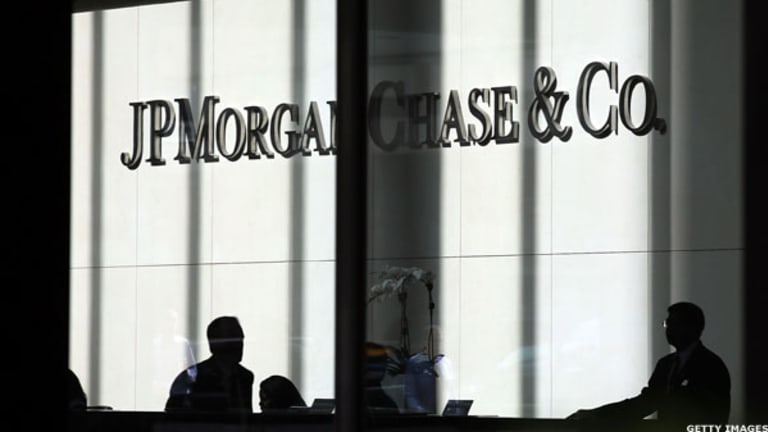 Big Bank Bashers See First Unintended Consequences
JPMorgan's exit from student lending signals a coming shift away from low-risk, low-return businesses as the nation's biggest banks cope with new regulations.
NEW YORK (
) -- The exit from student lending by
JPMorgan Chase
(JPM) - Get JPMorgan Chase & Co. (JPM) Report
is not simply an effort by the largest U.S. bank to "simplify" its business.
It's an unintended consequence of new capital rules proposed in July to "reduce the likelihood of economic disruptions caused by problems" at the nation's largest banks. Ironically, the new capital rules are forcing the biggest banks to shy away from less risky and lower-margin businesses like student loans. That will make the big bank more risky overall, while also enhancing returns to investors, as the banks focus on higher-margin areas of business.
The
Wall Street Journal
on Friday reported that JPMorgan in October would stop making student loans to its customers; the bank had already stopped making student loans to noncustomers last year. According to the report, the bank is seeking to "simplify its operations amid heightened scrutiny from regulators," in the wake of the "London Whale" hedge trading losses, which in 2012 amounted to at least $6.2 billion before taxes.
But there is another major reason for JPMorgan to exit student lending and other low-risk, low-margin businesses the company was historically happy to participate in: Under regulators' proposed leverage capital rules, the largest banks will have the same capital requirement for a safe asset, like cash for example, as they will for junk bonds or risky noncollateralized loans, such as credit card loans.
Federal Regulators' proposal of new leverage capital requirements for the nation's banks on July 9 -- which came only one week after the Federal Reserve finalized its rules to implement the Basel III capital requirements -- raised required leverage capital ratios for bank subsidiaries of U.S. bank holding companies with total assets of at least $700 billion, as well as those with at least $10 trillion in assets under custody.
In addition to JPMorgan, the new rules affect the following bank holding companies:
The nation's biggest bank holding companies have shown their ability to fully comply with minimum Basel III capital requirements, many years ahead of the full Basel III implementation in January 2019. The big banks for many years have been "managing to" the Basel III requirements, which center on the Tier 1 common equity ratio -- a risk-based ratio.
Risk-based means a bank's assets are weighted, as defined by regulators. Cash or U.S. Treasury bonds, for example, have zero risk-weightings. A one-to-four-family residential mortgage loan that was properly underwritten, with the borrower keeping current on payments, is assigned a 50% risk-weighting. Any other one-to-four family mortgage loan has a 100% risk weighting.
JPMorgan Chase estimated that its Basel III Tier 1 common equity ratio was 9.3%, quite close to the company's fully implemented requirement of 9.5%. JPMorgan's fully phased-in minimum Basel III Tier 1 common equity ratio includes the 7.0% basic requirement, plus an additional 2.5% "buffer" required as a global systemically important financial institution (GFISI). That's the maximum GFISI buffer, with most of the other large banks having smaller buffer requirements.
In order to comply with Basel III, the big banks have had to build capital, while also managing the denominator of the Tier 1 common equity ratio by trimming assets with higher risk-weightings.
That's all well and good, but the new leverage ratio requirements mean the banks can also comply by simply reducing the size of their balance sheets. Many politicians -- including Sens. Sherrod Brown (D., Ohio) and David Vitter (R., La.) who in April proposed forcing the large banks to boost their leverage capital ratios to 15% -- and regulators think this is a good thing. Why not shrink the biggest banks?
The bank regulators took a far more sane approach in proposing the eight bank holding companies listed above be required to maintain
supplementary
Basel III Tier 1 leverage ratios for their bank subsidiaries of at least 6%. The supplementary Basel III Tier 1 leverage ratio brings many off-balance-sheet items onto the banks' balance sheets, which is also a good thing.
But the upshot of the proposal is that the largest banks will be forced to make their entire balance sheets as efficient as possible, since all assets will have the same capital requirement. This proposal will make the banks more likely to pursue higher returns -- meaning higher risk -- for their assets.
Under the proposal, banks not included in the eight listed above would only be required to maintain minimum
U.S.
Tier 1 leverage ratios of 4.0%. That means the "smaller large banks" will continue to have the same leverage ratio requirements they had before the proposal, without the addition of off-balance-sheet items the biggest banks will face through the supplementary Basel III Tier 1 leverage ratio requirement.
What About Student Lending?
"If you look at the bigger banks, like JPMorgan, returns matter because capital is going to be a scarce resource," according to Guggenheim Securities analyst Marty Mosby. "As you push capital ratios higher, it means the returns on lending must come from higher-return products," he says.
JPMorgan must shy away from student lending because "the rates have been pushed down because the government directly sets the rates for the subsidized loans," according to Mosby.
Among the "big four" U.S. banks, only Wells Fargo is continuing to make student loans, including private student loans. Wells Fargo has been
the best earnings performer among the nation's largest banks for quite some time
, but it will be interesting to see whether or not the new leverage capital rules bring about a change in strategy for the company.
But for large bank holding companies that are still way too small to be hit with the new leverage capital requirements, there is a golden opportunity.
Discover Financial Services
(COF) - Get Capital One Financial Corporation Report
has been expanding its student lending activity, after purchasing most of Citigroup's student loan business in 2009.
But why would Discover seek to grow a relatively low-return business like student lending, especially when their core credit card businesses have much higher profit margins?
According to Mosby, banks outside the eight affected by the proposed leverage capital rules "have much more wiggle room," and credit card lenders have an extra incentive to grow their student loan businesses. "What you want to do is create a pipeline for people to come in and take your credit cards," he says. "Nothing brings a nicer inflow of customers than bringing them in while they are students."
"If you look at pure Basel calculations, Discover gets credit for how risky the assets are," Mosby says, adding "JPMorgan doesn't have that luxury anymore."
JPMorgan has already announced it is seeking an exit from its physical commodities business, which includes energy trading, but has plenty of special regulatory incentives to do so. But the exit from student lending reflects not only the government's ever-growing share of the market, but also a new strategy that most of the largest banks will be forced to follow, because of the higher leverage capital requirements.
We're still early in the game, as the comment period for the proposed leverage rules ends on Oct. 21, but we are likely to see many more announcements of "simplification" by the largest banks, exiting successful, lower risk, lower return businesses that they have been in for decades. This in turn will bring higher returns on equity, cheering investors, but once again foiling the best laid plans of politicians and regulators, as the big banks do what they must -- focus on riskier, higher-margin areas, in order to make a decent return.
-- Written by Philip van Doorn in Jupiter, Fla.
>Contact by
.
Philip W. van Doorn is a member of TheStreet's banking and finance team, commenting on industry and regulatory trends. He previously served as the senior analyst for TheStreet.com Ratings, responsible for assigning financial strength ratings to banks and savings and loan institutions. Mr. van Doorn previously served as a loan operations officer at Riverside National Bank in Fort Pierce, Fla., and as a credit analyst at the Federal Home Loan Bank of New York, where he monitored banks in New York, New Jersey and Puerto Rico. Mr. van Doorn has additional experience in the mutual fund and computer software industries. He holds a bachelor of science in business administration from Long Island University.